To start referring applicants you simply enter them in the usual way, using the wizard, but assign them one of your designated PVA prompts for their status (most commonly 'Not On Market, Out Of Area'). This then flags the applicant for referral. An Expert Agent message is created as below:

You can click into the message(s) and review individually, or go to the PVAs section accessible from the 'Properties' menu: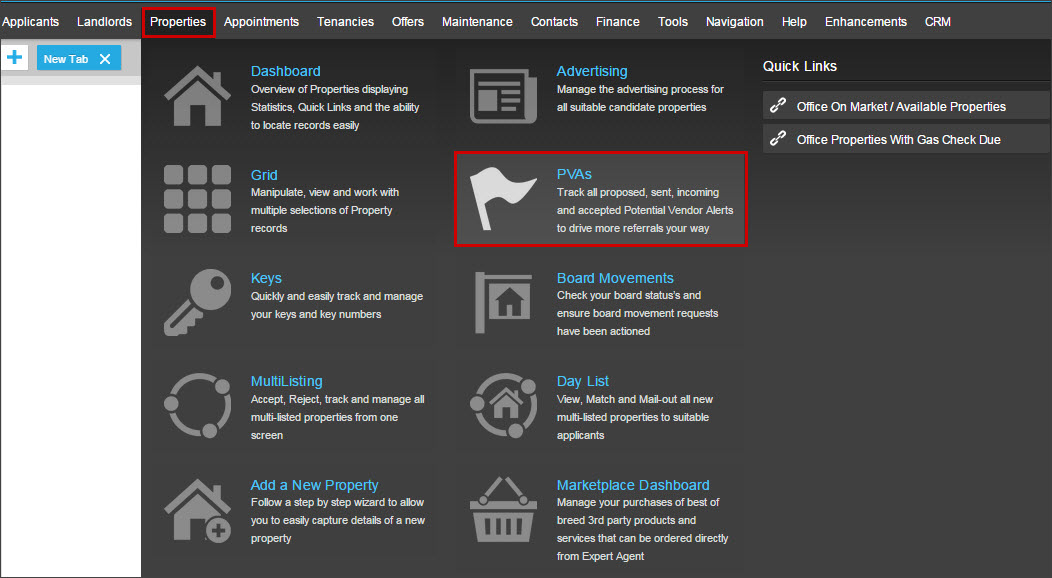 This will enable you to review the PVAs that Expert Agent wants to refer, as well as to see if there are any new inbound leads:

Start by looking at the 'Proposed' tab. This shows all the referrals that Expert Agent wants to send out based on applicants your office has added.
This shows the current status – this will either say 'Pending' or 'Awaiting Response' depending if the applicant has been contacted yet. Remember that applicants sit as a proposed PVA for 24 hours prior to being contacted to give you the opportunity to sense check and amend/cancel referrals if necessary, and then after 24 hours the applicant gets an email asking them for their permission to be referred, hence the status changes to 'awaiting response'.
This lets you see the agents that might get the referral if the PVA lead is sent. The form below is displayed:
You can cancel just this particular referral to a particular agent if you would like to, or you can choose to blacklist the agent permanently. Clicking the underlined link opens the agent's website in a separate browser if you would like to see more information on an agent you may be referring to.
There's always at least one agent in the list - that's a fictitious agent called Future Members. If you allow referrals to go into the Future Members pot, they are made available to new agents when they join us. So, if we don't have anyone covering SP4, any referrals for SP4 get stored up and, when we sign an agent that wants the SP4 area, we'll give them that last 2 months worth of PVA referrals where the property is in SP4.
The email an applicant receives after 24 hours if you haven't chosen to cancel the referral is below:
If the applicant clicks on the 'No thanks – please don't refer me to other members' link within 48 hours then the PVA status changes to 'Permission Refused' and the referral does not get sent.
If they don't click on the link then the referral will go ahead.
You can review the PVAs that you've sent from the 'Sent' page tab under PVAs as below: