'There are many ways of going forward, but only one way of standing still.' 
Franklin D. Roosevelt.
There are lots of simple improvements, gadgets and widgets that you can employ to ensure you are getting the most out of Expert Agent.
We've listed them below:
1. Have an Expert Agent "Tune-up"
This is a combination of an automated and manually compiled written recommendations report plus a one-to-one webinar with Verity or Sophie - our Product Consultants. They will work through the way you use your data, how your staff use the tools at their disposal and the way your account is configured, making recommendations as required. You'll get an insight into ways to make more money and make your staff more productive. Find out more in this article Expert Agent Tune Up Consultancy
2. Keep calm! Set up your homepage pods, dashboards, quick links and custom quick links.
Configuring these elements of Expert Agent means constant live updates for you on the most important information in your business. You'll spot internet registrations straight away, be able to keep track of viewing requests, vendors that may be becoming dissatisfied, you'll be able to see at a glance what you need to do on any given day as well as what outstanding tasks there are, and much more. Information on all of this is available in the Personalising your EA chapter.
3. Expert Agent has changed! Do some free 'Expert' training.
With regular software upgrades it's important to be doing regular training to ensure you know about all of the new features and how to use them.
All of our courses can be done live and online or via YouTube videos. There's an optional test at the end of many. If you do the test, it will open up greater access to our support team and you'll even get a certificate for your CV – significant now that nearly 20% of estate agents use Expert Agent. We've got courses aimed at sales, lettings and lettings financial for beginners, experts, negotiators, administrators, bosses alike. We cover everything – matching, viewing, Rightmove import, and custom quick links.
In a recent poll 33% of users that booked onto our training courses were sceptical of their merit. Afterwards, 95% would recommend them to colleagues.
Have a look at the Training chapter of the manual for a full list of courses and to book spaces.
4. Save money and join up your workflows! Throw out your lettings software and use Expert Agent instead.
Expert Agent's lettings and lettings financial functionality has come on leaps and bounds in the last 12 months. It is now used by some of our biggest customers and we sell successfully to lots of dedicated lettings management only businesses.
The underlying workflow and financial control has been strengthened by lots of development work following feedback from lots of vociferous users. Our dedicated lettings team has grown too. Nikki, Cara, Gemma and Amy are all experienced lettings agents and are here to help you get everything set up. Jeremy Godwin, an accountant, helps with financial setup and accounting snags. We've got lots of live and online YouTube training courses to get you started – full details are available in the Lettings Financials Training chapter.
5. Try the new sexy bits - keep up to date with the latest releases!
We've launched lots of great new features lately, all designed to improve your presentation, efficiency and compliance:
Improved board control and board ordering workflow
Keys Management
Landlord Portal accessing, allowing your landlords log in and get their statements.
Custom Quick Links, letting you build up regularly used reports
Rightmove Applicant Import functionality
Rightmove Live Feed
Great New Key Performance Indicators (KPIs) with pretty graphs
Google Chrome Support
Vendor/ Landlord & Tenant Portal functionality
Customised email options – have your weekly, welcome and match emails personalised
Lots of new Lettings Financial features
Whether you are a manager, negotiator or administrator, there are lots of great new features that you'll get benefit from. When we release new versions, you get to play with them for at least a month before launch. Watch out for the "try latest version" link on the login page and look at the upgrade and release notes made available in this section of our manual prior to each release.
6. Get your share of the 3000 valuation referrals we generate every month!
We struggle to place all of the 3,000 valuation referrals generated per month by our members - lots of members don't understand how to receive these and how much of a difference to their business this can make. Have a look at the Potential Vendor Alerts chapter for more details.
7. Give yourself a makeover!
Maintaining and developing your brand is so important. We can help you brand and style your emails, letters, brochures and your website. We offer responsive mobile and tablet friendly websites for a low monthly sum - details of these can be found here: http://showcase.client.expertagent.co.uk
8. Get a 360 degree view with email processor.
Email processor links to your email server and imports all inbound and outbound email into the appropriate record, regardless which device you are using to send and receive. The result of this is that Expert Agent will give you a truly 360 degree view on all of your transactions as all historical information will be stored together in one place.
To find out more and get this switched on, go to the E-Mail Scanner chapter.
9. Know how you are doing - get to grips with your stats.
We've got a brilliant statistics menu, including new Key Performance Indicator (KPI) sections to help you to keep control of all aspects of your business.
Between all of the stats options you get an incredible amount of information. All of the options are available from the Tools menu - Reporting: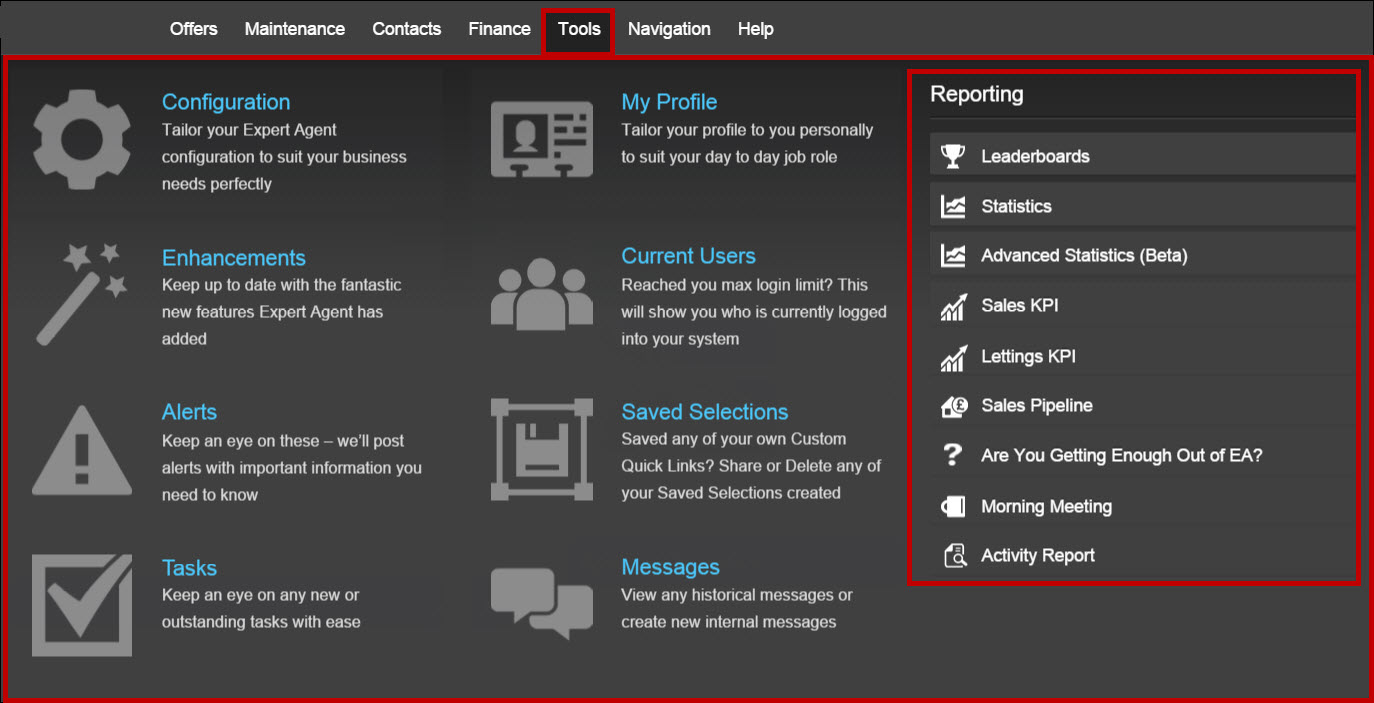 Everything you need to know is in the Checking Statistics chapter.
10. Work hard when you're closed!
Automate your responses and let your applicants, vendors, landlords and tenants interact with you in new and interesting ways. Fully embrace tools such as Facebook and Twitter, use Rightmove Applicant Import, set up your Applicant Welcome E-Mail and Set up Weekly E-Mail. Let applicants request viewing appointments online. Use the Vendor Portal Configuration and Landlord Portal Configuration options.
11. Keep your name out there!
Use the amazing Brief Your Market - which is fully integrated with Expert Agent.
12. Give yourself some headroom!
Add more users and/or consider alternate subscription options that could save you money. Chat to Nikki and Ian in the account management team on 01225 303500 about the different licensing options that could save you money.
13. Don't be left hanging around - make sure Expert Agent is super fast!
We pay a fortune to make sure that Expert Agent runs very fast. If it isn't super fast for you, there are lots of things you can do. Lots of external factors can affect the speed - it isn't just broadband speed that can cause issues. Read all about some possible solutions in the Help!... Expert Agent is too slow? chapter.