MoveIt can be used on both Applicants and Vendors.  The process is the same so we'll focus on Applicants for the time being.  
When you add in Applicants to Expert Agent, on the right hand side of the first tab of the Applicant Wizard you will see the new MoveIt tick box.  

 This is how it looks from the Add New Property wizard for a Vendor: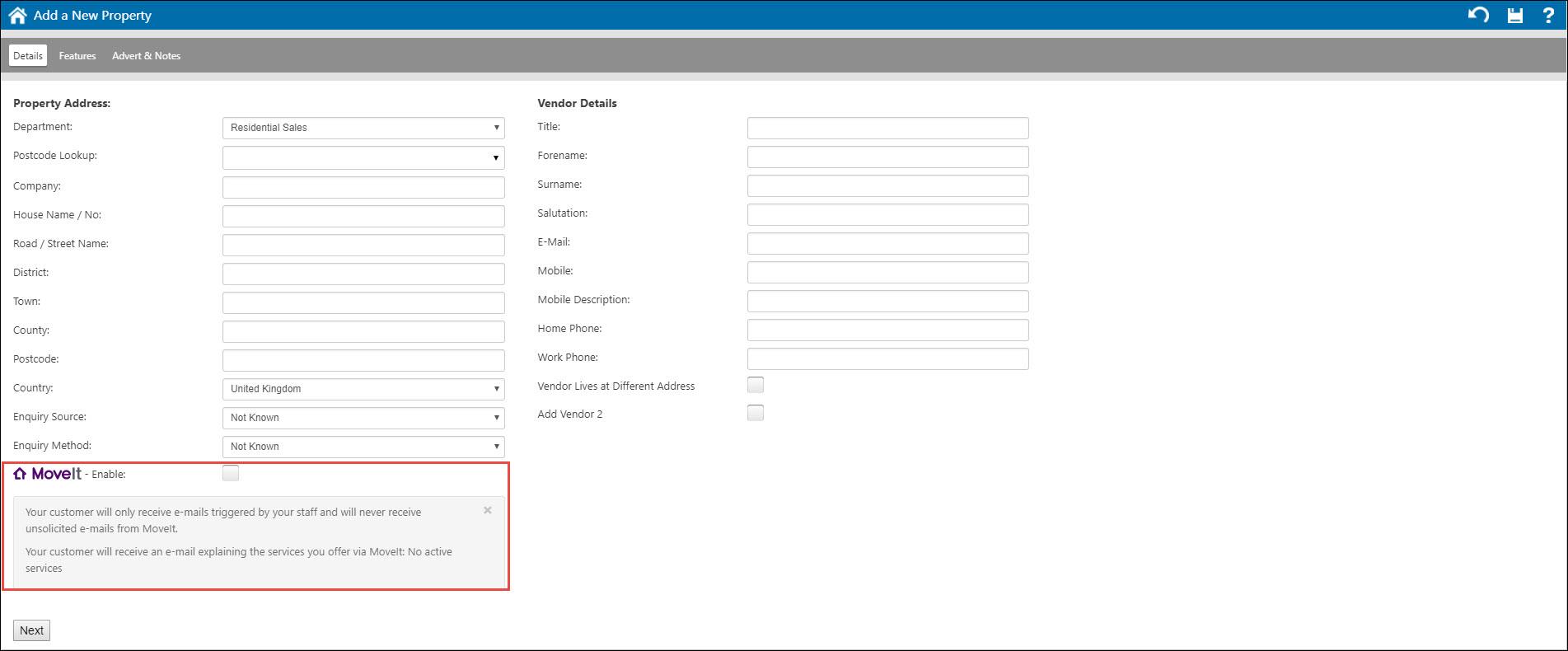 And on the Applicant Record there will be a new Applicant MoveIt Tab (there is also a MoveIt Tab on the Property):  

MoveIt works on a Traffic Light system.  The Applicants current Status is "Not Quoted Yet".  
Clicking on the "Get Quotes Now" button will open up the following screen: 

Pressing Save will send the following email to your customer: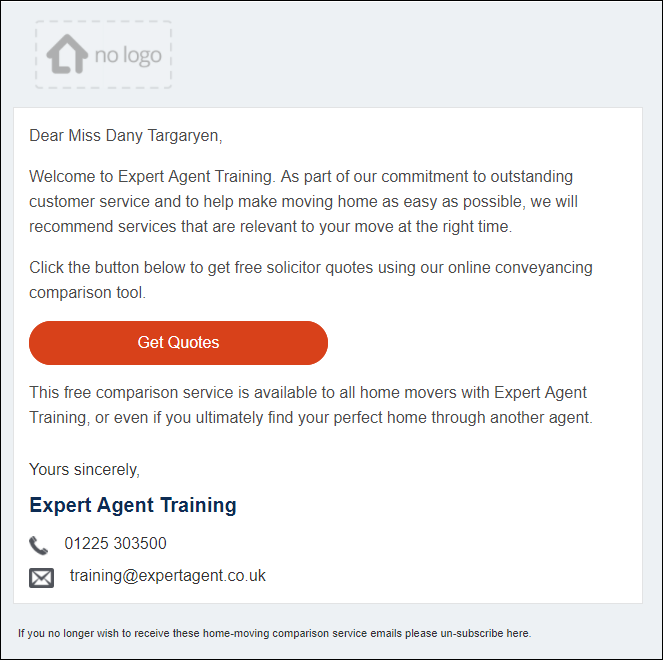 They can click Get Quotes themselves and go through the process or you can do it either with them or form them by using the screen that will open for you: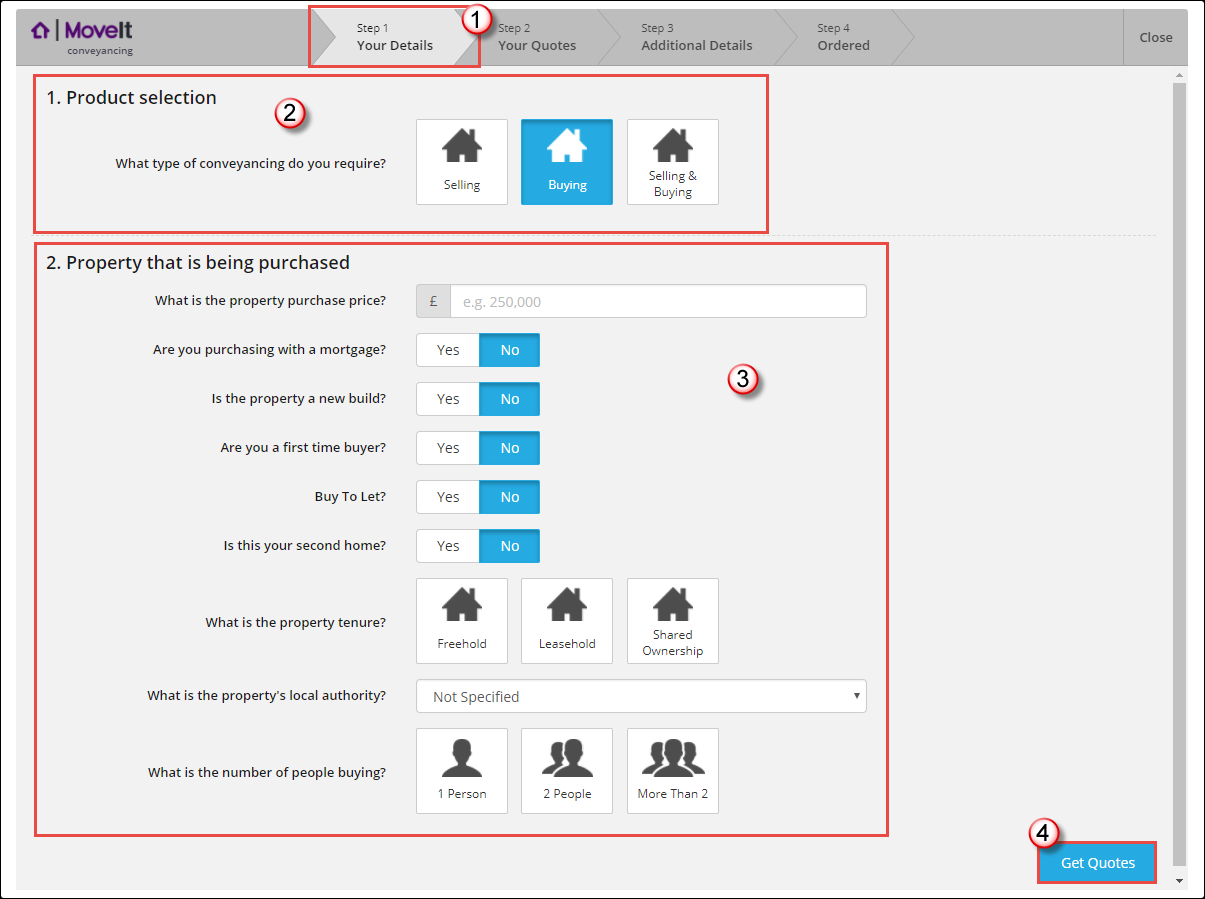 1: We've been taken to the Your Details tab.  
2: Regardless of what record you are on you have the ability here to select either Buying, Selling, or Buying and Selling.  We've selected Buying.  
3: Fill in the relevant information.  
4: Press Get Quotes.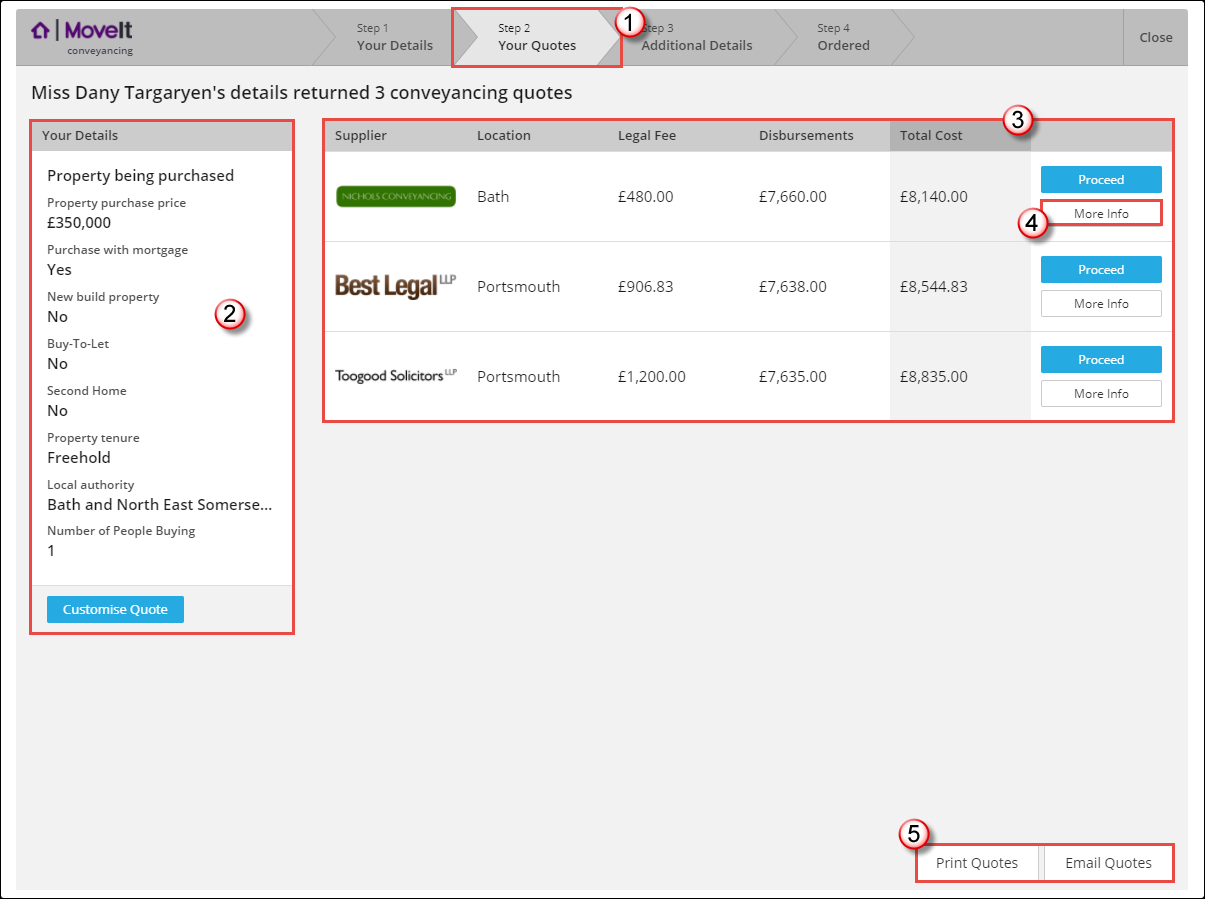 1: We're now on the Your Quotes tab.  
2: Pressing Customise Quotes from the Your Details section on the left will take you back to the previous screen.  
3: This will show you the possible quotes using your own panel of selected Suppliers (see Adding a New MoveIt Supplier).  
4: Pressing More Info will show you: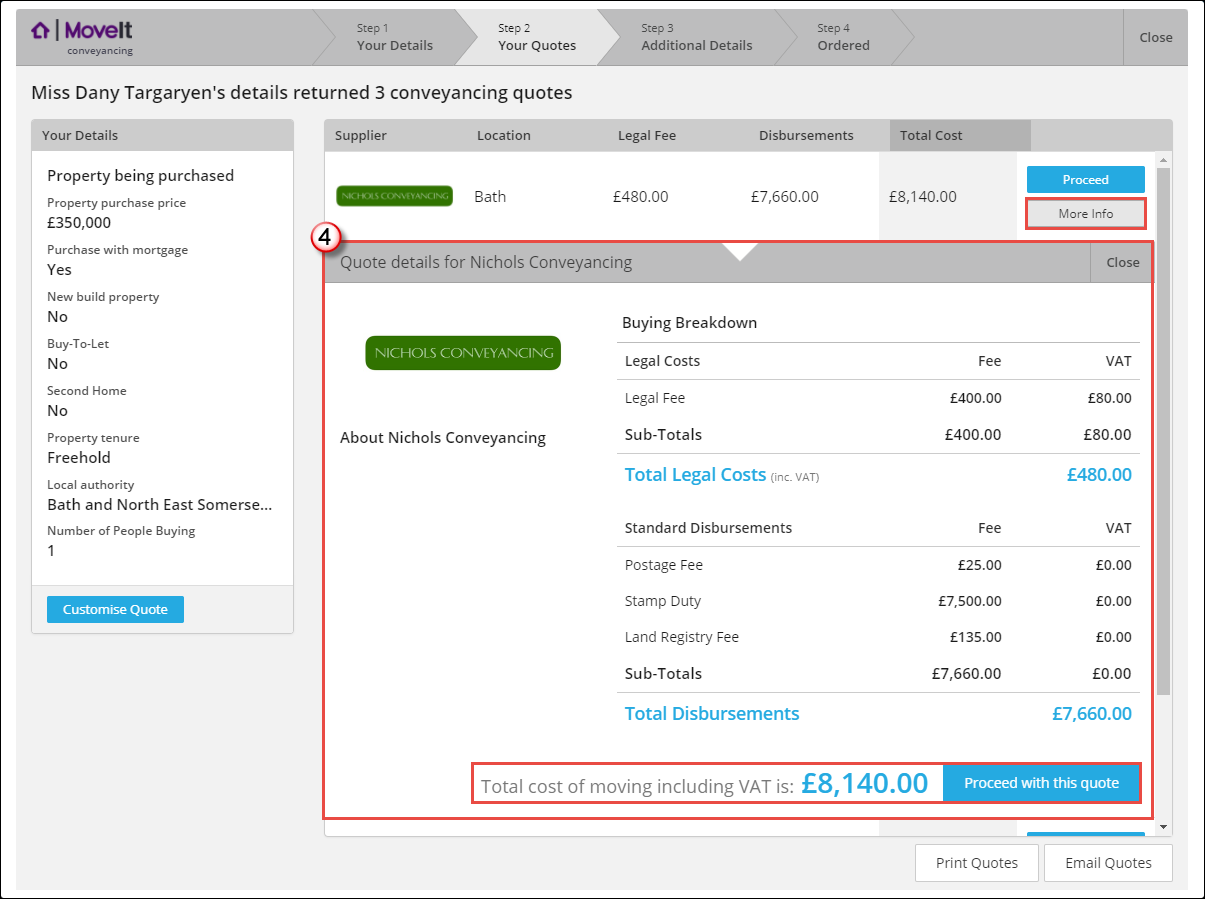 5: You can Print or Email quotes here.  When you email quotes you will be presented with this confirmation: 

From the customers email, they can view the quotes and proceed with which one they choose.  
Back on the MoveIt tab of your customer, the traffic light system will now have gone to Amber, showing that you have quoted them and we are waiting for them to make a decision.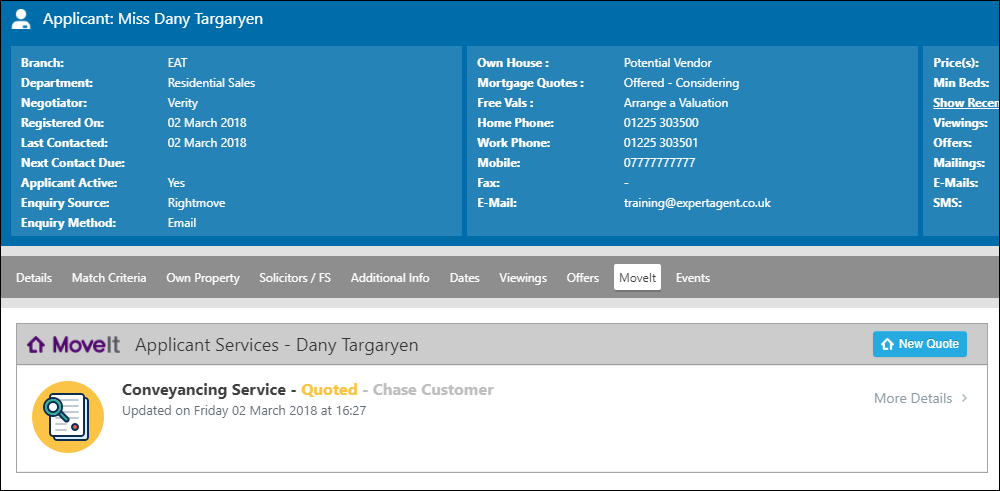 Once again, you can proceed the quote from here or your customer can proceed the quote from their side.  
If you are proceeding from within Expert Agent, you can access the quote by clicking More Details and clicking into the Quotes and selecting Proceed next to the chosen conveyancer.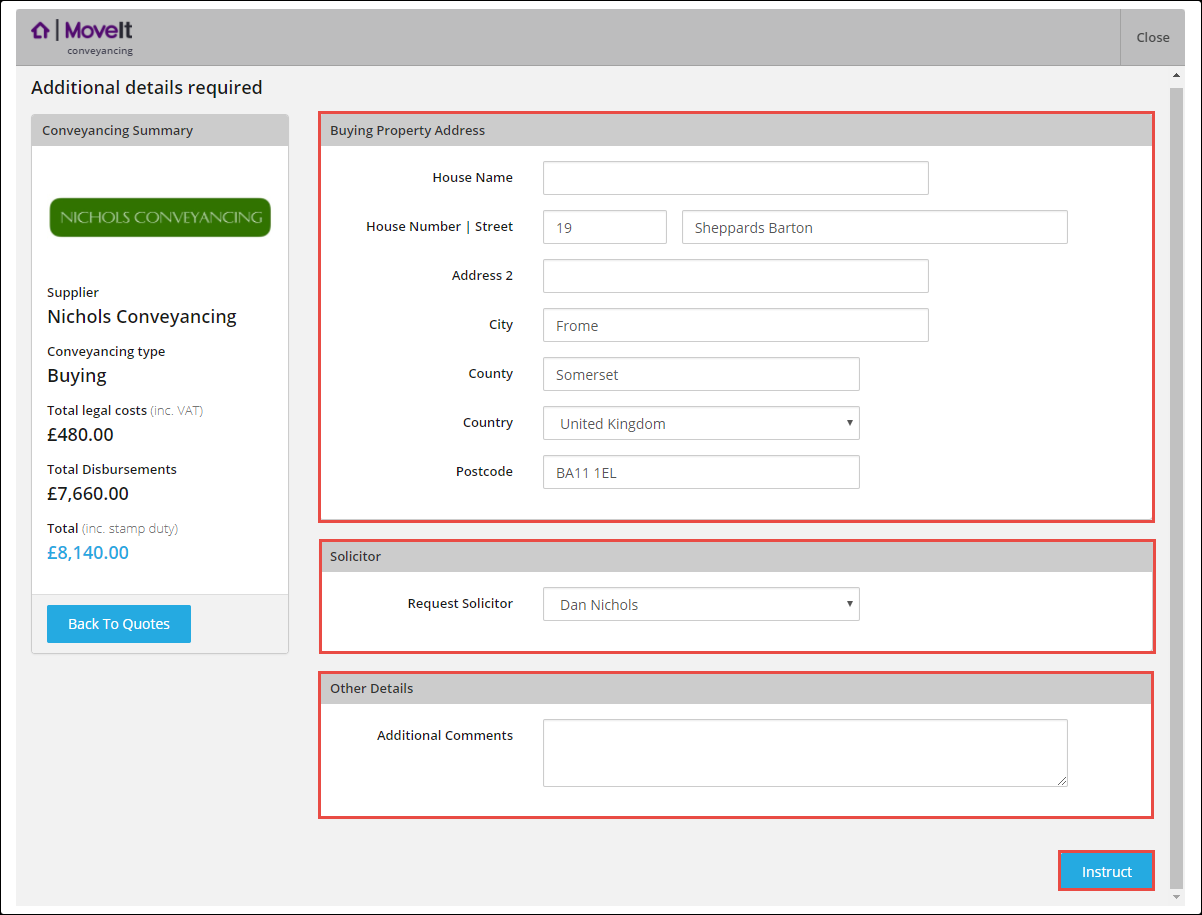 Fill in the relevant information and click the Instruct button.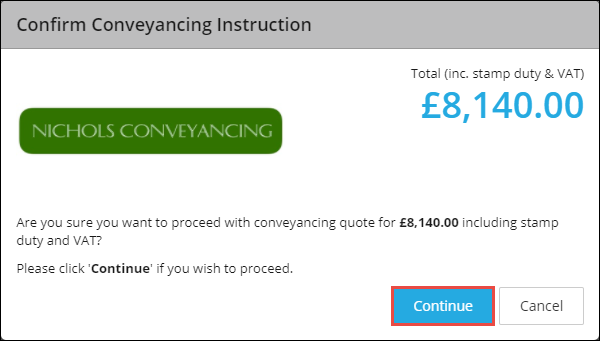 The above popup will show you an overview of the quote and you can click "Continue".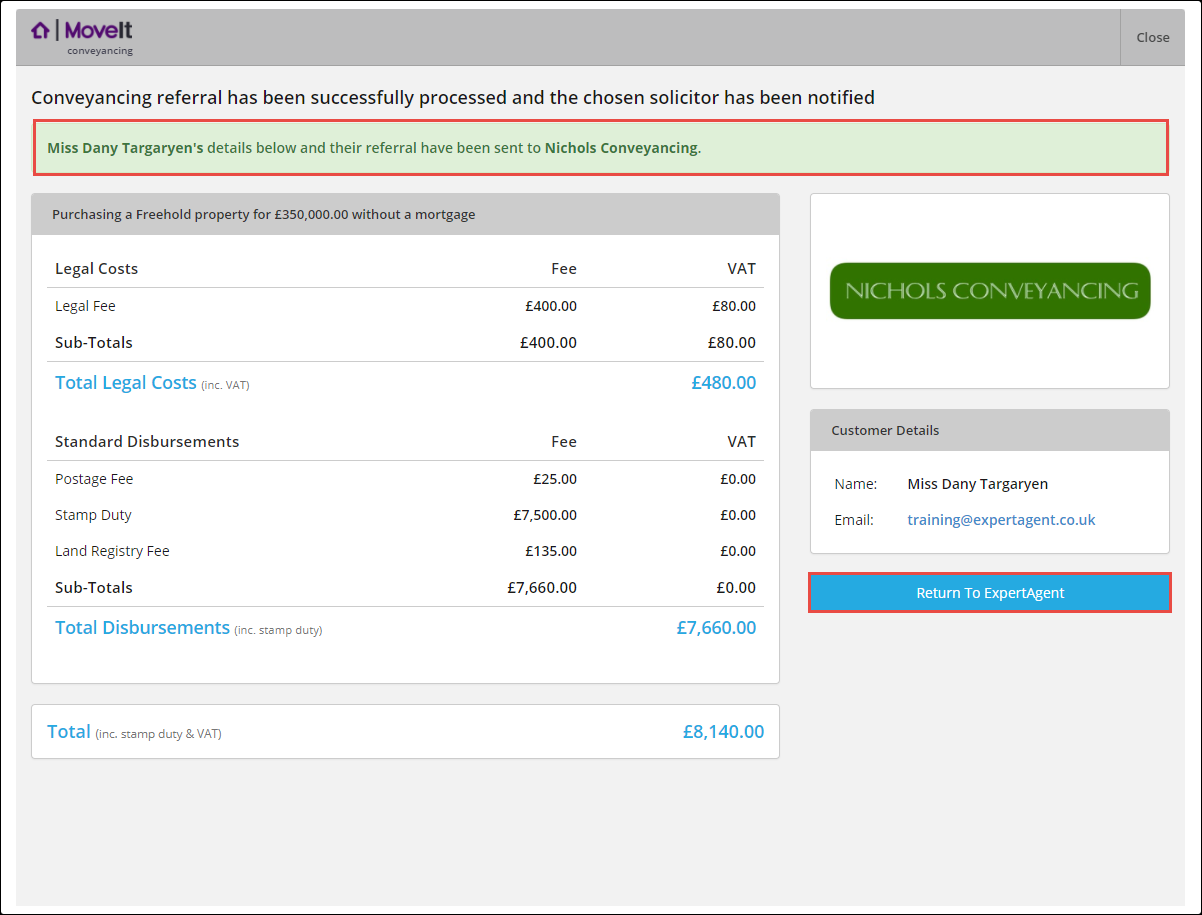 You will get the above confirmation screen, your customer will have been emailed as well, and you can return to Expert Agent.  

The traffic light will still be Amber but it will now say "Referral Pending - Chase Solicitor".  
This will now be visible on your MoveIt Referral Pipeline
Once the Solicitor has accepted the traffic light will go green and say "Live Referral".  

The Solicitor can then mark the Referral as Complete from their side (they have access to their own Supplier MoveIt Panel).  When it is marked as Complete, it will look like this from the Expert Agent Record: