Expert Agent Conveyancing Highlights:
• Reasonable charging starting at £550 + vat for properties up to £250,000 (£650 + London & SE) 
• No requirement for you or your staff to sell the service
• £150 - £350 referral payment back to you on each case completion (Sale or Purchase) 
• Develop a real relationship with the lawyers.
Click Here for the Expert Agent Conveyancing Brochure
 Mike Griffiths comments
"We've taken our time to integrate a conveyancing referral system into Expert Agent.Our independent High Street agents have generally had historic relationships with their fellow High Street solicitors. Back when I sold property for a living, I plied the local solicitor with cases and he plied me with bottles of scotch and the occasional probate case. He made a lot more out of it than I did and he played the same game with all of my competitors. I didn't mind, though - he did a great job and my deals generally stood a much higher chance of completing when he was involved. I only sold 75 houses per year so it wasn't like I was forgoing lots of referral fees.
Since then, a lot has changed. Corporate agents with anything up to 1000 branches, target their staff to push conveyancing through in-house lawyers or panel lawyers. A senior guy I know at Countrywide targets his staff to put 66% of all sales and purchases through their own lawyers.
As a result of this, plus that recession thing, the High Street lawyers have stopped doing or have scaled down their involvement in conveyancing. Finding a good local lawyer is a matter of luck. Some of our members have good local lawyers and continue to do the "bottle at Christmas and promise of probate" deal. Others have tried big, big law firms or anonymous panels - Move with Us, Live Organisation, LMS etc.
We also know service standards among all law firms ebb and flow with many really struggling during the busy months due to lack of staff and resources.
For those members that didn't have established connections, I wanted to find them something that worked - something that ensures transactions didn't falter or stop. Something that gave an element of the kind of trust and personal service that used to be available on every High Street. Something that allows agent and lawyer to develop a proper, mutually beneficial relationship"
So, with help from Richard Mathias at Law Firm Services (LFS) , we've created Expert Agent Conveyancing and it is available now within Expert Agent.
For You:
• handpicked mid-sized law firms with proven track record - you choose your favourites and develop your relationship with their team
• A dedicated conveyancer at each firm who will be responsible for all Expert Agent cases
• Access to the senior partner / head of conveyancing to resolve any issues
• One click referral process from within Expert Agent.  The lawyers' feedback progress straight to Expert Agent. Less "sales chasing"
• The law firms' own sales teams follow up each referral - no extra work for you or your staff
• Fixed Price Conveyancing – from £550 + vat not the cheapest - good value - but sufficient to keep the lawyers working hard
• £150 - £350 referral fee per case back to the referring agent (based on a scale of fees) 
• NO COMPLETION NO FEE ON ALL CASES (except search fees)
• Lawyers constantly tested and reviewed for quality. They get removed temporarily or permanently if underperforming
• Capacity management by LFS so no firm becomes so busy that service begins to suffer.
For the client:
• Attractive and easy to read written quote can be printed and is always emailed to client
• Handpicked mid-sized law firms with proven track record
• Competitive Price
• NO COMPLETION NO FEE ON ALL CASES (except search fees)
• Friendly initial explanation call
For the lawyer:
• A decent fee - enough to keep them incentivised and committed. That's very important. Competing on price results in zero mark-up and zero service
• No need to compete on price
• Regular work from a diverse group of estate agents
Our Panel
We've got 6 firms to start with - and a couple of others signed up
Getting Started
If you want to sign up before referring a client, go to Offers>EA Conveyancing at the Expert Agent top menu.
You'll be asked to complete a form, agree to some terms and conditions and agree to a self-billing agreement (which means that Law Firm Services can create VAT invoices for your commission on your behalf - saving them the need to send you a total figure and chase you for an invoice each month.)
You'll be automatically allocated 2 of the firms above as your primary lawyers. You can change these whenever you want to but the benefit with having just two is that they'll work hard to build a relationship with you. To change a lawyer or discuss any issues or matters relating to the lawyers, please call Richard Mathias and his colleagues at Law Firm Services -Tel: (0844) 414 2911 - Email: This email address is being protected from spambots. You need JavaScript enabled to view it.
Alternatively, you can do the forms as you refer your first client.
In an offer form, right click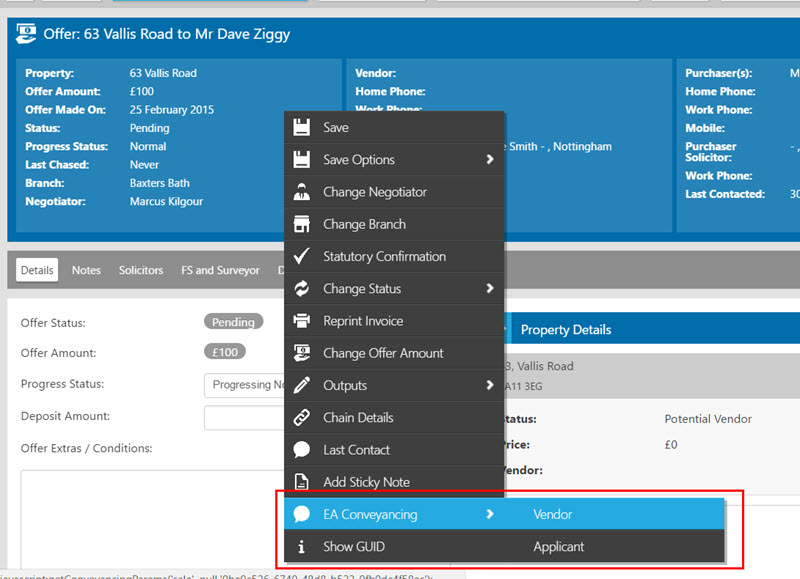 If this is the first time your branch has attempted to send through a referral, you will be asked to accept our terms and conditions.
Once you've done this you can refer your vendor, applicant or both (but each must be referred separately).
The form below is displayed: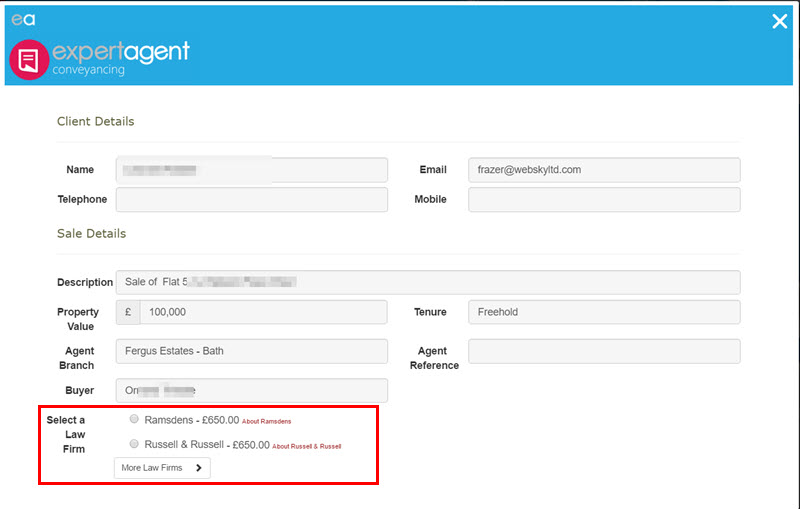 You'll see that your vendor or applicant details have populated the form. Add any extra information as required. Choose a law firm - your favourites will be displayed at the top - choose More Law Firms to see more.
scroll down and you will see the quote as below: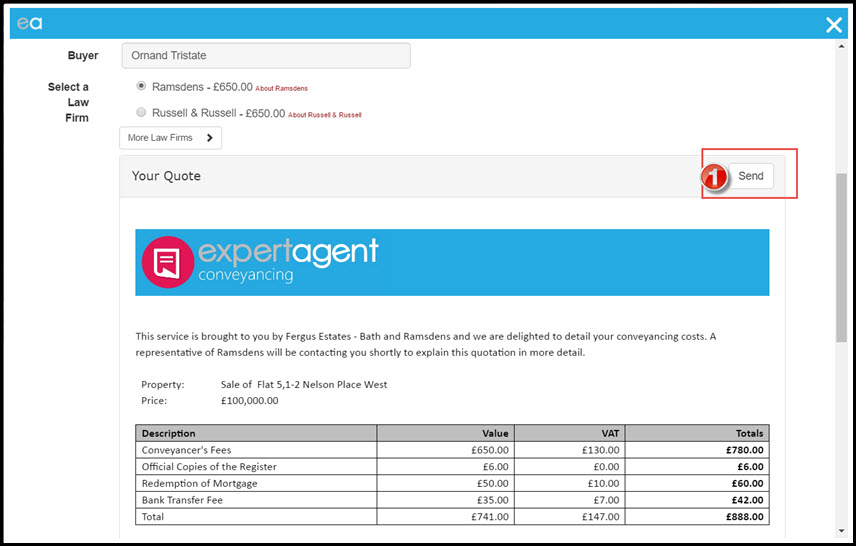 Just press Send (shown 1 above) and your quote is sent to the vendor/applicant by email and to the lawyer.
The lawyer's sales team will call your vendor/applicant directly. You've recommended the lawyer so your vendor/applicant is very likely to sign up.
The lawyer updates case notes at their end. 
To see the case notes, use the same option you chose to make the referral - right click in an offer record, choose EA Conveyancing and either Vendor or Applicant.
In addition, there's an EA Conveyancing option in the Offers menu at the main menu - click this to see an update on all cases.