Expert Agent is such a broad product with so many features and ways of achieving the same result. That gives it the flexibility to cope with the needs of all types and sizes of estate agencies and letting agencies but can make it difficult for you to work our which features will work well for you and which features you can safely ignore.
We've come up with Expert Agent Tune Up Consultancy -a combination of an automated and manually compiled written recommendations report plus a one-to-one webinar with Verity or Sophie - our Product Consultants.
They will work through the way you use your data, how your staff use the tools at their disposal and the way your account is configured, making recommendations as required. You'll get an insight into ways to make more money and make your staff more productive. 
There are two main elements to the report:
Data Report
We produce one of these for each branch plus a group average report

Each report runs to over 20 Pages. Here's an example of the kind of in depth analysis and recommendation that it contains: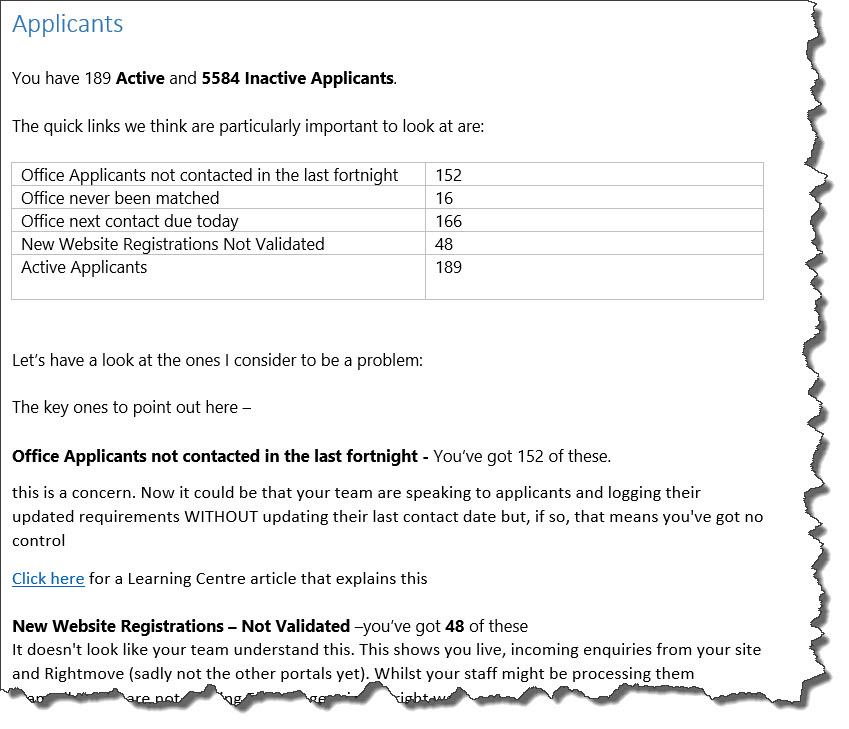 Staff Report
This reports on the training courses that your staff have passed, how they use Quick Links, Dashboards, how active they are etc.

Price and Ordering
There's an hour of work to compile the reports then normally an hour to 2 hours on the one-to-one webinar with you the boss, and maybe key management staff.
We charge £70+VAT for the first branch plus £10+VAT for a report per additional office (we just do one consultancy one-to-one session for this. If you wanted a session for each branch, you'd need to book and pay for multiples of £70+VAT). We can sometimes come and do these sessions on-site with customers - the price is the same but we will charge £50 +VAT per hour for travelling. We're in BA11 3EG - 2 hours from Heathrow and 2 hours from Birmingham. 
So, if you want to book one, please contact the Account Managers on This email address is being protected from spambots. You need JavaScript enabled to view it., we'll get the reports done and we'll present them to you during the one to one session. We'll then add the charge to your next direct debit bill.