For new customers looking to Configure Potential Vendor Alerts, please contact your Account Manager before proceeding. 
Potential Vendor Alerts is a scheme that sends you a tip off if someone from your area with a house to sell registers with an Expert Agent member elsewhere in the country.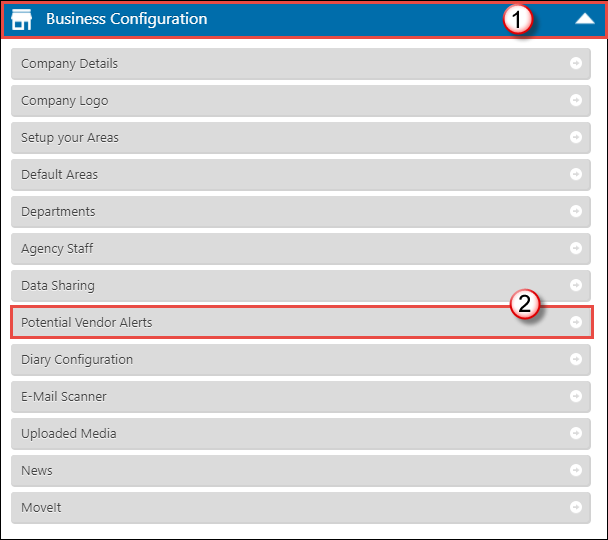 The new process is very straightforward: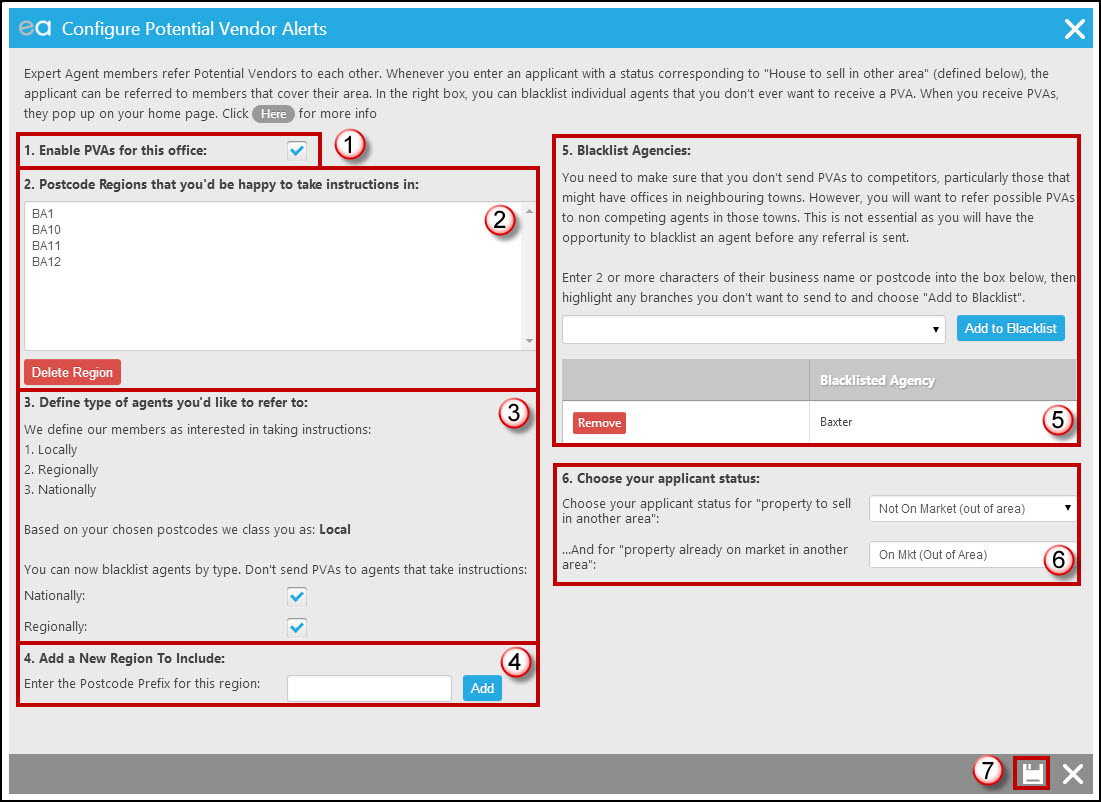 Step 1 – Tick the box to switch on PVAs.
Step 2 – These are the postcode regions you'd be happy to take instructions in. The fewer you choose, the less contentious you are to other members. Based on the number you enter, you'll be defined as taking instructions Locally, Regionally or Nationally
You can enter Regions – the bit before the numbers (i.e. BA or TA) and/or districts – the bit before the gap – BA11, TA19.
Here's the formula we've used to assess what type of agent you are (warning – it gets complicated!)
You get an allowance per business – not per branch. So, we assess all your branches rather than just your own.
If you've entered just districts (i.e. BA12, BA14), you're allowed 3 per branch across your group. So, if you have 3 offices, you can have any combination as long as the total is less than 9 districts. If you go beyond that, you're a regional agent.
If you enter any regions (i.e. BA) in any of your branches, you're automatically a regional agent.
You stay a regional agent until total regions divided by branch count is greater than 3. So, if you have 3 branches, you can have 9 regions between you (BA, TA, BS). If you add a 10th region and you become a national agent.
Step 3 – If you want to blacklist specific types of firm, tick National and/or Regional – in doing this there's no way your referrals will go to these types of agents.
Step 4 – Enter postcodes if you would like to add more areas.
Step 5 – This section allows you to blacklist specific agents – maybe there's a firm in the neighboring town that you don't like or maybe they have an office that competes with you. This blacklist is in addition to the National/Regional choice you've already made. You can blacklist agents when you review the referrals that Expert Agent is proposing.
Step 6 – This is an important one – you need to tell Expert Agent which of your applicant status prompts denotes "property to sell in another area" or "property already on market elsewhere". If you want to add new categories, go to Configure>Applicants>Applicant Status prompts.
That's all you need to do!
Start adding applicants – Expert Agent will start to locate suitable referrals. Don't worry – none will get sent until you've had chance to review them.
If you get stuck with this, please call your account manager on 01225 303500.