DASHBOARDS 
Dashboards are a great way of finding singular records and getting a snapshot of related activity and information and it is essential you get the Dashboards set up to work with you.  

1. In order to access any Dashboard, hover over the applicable section in the top menu and select the Dashboard option.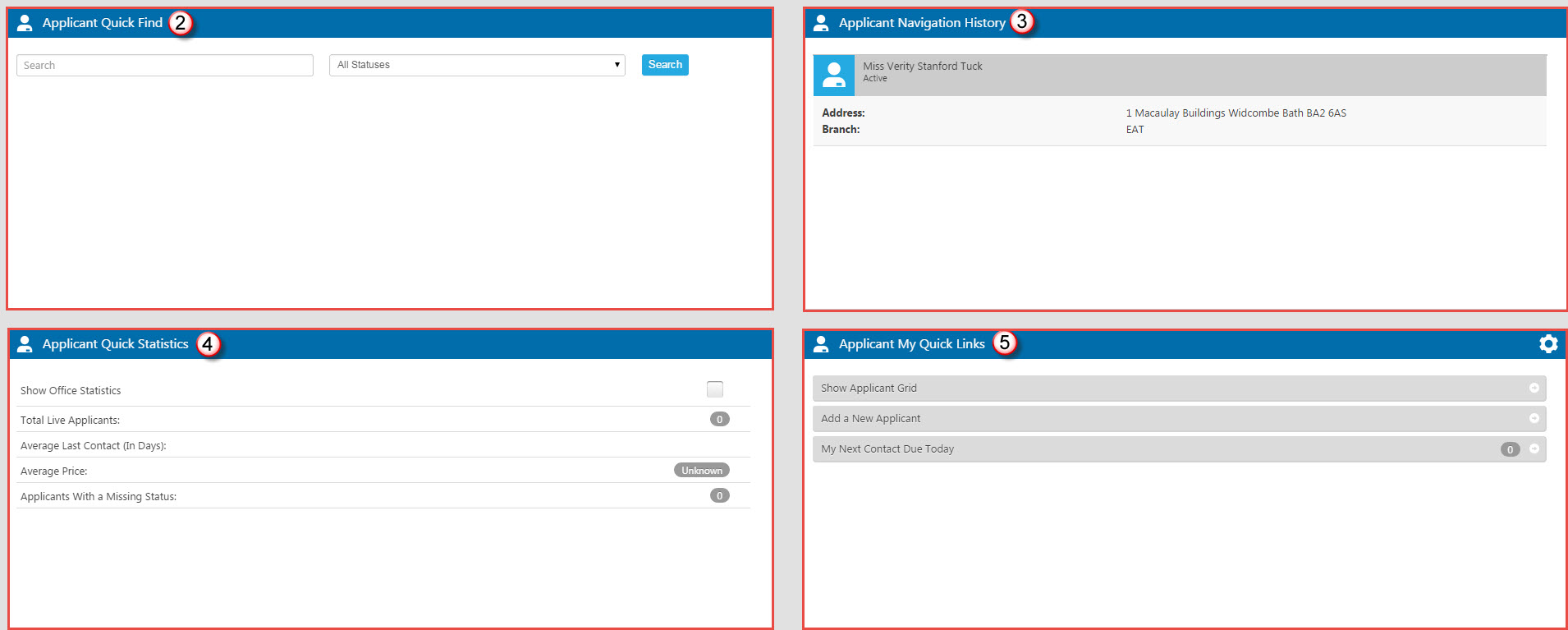 There are four main sections to any Dashboard.  
2. Quick Find: This will show you the top 50 records.  You can search both Active and Inactive Applicants.  
3. Navigation History: This will show you up to 20 applicant records you have been working on.  Remember this supplements the Navigation item in the top menu.  
4. Quick Statistics: This will show you your office or personal statistics from the 1st of each month.  
5. Quick Links: As you will remember from Training, these are where the system goes from a clever website to a proactive content management system.  You now have the ability to create your own Quick Links, and we will have a look at that in later sections.  All these Quick Links are configurable by yourselves and each Dashboard needs to be set up with their own set.  

1. To edit your Quick Links select the Edit button to the right hand side of the My Quick Links pod.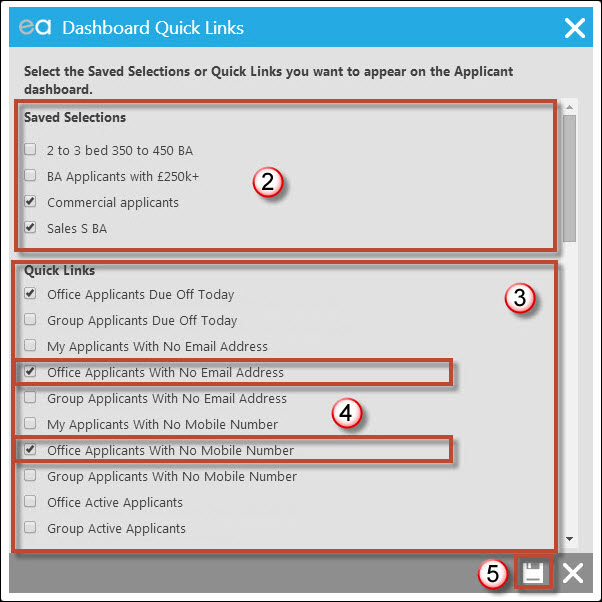 The Quick Links are divided into groups.  You have personal Quick Links (My), Quick links specific to your office (Office) and Quick Links that cover a wider group if you are part of a multi branch firm (Group).  It depends on how your office works as to which links you select.  
2. You now that the ability to create your own personalised Quick Links.  We look at how to do this later on but any Saved Selections you have will be sitting here.  
3. All the Quick Links that we have created for you will be sitting in this section.  
4. By ticking the ones you wish to use, they will show on your Dashboard and on the relevant Quick Links pods on your Homepage.  You will probably be thinking about having a mixture of Quick Links at this point, things like Applicants with No Mobile Number, and No Email Address.  
5. Click on the Save icon.
Once you have set up your Applicant Dashboard and Quick Links you will need to think about setting up the other Dashboards.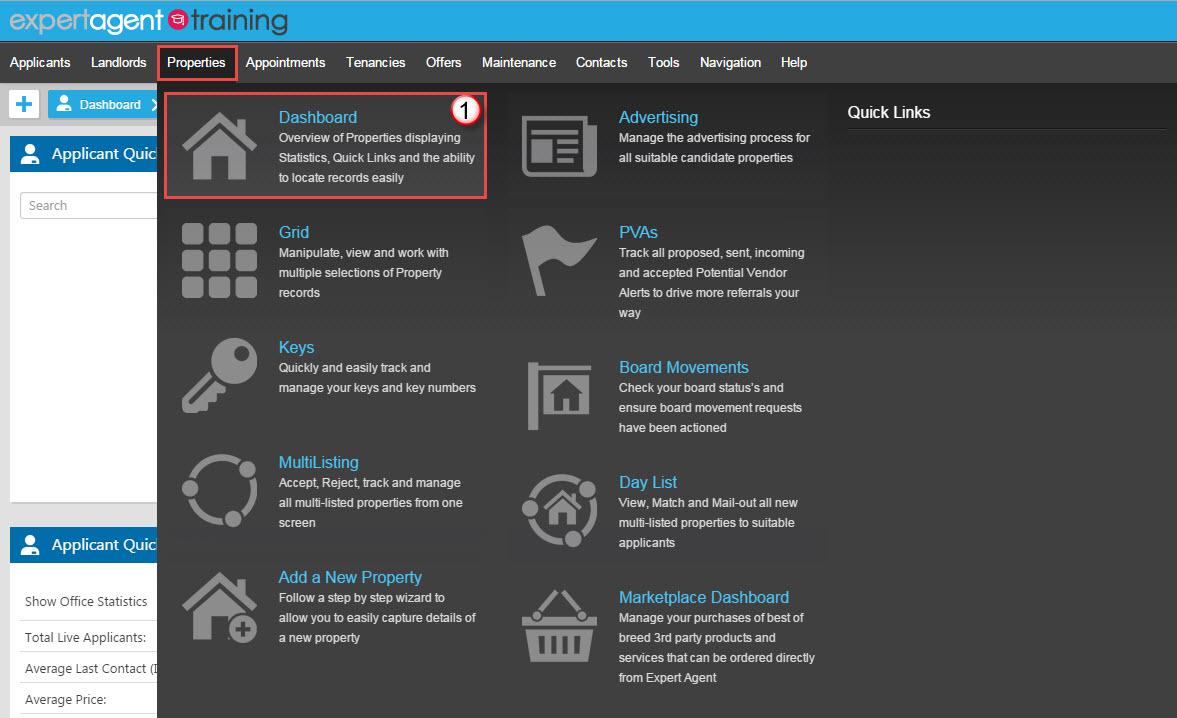 Hover over Properties and select Dashboard.  
A suggestion of links that you might want to think about for your properties Quick Links are Properties with HIP/EPC Outstanding, Properties With Electrical Safety/Gas Check Due (for Lettings), Marketed Properties With No Brochure etc. 
All the other Dashboards need to be set up the same way to make sure that Expert Agent will work efficiently for you.  
RIGHT TOOL-BAR
Once you have set up your Dashboard and the Quick Links associated with them, it's a good idea to think about your Right Tool-Bar.  This is an incredibly useful tool that can be accessed from anywhere within Expert Agent.  The Right Tool-Bar contains a selection of Quick Links, we do suggest, however that these are different Quick Links to the ones you have on your Dashboards.  The Right Tool Bar can be accessed from anywhere and therefore, the links on it should be ones that you need to keep an eye on throughout the day without having to go back to your Dashboards.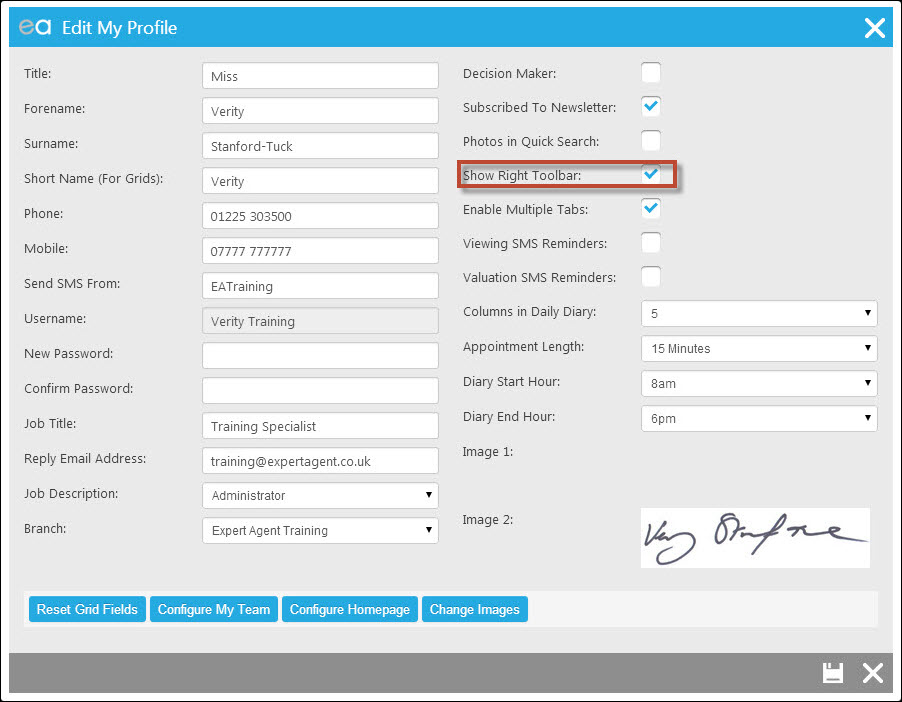 When you configured your Staff Profile, the Show Right Tool Bar tick box needed to have been ticked.  

1. In the top right hand side of your screen there will be a grey box with a blue arrow.  Clicking on that will open up your Right Tool-Bar.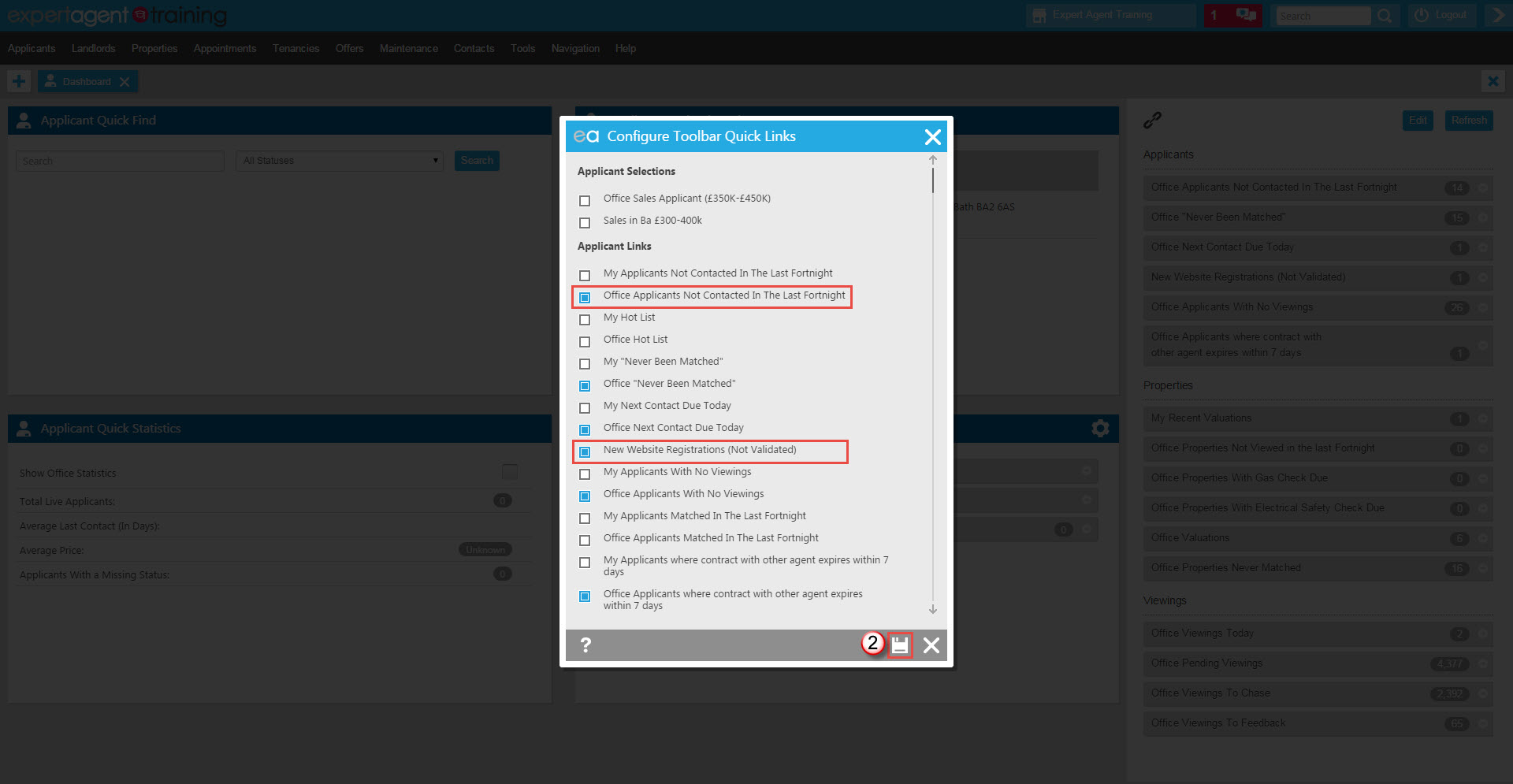 Click on Edit next to Quick Links in the top and a pop up will open with a list of all available Quick Links for all parts of the system.  Including your Saved Selections as well.  A few Quick Links you might want to think about are Applicants Not Contacted In The Last Fortnight, New Website Registrations (Not Validated) and Pending Viewings.  
Click Save and your selections will now be in your Right Tool-Bar.