Your staff profile contains all of your specific staff details, as well as some key settings controlled from here. It's important that your staff details are kept up to date so that your details are being sent out correctly when you are contacting customers, and having the other options set correctly should make using Expert Agent easier for you.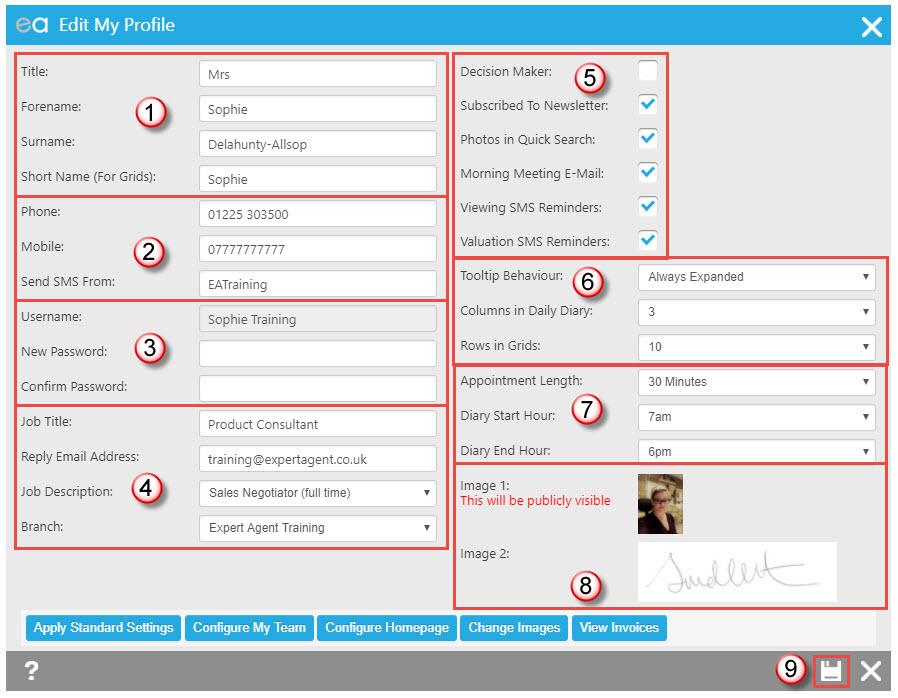 1. If you want to change how your name displays then edit the relevant fields here. The 'short name (for grids)' is for internal use only; it determines how your name will display in the various grids within Expert Agent, so again you can edit this if you wish.
2. Fill in your work contact numbers, and what you would like to display on recipients phones when you send texts from EA. 
3. You can't change your username yourself, but you can change your password using the 'New Password' box and then the 'Confirm' box below it where you re-enter the new password.
4. Other important information such as your job title, reply email address, and the branch that you are assigned to in Expert Agent are featured here.  This information will determine how your "Negotiator Signature" reads on outputs.  
5. It's a good idea to have the following tick-boxes selected, if you haven't already:
Decision Maker - this won't change your abilities within Expert Agent, it just marks you out to us as someone we should contact about new products and services. 
Subscribed to Newsletter - this relates to Expert Agent newsletters that contains useful and important information on new enhancements, property industry news and general Expert Agent news. 
Photos in Quick Search - this is a personal preference.  When searching for properties, you can have their main photograph appear alongside the search result.
Morning Meeting E-Mail -We will send you this early every morning, with details of appointments for the day, as well as tasks, PVA valuation leads, and other useful information. 
Viewing/Valuation SMS reminders - these can be sent to the mobile number you listed in the field on the left, and will go out 20 minutes before every viewing/valuation which is scheduled in the Expert Agent diary where you are assigned as the negotiator. Check with your boss or Super User before turning these on, as they will eat in to the text credits you purchase from us. 
6. The Tooltip is the blue information bar which appears at the top of records and grids. If you have a large enough monitor, you can set it to Always Expanded, but if you work on a laptop or small device you may want it Always Collapsed. If you just between the two, set the Tooltip to Collapse At Lower Resolutions. You can then edit how many columns you would like to display in your Daily Diary– think about the number of staff in your team, and the size of the screen which you'll be viewing the diary on. Then set how many results you want to see per page on your grids. 
7. You can also add your working hours so that the diary only displays those times for you, and set the default appointment length for everything you enter in to the diary. 
8. The image section allows you to upload staff images to your profile. Some agents like to upload their signature or a staff photo, or both, to then be used on their outputs. There are merge codes for these so you can set all of your emails and documents up to feature them! Use the Change Images button at the bottom to upload yours, and make sure they are a .jpg file.
9. Click 'Save' to save any changes made.
Apply Standard Settings
If you're new to Expert Agent, it can be really helpful to apply standard settings to your Right Hand Toolbar, as well as your Grids.  This button will add some QuickLinks to the Right Hand Toolbar to get you started using them, and you can choose which Grids to have our recommended columns on. You'll still be able to customise your grids yourself- this is just a starting point.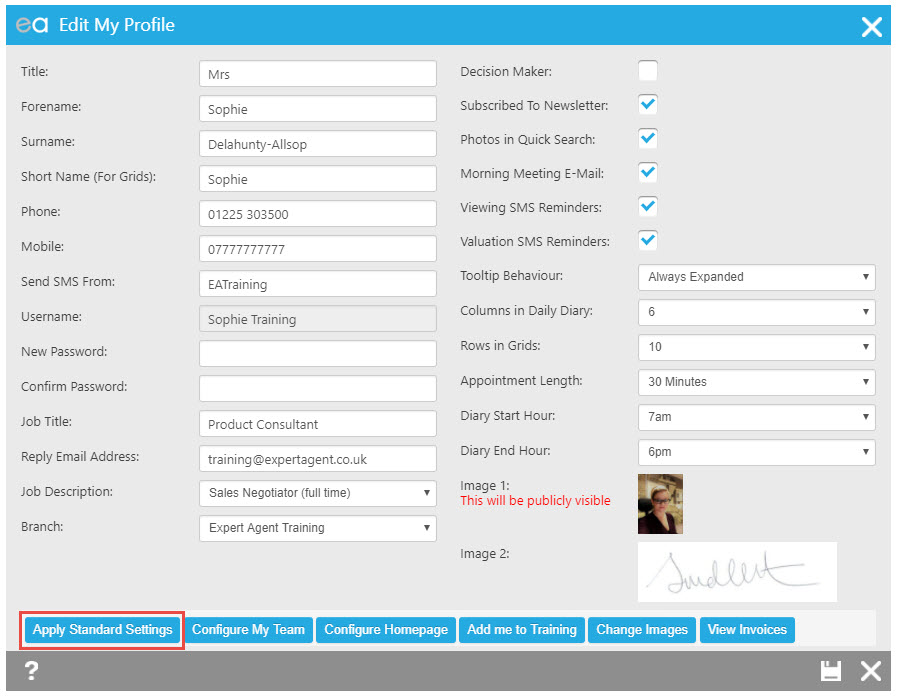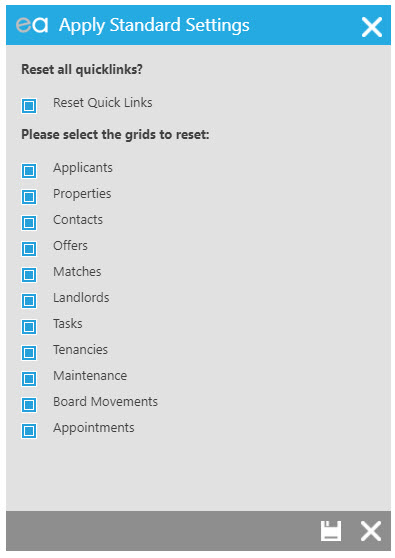 Configuring Your Team

There is an option on the staff profile called 'configure my team.' This is something that we cover in the introductory training, and it relates to the diary. It's the option to have a group of people set up whose diaries you would frequently need to look at alongside each other, so that you can quickly do this from the diary whenever you need.
It's likely that this will need amending from time to time as staff changes occur. To do this: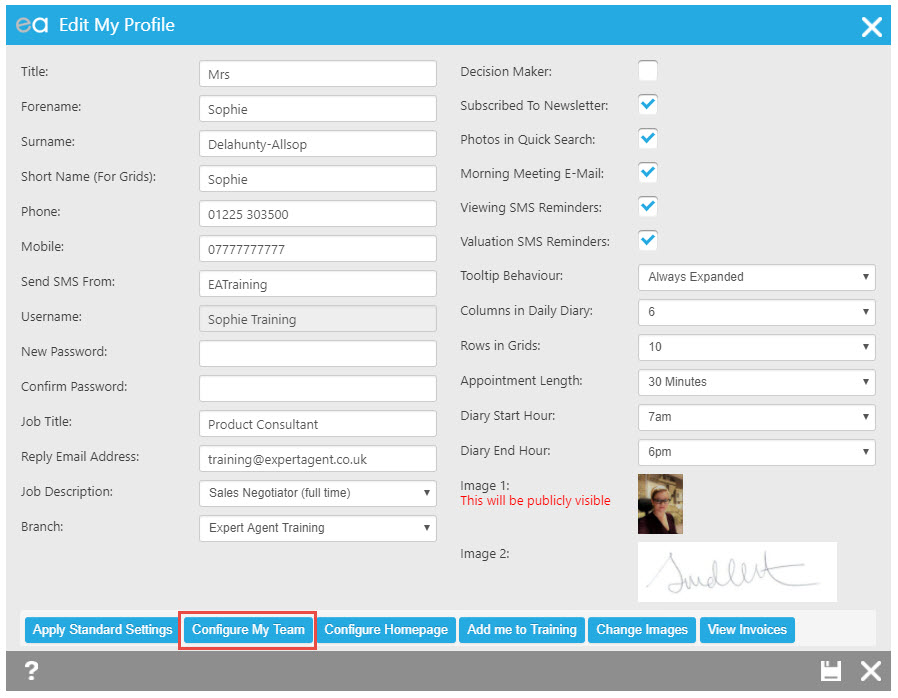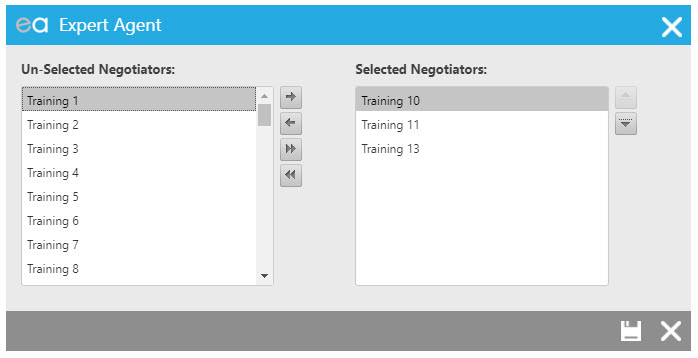 1. Go into your profile and click 'Configure My Team.' 
2. If there is anybody who you no longer want in your team, select them by clicking on them in the right hand column (you'll need to hold down the 'Ctrl' key to click on more than one person) and then use the single headed arrow pointing to the left hand column to move them across. 
3. If there are people you need to add to your team, select them by clicking on them in the left hand column (again you'll need to hold down the 'Ctrl' key to click on more than one person) and then use the single headed arrow pointing to the right hand column to move them across.  The people you want in your team may be the Lettings Manager and the Sales Manager, e.g.  
4. Once people are added to your team, you can re-order them by clicking on their name and using the 'Up' or 'Down' button as relevant.
5. Once you've made all the necessary changes you can close this screen and press 'Save' back on your staff profile.