The Outstanding Matches grid can be found under the Applicant drop down.  This can fill up very quickly if people in the office aren't processing their matches correctly so it is well worth checking this grid every few days or so.  

1. Hover over Applicants.  
2. Select either All Outstanding Matches, or My Outstanding Matches
The Outstanding Match grid is a standard grid with the dynamic Tooltip at the top, the main body showing you ten records to a page below and the Action Menu, accessible from the Right Click of the mouse or the blue list icon in the right hand corner of the Tooltip.  

The first thing to check on the Match Grid is the status of these matches.  Some of them might be "Ok To Post" which we will have a look at later.
Any that are marked Pending you will have to check who ran the match.  Use the Matched By column (remember to use the Right Click and Choose Columns).  
Once you have found out who ran the match you can decide to either process the match or reject it.

From the Action menu select Exclude all.  
You will then need to open the Action menu again and select Reject Excluded.  
That will leave the Outstanding Match Grid Empty and you can now close it.  

1. If you need to process the matches you can email them by opening the action menu and selecting Send E-Mail.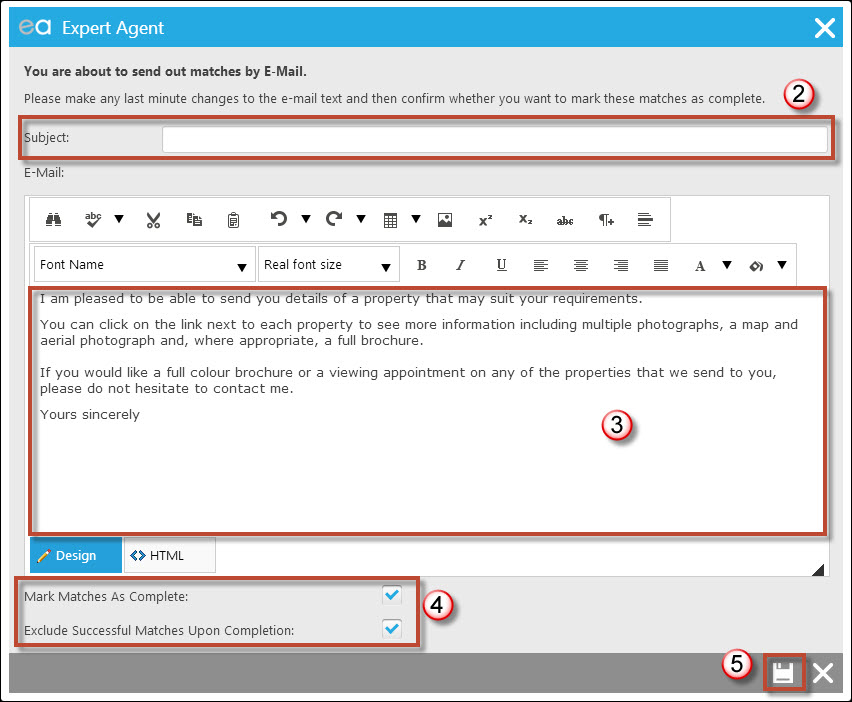 2. Give your email a title, remember that this might be multiple properties going to multiple applicants so keep it generic.  
3. You can change the text of the email here.  
4. Check these two boxes are ticked in the way we suggest in Introductory training.  
5. Pressing the Save icon will send the matches and depending on the two tick boxes, will clear the Outstanding Match grid and you can close down the grid.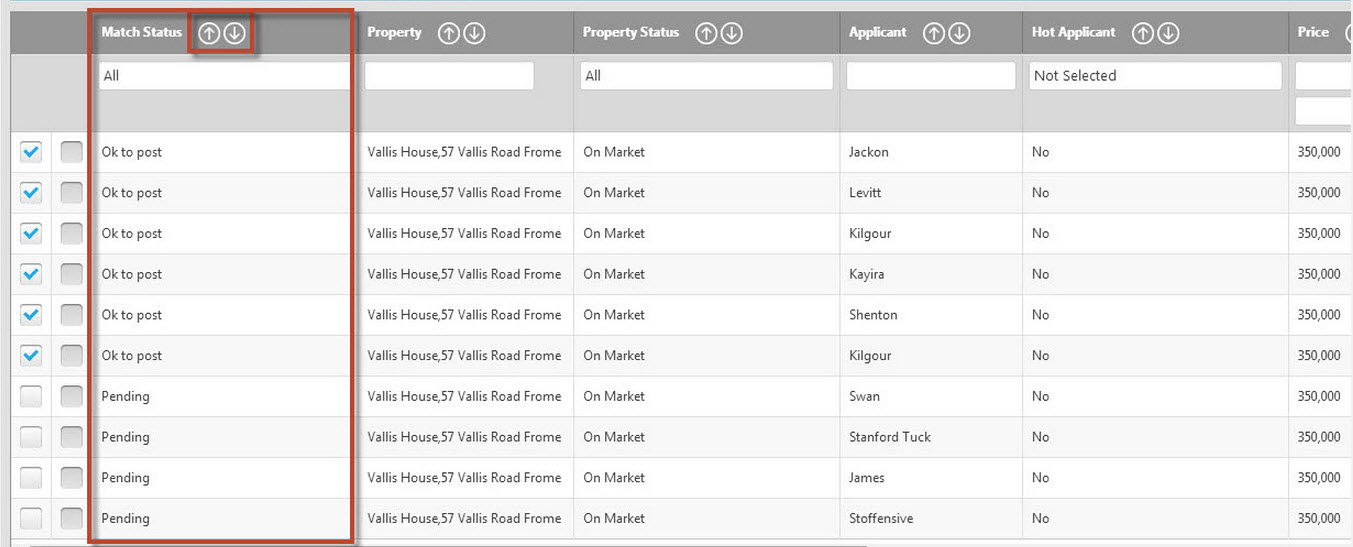 Some Agents use the Outstanding Match grid to tell their Administrators that they have matches ready to post.  If this is the case in your office you can filter on the match status.  
The ones that are ready to post will have the status of 'OK To Post'.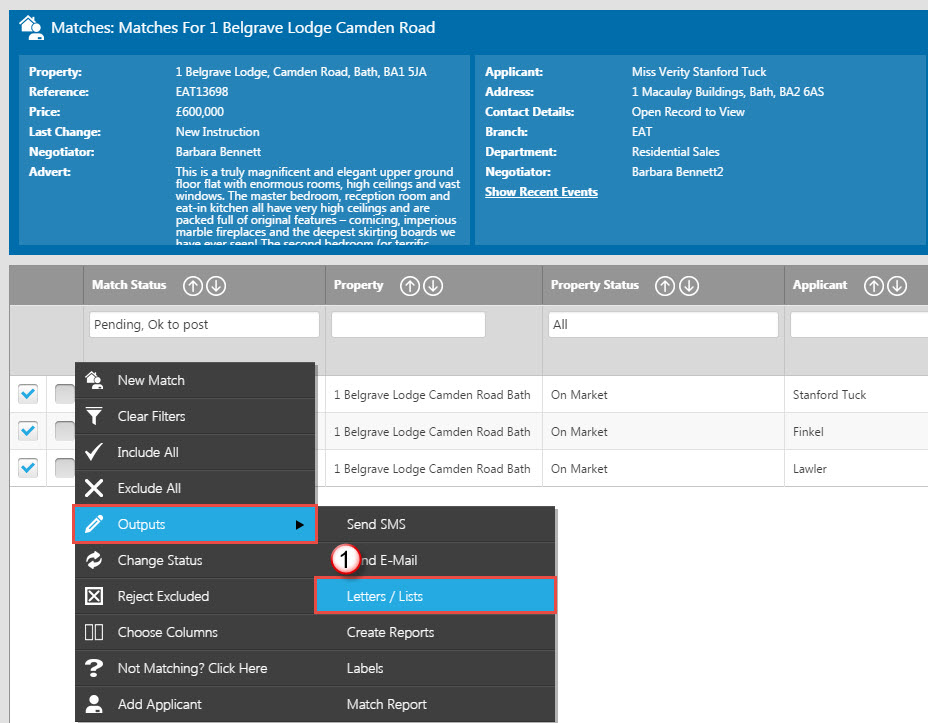 1. With these you will need to open the Action Menu and select Letters / Lists.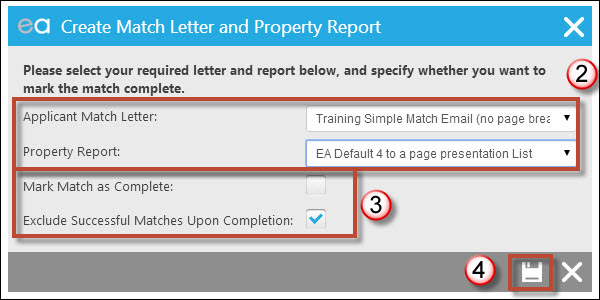 2. Choose a Letter and a report from your drop downs.  
3. Check these two boxes are ticked in the way we suggest in Introductory training (note they are different than emailing).  
4. Select the save icon.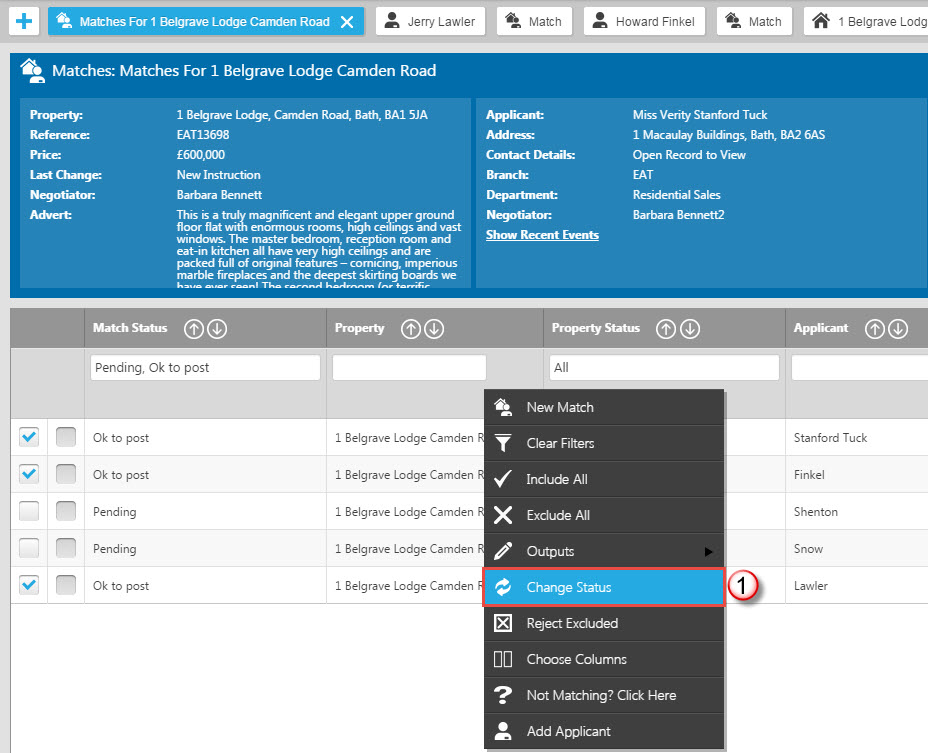 1. Once you have posted you will need to change the status again to Completed.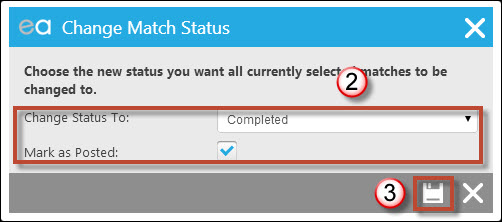 2. Change the status to Completed using the drop down and make sure you tick the Mark As Posted box for future reference when using the Events tab.  
3. Select the save icon.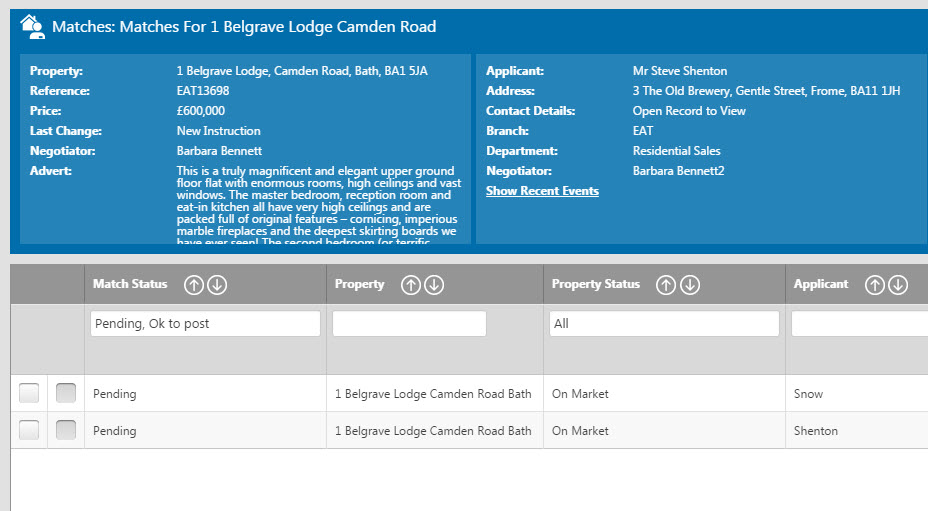 The ones posted will now be cleared from your grid.  Any left will be Pending matches which you will need to process using the steps above.