If you're one of the few small businesses that are not yet plugged into social media, you may be wondering what all the fuss is about. Do you really need to use it, or can you just get by with an optimized website and an e-newsletter? The short answer is yes you do need to use it, it is free viral marketing. You need social media – at least you do if you want to reach customers and stay competitive. 
Advertising on Social Media platforms in Expert Agent is made simple for you as it is all seamlessly integrated. All you need to do is create your Social Media accounts.

  Twitter
Twitter is an online social networking and microblogging service that enables users to send and read short 140-character text messages, called "tweets".   Twitter is very simple to use as broadcaster or receiver. 
You join with a free account and Twitter name. Then you send broadcasts daily, or even hourly. Go to the 'What's Happening' box, type 140 characters or less, and click 'Tweet'. 
Using Expert Agent to advertise your properties couldn't be easier as it is entirely integrated into the 'Put on Market' wizard.  Here is an example of how it displays within the system and then on your Twitter account:

Although Twitter is limited to 140 characters per post you do have some scope to tweak the text.  In this example we have added "New Instruction!!" The short URL will automatically be placed at the end of the post (this is created upon changing the property status to On Market). The short URL will direct the user to the full property details.

Using Hashtags
On Twitter, the hash key turns any word or group of words that directly follow it into a searchable link. This allows you to organize content and track discussion topics based on those keywords. So, if you wanted to post about the property market, you would include #PropertyMarket in your tweet to join the conversation. Click on a hashtag to see all the posts that mention the subject in real time. Using hashtags are another great way of getting your name and brand out there.

  Facebook
Facebook is a popular free social networking website that allows registered users to create profiles, upload photos and videos, send messages and keep in touch with colleagues, customers and allows you to reach out to potential customers and wider groups. 
Once again this is seamlessly integrated into Expert Agent allowing you to post New Instructions, Price Reductions and any other properties of interest quickly and easily.
Here is an example of how it displays within Expert Agent and on Facebook itself: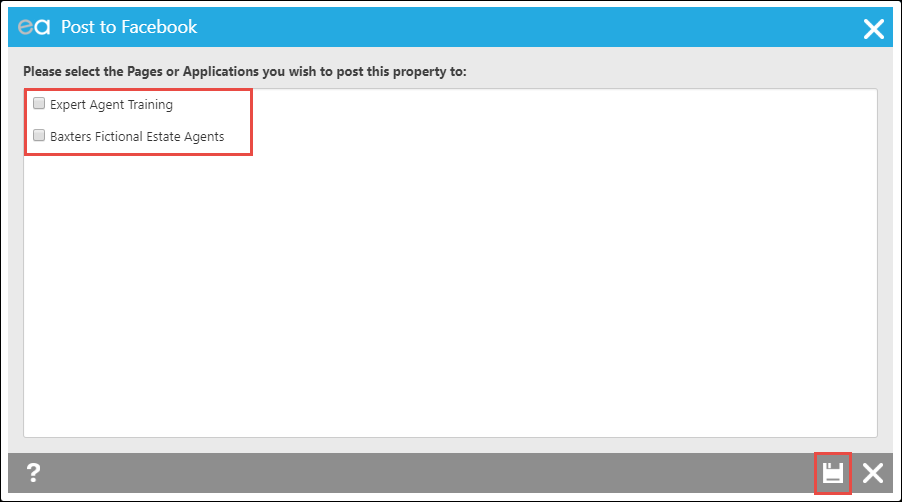 Upon clicking the 'Save' option it will display immediately on Facebook.