Tasks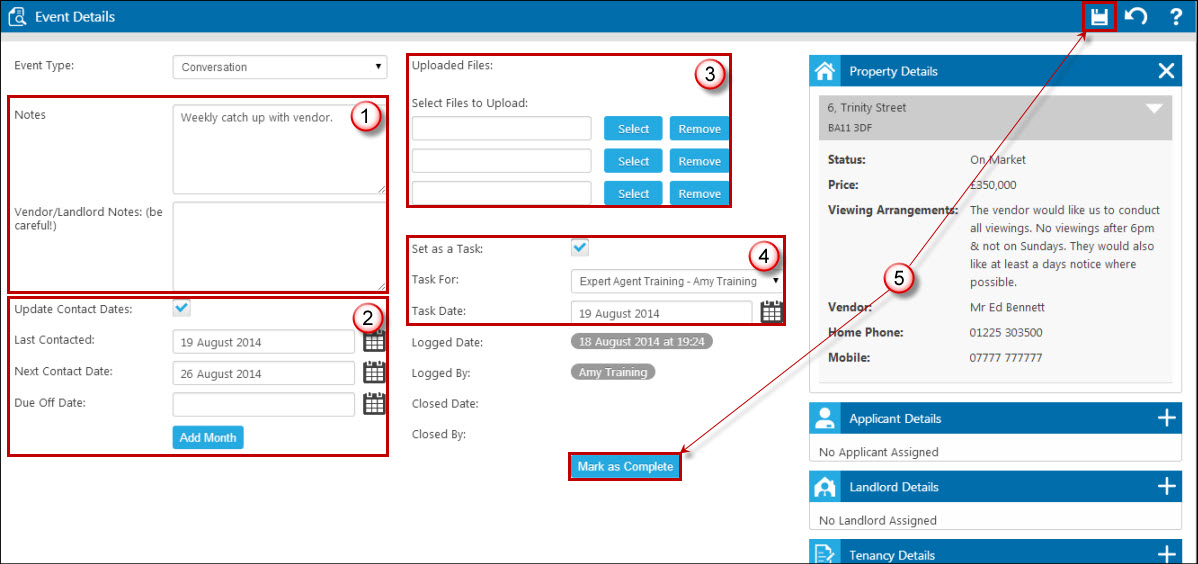 Add any private notes into the first notes box, and any notes you would like to share with the vendor or landlord (if the task relates to a property) in the 'Vendor/Landlord Notes' box. They will see these if they are being shared with them via the Vendor/Landlord portal.
Ticking 'Update Contact Dates' allows you to update their last contacted date to today's date, and also allows you to set a date for next contact.
Files can be uploaded and attached to the record if relevant.
If you'd like the task to stay open, edit as necessary – ensuring the date you'd like to task to re-appear is correct as well as who the task is for.
Use 'Save' to save changes, or 'Mark as Complete' to mark the task as done and save and close the event. 
Internal Messages
As you click into records from your internal messages, it would be on/from the record itself that you would add notes and update the relevant dates. 
The best way to do this is to right click in the record and choose 'Last Contact':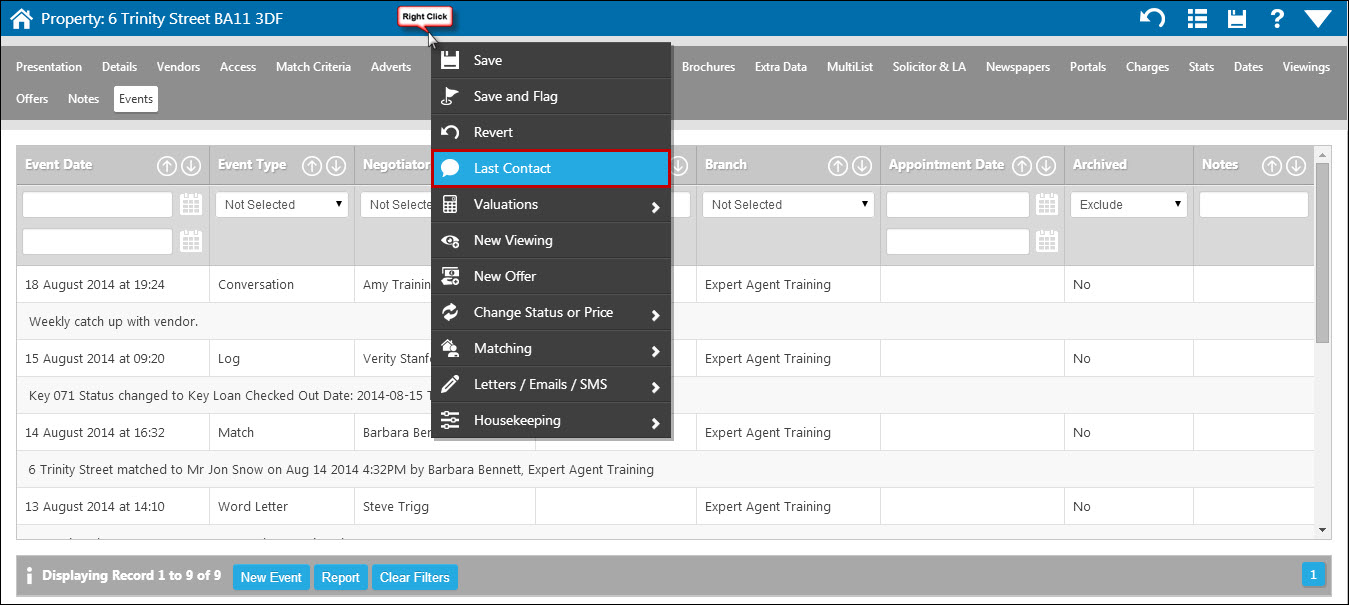 This will open up a new log entry for you with the 'Update Contact Dates' section automatically ticked for you. Simply add notes, set tasks, upload files etc. as needed. 
Quick Links
Depending on the amount of information you need to be able to see, as discussed in the previous section, you may be able to update Expert Agent from your grid or it may be individual forms that you need to update.
Updating Expert Agent from a grid
You can update the last contact information for a number of records at the same time from the grid: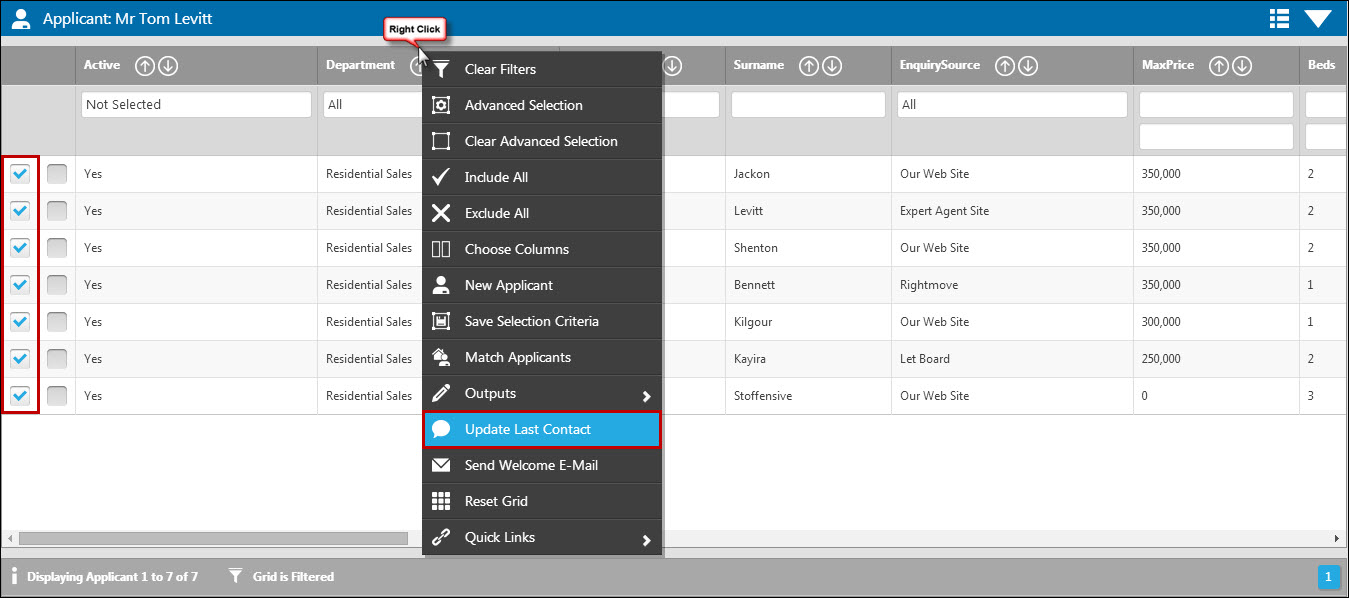 Simply ensure the correct records are ticked on the left hand side of the grid before right clicking and selecting 'Update Last Contact.' For example, if you'd been able to speak to 4 of the 7 people listed in your grid, you would tick those 4 people only before right clicking.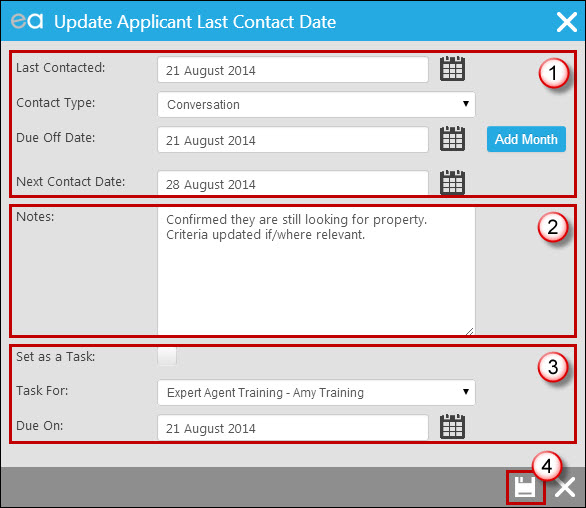 1. Select a suitable contact type (your super user can configure this list if needed) and edit the dates if necessary. 
2. Add notes – bear in mind that if you have multiple people selected in the grid, these notes will be applied to everybody.
3. Set a task if relevant, again bearing in mind that this will apply to everybody selected in the grid. 
4. Click 'Save.' 
Updating Expert Agent from a form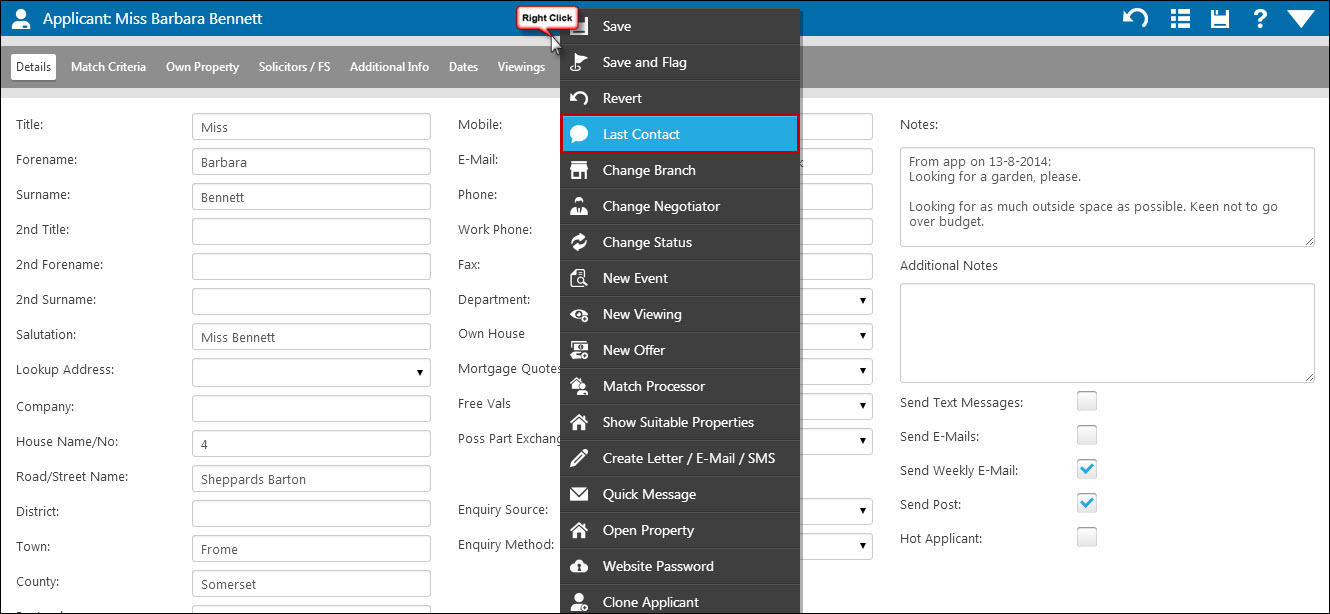 With the form open, right click and select 'Last Contact.' This will open the same screen we looked at in the previous section for you to update the dates, add notes and so on.