Dashboards are a great way of finding records as well as getting a snapshot of activity and information regarding the area of Expert Agent that you are looking at. All main areas of Expert Agent have a dashboard – applicants, properties, offers and so on. 
Dashboards are accessed from the top menu (applicant example shown here):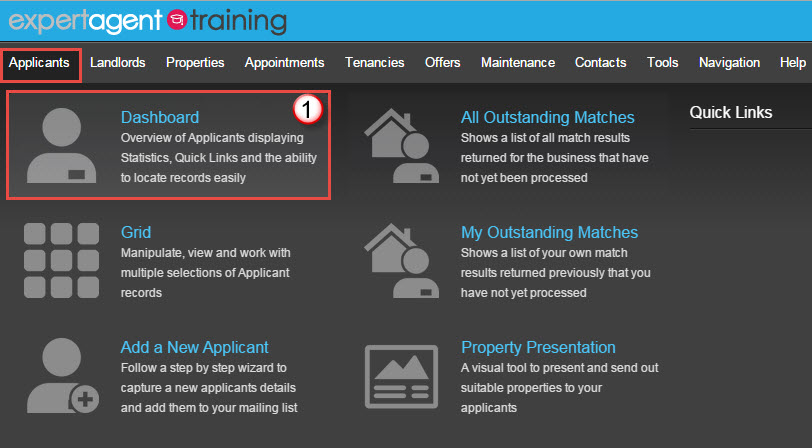 They look like this: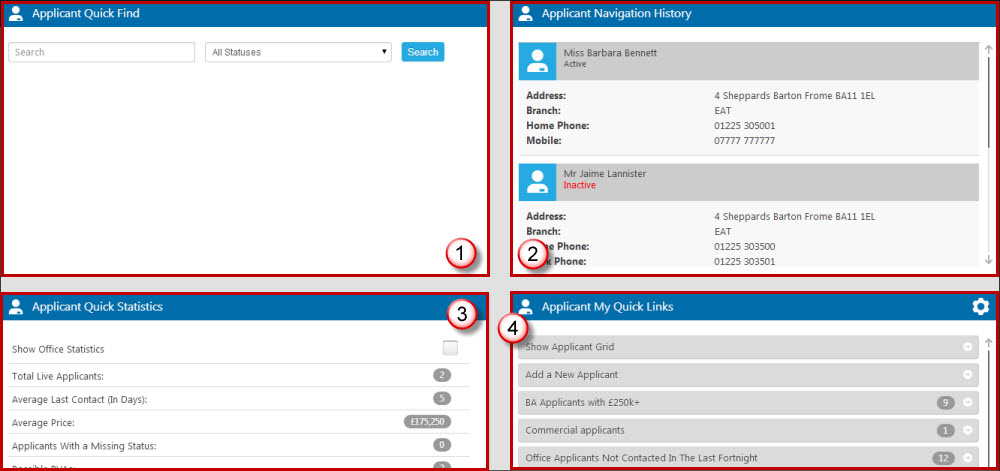 There are four main sections to any Dashboard.  
Quick Find: This will show you the top 50 records.  You can search both Active and Inactive Applicants.  
Navigation History: This will show you up to 20 applicant records you have recently been working on.  Remember this supplements the Navigation item in the top menu.  
Quick Statistics: This will show you your office or personal statistics from the 1st of each month.  
Quick Links: These are configurable and will allow you to manage your data more effectively – spotting issues quickly, identifying when work needs doing, and so on. 
The only thing to configure on your dashboard is the 'Quick Links' section. The idea with quick links is that they should flag up important information to you – whether it's people that need a call, valuations that need chasing up and so on – so you choose the relevant quick links based on your job role. Again as your job role changes you may need to update your quick links.
To choose your quick links: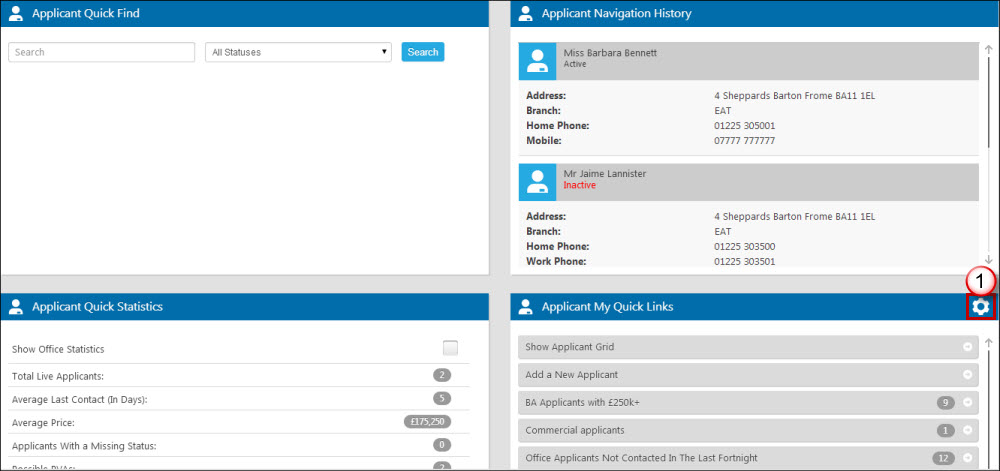 1. Open the relevant dashboard from the top menu, and click on the edit symbol next to the My Quick Links heading.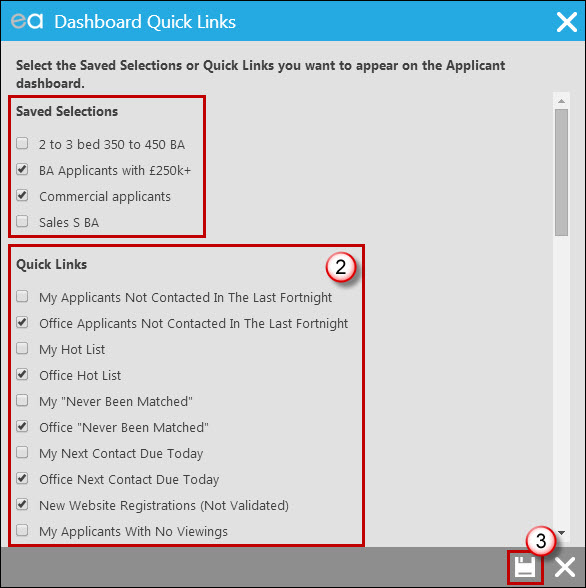 The first list of options you'll see is called 'Saved Selections.' These are quick links that you have created yourself by applying filters to your grids and saving the selection to a link. An example of this will be covered in the next section on grids.
2. Tick the quick links you'd like, and ensure any links that you don't want are un-ticked. You'll see there are multiple versions of each quick link – a 'My' version, an 'Office' version and a 'Group' version. The 'My' versions include your own properties/applicants etc. only, the 'Office' version includes data for your office as a whole, and 'Group' relates to multi-branch businesses who share data. 
3. Click on the save icon to save your selection of quick links to the relevant dashboard.
The quick links you have selected will display in the quick links pods on your homepage, if you have added those pods. So if you ever want to edit what links are in one of the quick links pods on your homepage, you'd need to go to the relevant dashboard and edit the selection from there.
Bear in mind that you will need to set up all of your dashboards, not just one. In the example above we've looked at the applicant dashboard, but you will need to look at your property dashboard, your viewings dashboard, offers dashboard and all of your other dashboards.
Right Tool Bar
The right tool bar is brilliant for busy negotiators to use to quickly access important information. It's somewhere you can have saved selections and quick links relating to all areas of Expert Agent in one place – so property links alongside applicant links, and so on. 
The right tool bar is set up separately from your dashboards, so you can have a different selection of quick links – the idea is to have your most important links for each section on your right tool bar and then go into more detail on your individual dashboards.
The right tool bar can be accessed from anywhere in the system, simply by clicking the arrow in the top right hand corner to expand it:

If you can't see the blue arrow then you haven't got 'Show Right Toolbar' ticked on your staff profile, so you'll need to go into your profile and tick that box: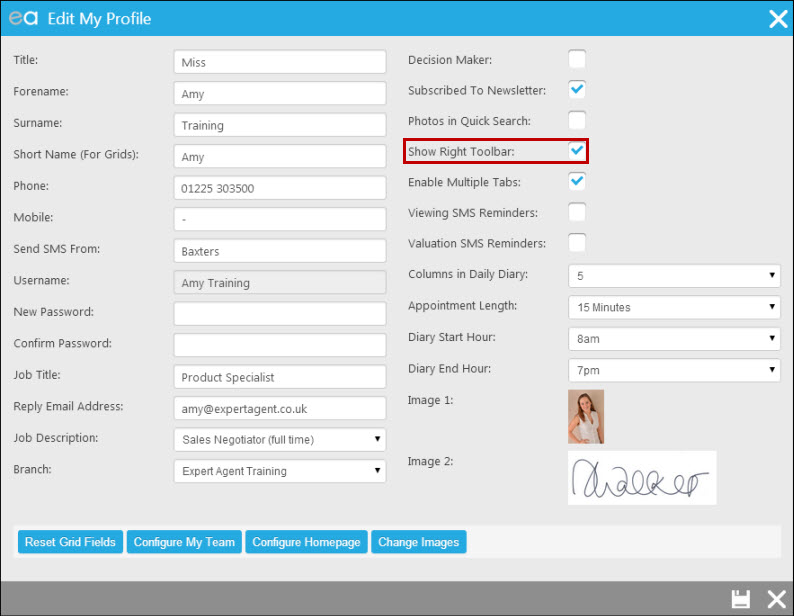 Editing the tool bar works in much the same way as adding quick links to your dashboard – simply click 'Edit,' tick and save the selection you would like: