Your staff profile summarises all of your individual staff details, and some of your individual settings are also controlled from here. It's important that your staff details are kept up to date so that your details are being sent out correctly when you are contacting customers, and having the other options set correctly should make using Expert Agent easier for you.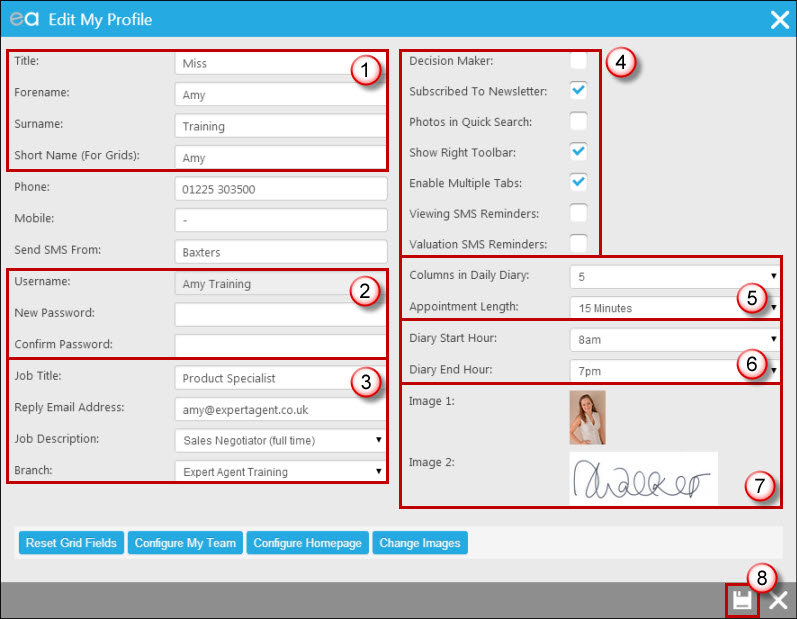 1. If you want to change how your name displays then edit the relevant fields here. The 'short name (for grids)' determines how your name will display in the various grids within Expert Agent, so again you can edit this if you wish.
2. You can't change your username from this screen, but you can change your password using the 'New Password' box and then the 'Confirm' box below it where you re-enter the new password.
3. Other important information such as your job title, reply email address, and the branch that you are assigned to in Expert Agent are featured here.
4. It's a good idea to have the following tick-boxes selected, if you haven't already:
Subscribed to Newsletter – this relates to Expert Agent newsletters that contains useful and important information on new enhancements, property industry news and general Expert Agent news. 
Show Right Toolbar – the right tool bar is an extended menu option that can be displayed on the right hand side of your screen, but only if this box is selected. This is explained in more detail later on in this session, but we recommend using the right tool bar and therefore that this option is ticked. 
Send Me Viewing/Valuation Reminders – ticking these options would send you a reminder text 20 minutes before each Viewing/Valuation that is booked for you (whether you booked it or someone else booked it in for you). 
5. You can edit how many columns you would like to display in your Daily Planner from here – usually this would be decided depending on how members you have configured in your team. You can also amend the time intervals that the diary shows.
6. You can also set your working hours so that the diary only displays those times for you. 
7. The image section allows you to upload staff images to your profile. Some agents like to upload their signature or a staff photo, or both, to then be used on their outputs. There are merge codes for these so you can set all of your emails and documents up to feature them! 
8. Click 'Save' to save any changes made.
Editing your team
There is an option on the staff profile called 'Configure My Team.' This is something that we cover in the introductory training, and it relates to the diary. It's the option to have a group of people set up whose diaries you would frequently need to look at alongside each other, so that you can quickly do this from the diary whenever you need.
It's likely that this will need amending from time to time as staff changes occur. To do this: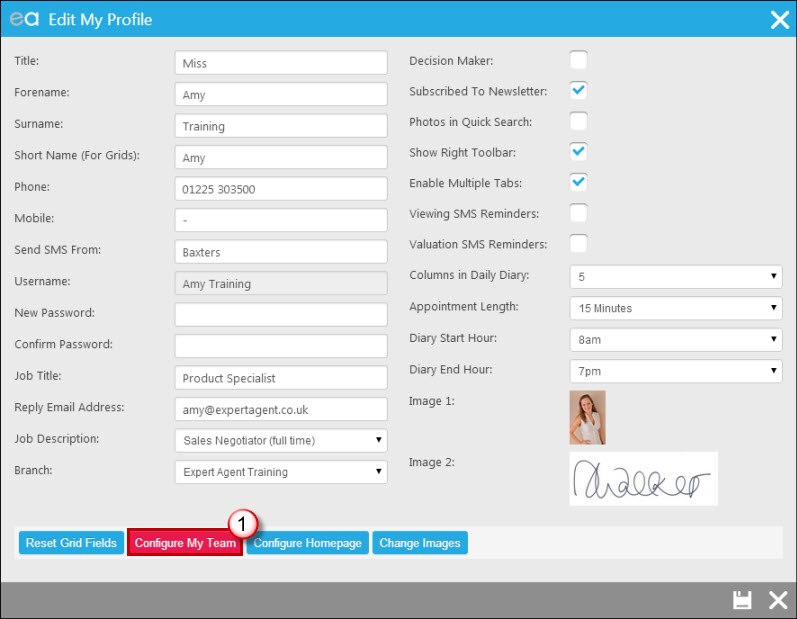 1. Go into your profile and click 'Configure My Team.'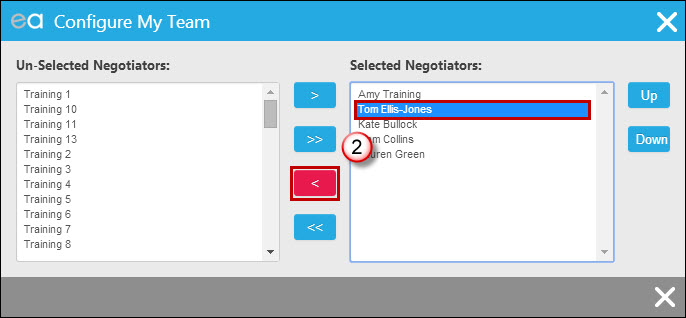 2. If there is anybody who you no longer want in your team, select them by clicking on them in the right hand column (you'll need to hold down the 'Ctrl' key to click on more than one person) and then use the single headed arrow pointing to the left hand column to move them across.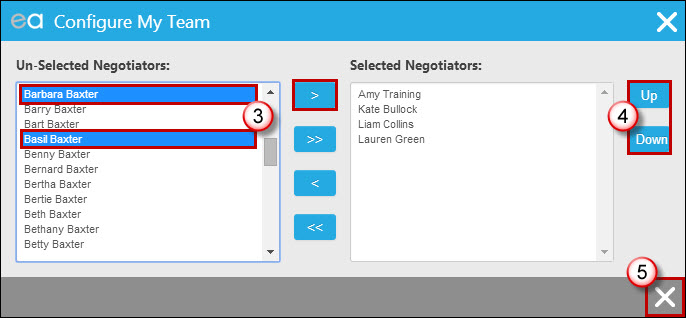 3. If there are people you need to add to your team, select them by clicking on them in the left hand column (again you'll need to hold down the 'Ctrl' key to click on more than one person) and then use the single headed arrow pointing to the right hand column to move them across. 
4. Once people are added to your team, you can re-order them by clicking on their name and using the 'Up' or 'Down' button as relevant.
5. Once you've made all the necessary changes you can close this screen and press 'Save' back on your staff profile.