To write up your feedback post-valuation:

1. Go into the property record, right click, hover over 'Valuations' and select 'Confirm a Valuation'.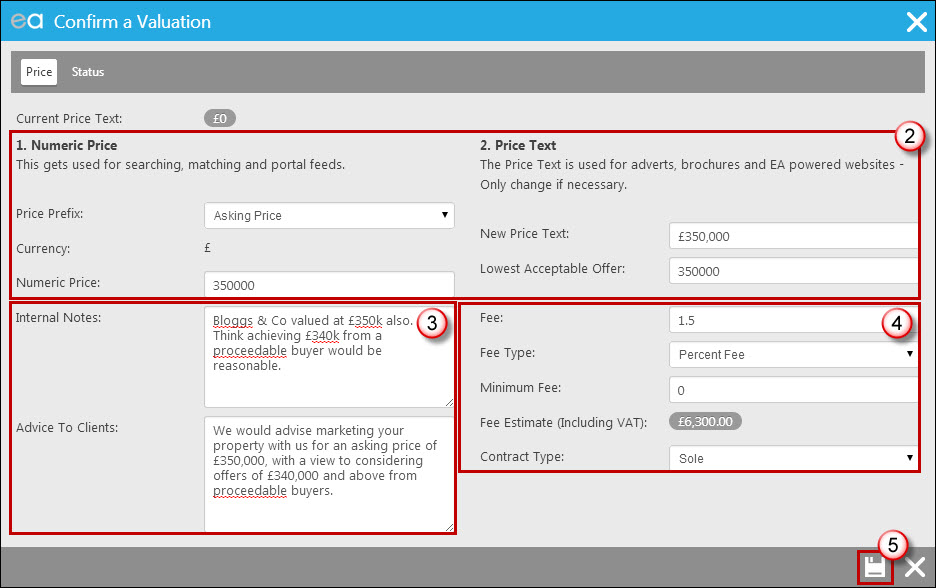 2. Enter the recommended price in the Numeric Price field on the left hand side. This will duplicate over to the right hand side - you only need to edit the fields on the right if you would like the price text to appear differently (for example, for lettings this is where people would put '£350 to include white goods' or similar) or if there is a lowest acceptable offer amount you would like to record for internal reference.
3. Add any relevant notes. There are two notes boxes – the 'Internal Notes,' and 'Advice to Clients.' The idea is that you would set up your post valuation confirmation letter to include any notes entered in the advice to clients field – and any internal notes remain private. 
4. Enter the fee details and select the contract type here. Be careful to select the correct fee type and not to use the percentage sign in the fee box (this is the Wild card feature). Any changes made to the fee are recorded in the events tab of the property.
5. Click on the save icon.
This screen is one of the screens you can add Extra Data items to, as discussed when looking at the property wizard. If there is additional information you would like to capture at this stage then speak to your super user about having additional fields added. 
Also, you can set Expert Agent up so that upon clicking 'Save' your post valuation confirmation letter automatically appears – this is something a super user needs to do in Output Configuration – Event Template Triggers. If you don't have event triggers set:

Right click on the property record, hover over 'Letters/Emails/SMS' and select 'Create a Letter/Email/SMS.' Your template grid will open and you'll produce and send your post valuation confirmation in the same way we prepared our appointment confirmation letter and market appraisal form.
You can set Expert Agent up so that certain letters, when used, automatically set a follow up task a given number of days later so that you can check whether you have received feedback. This needs to be done by a super user/member of staff with template editing rights, and is done from the screen you see when you click 'Edit' next to a letter in the grid.