Back in November 2013, we announced that we'd be developing future versions of Expert Agent to take advantage of the features found in Google Chrome. Developing specifically for Chrome (but with scope for emergency or occasional use in other browsers) would give us faster development cycles, a better tested product and a guaranteed consistent look and feel across PCs, tablets, iPads, Macs etc.
This decision wasn't made lightly - our Users Group (50 or so individuals working at all levels in all types of estate agency) helped us to work through the ramifications but ultimately were satisfied that they would get a better product as a result.
We've spoken to a few "Google Objectors" who really don't like the idea of using Chrome.
It is important to stress that we're not asking you to change your "default" browser.
If you want to carry on using Internet Explorer or Firefox for your banking, social media, other software etc - that's fine. Chrome sits happily in the background on your PC - if you want it to stay there, just make sure that when you install it, you don't make it your "default" browser.  "Google Objectors" worry that Google is spying on us all or maybe throwing adverts at us based on our browsing habits.
However, If you just use it for Expert Agent, all that Google will spot is that you spend a lot of time using Expert Agent!
When we explain this, most objectors have been converted.  
Why do you want us to use Chrome?
Expert Agent Touch has been developed and tested to work perfectly in Google's Chrome browser. It might work on Internet Explorer or Safari but we've not tested it fully. We've chosen to standardise on Chrome because it works in the same way across all platforms.
As a result, we can control the way Expert Agent Touch works and looks. Chrome is free of charge and available for iPads, Macs, PCs etc. In particular, it is a available for older Windows XP and Windows 7 PCs and it seems to be an "elixir of life" for an elderly computer.
The last version of Expert Agent was tested on at least 6 different browser versions. A full test on each browser took 20 man hours. By focusing on Chrome, we can develop the product much faster and make it more reliable - because we actually do far more testing on the browser that everyone is encouraged to use. We can also use Chrome specific features. For example, Chrome has excellent in-built print support - saving the need for the extra plug-ins that were needed and could be unreliable in "classic" Expert Agent.
Give Chrome a try - you'll love it. We've created a large Chrome FAQs chapter to help you migrate over. It should be very easy. If you use HTML letters or reports, there's one critical thing you need to look at - see How do i print using Chrome?
Surely all websites should work in all browsers?
We agree with this when it comes to public facing websites. Businesses cannot control or influence the browser choices that consumers make. We therefore make sure that whenever we build a website for an estate agent, it is  developed and tested for all browsers.
However, Expert Agent itself isn't a public facing website. It is a software solution that happens to run in a browser. Unlike traditional software, it makes few demands on the users' infrastructure. Years ago, we'd have made you go out and buy more RAM or a bigger hard drive as our previous old-fashioned desktop software was improved and updated. 
With Expert Agent, there's no need for servers, specific RAM or processor requirements, specific Windows or network software etc. It does have requirements, though. Users needs a copy of Word 2007 or better, an Expert Agent subscription, an estate agency business, a website, portal feeds etc. Users are therefore working in a controlled environment, generally doing their day jobs on equipment that they have control over. Consequently, we think that suggesting but not insisting that users will get the best usage experience by using a particular browser doesn't seem unreasonable. 
So if we choose to use another browser will you support us?
Yes - we'll test any issues you report in Chrome and come back to you. If the issues don't work in Chrome we'll rush a bug-fix through. If they work fine in Chrome but not other browsers, we'll apply a suitable priority to the issue and try to get it fixed asap. However, with over 95% of users now working in Google Chrome, you can expect that the fix will get given a lower priority than a Chrome related snag. One issue we can't fix is the lack of proper printing support in Internet Explorer's latest versions - see the section below.
Why isn't Expert Agent a "Chrome Objector" too?
We love the way Chrome works. It is slick and fast. It rejuvenates older PCs. Generally, it gives us far less hassle than Internet Explorer did.
However, we understand the privacy concerns.
There's no doubt that Google's search engine tracks your browsing habits.
It watches what you look at and, in some cases, targets suitable adverts on websites that use Google's various channels.
You can test this yourself.
Go to SpeedTest, the connection checking site - http://www.speedtest.net/
If you start it up in Internet Explorer, you'll see 6 adverts. They probably won't be targeted specifically at you.
If you then stay in Internet Explorer and use Google, Yahoo or Bing to browse as though shopping for something obscure - we tried "Nissan car parts". Click on some of the "sponsored links" at the top and sides and the search engines (particularly Google) get to know you are looking for "Nissan car parts".
If you visit Speedtest.net again later in the week (we can't tell you how quickly this works), you'll see adverts for "Nissan car parts" because they subscribe to the search engines' adverts networks and make money from any click-throughs. You won't get more adverts, though - you only get the number of adverts that the site allows for - speedtest.net currently has 6 front-page advert slots.
So if Google has discovered your penchant for Nissans, speedtest and sites like it will throw six adverts about "Nissan car parts" at you rather than 6 random adverts.
All the search engines do this.
Google's search engine definitely goes one step further and monitors the non-sponsored links you click on and the time you spend on the subsequent website.
We all help with this because we kindly install Google's free analytical tools on our websites - the quid pro quo being that any leads from Google can be tracked back to source. We think this is a good thing - Google ranks websites based on the usefulness of the site. If it sends you to breakeryard.com for your Nissan parts and you stay there for a while and, better still, re-visit it later, Google knows that you've had a good visit experience and may promote breakeryard.com in the listings.
If you use Google's Chrome browser, Google have the power (though not necessarily the inclination) to track every link you click on.
Some believe that this results in even more targeted adverts. (not more adverts - you'll only get the same number!)
Similarly, there are lots of articles that exonerate Google from spying allegations. 
Click here to see one
This article argues that 3rd party plugin-ins are definitely spying on you. Expert Agent "classic" running in Internet Explorer needed 9 different plug-ins to run properly.  Expert Agent Touch running in Chrome doesn't need any.
So, Google Objectors, we understand your concerns when it comes to general browsing but not when it comes to Expert Agent
Why not keep Internet Explorer or Mozilla Firefox on your PCs for general browsing and just use Google Chrome for Expert Agent?.
If you do that, all Google will find out is that you use Expert Agent rather a lot. 
I want to use Internet Explorer but I've got printing problems
one of the reasons for trying to move away from Internet Explorer was that it has no native print support. You'll have seen this - ask Internet Explorer to print your EasyJet boarding card or your Tesco order confirmation and it comes out with http://www.... etc across the bottom and the margins will go all over the place.
We used to use a plug-in to avoid this but that plug-in is no longer being developed for the latest version of Internet Explorer. Good Riddance in our view! It didn't work very well and added another "layer" to everyone's PC.
So, if you revert back to an older version of Internet Explorer (if that is still possible), you'll be able to use the old plug-in which should download itself. The problem is, though, that you'll then expose yourself to the security holes that the latest Internet Explorer was developed to block. Catch-22!
So, here's an awkward but workable solution.
 Produce any HTML letter or report and you'll see the form below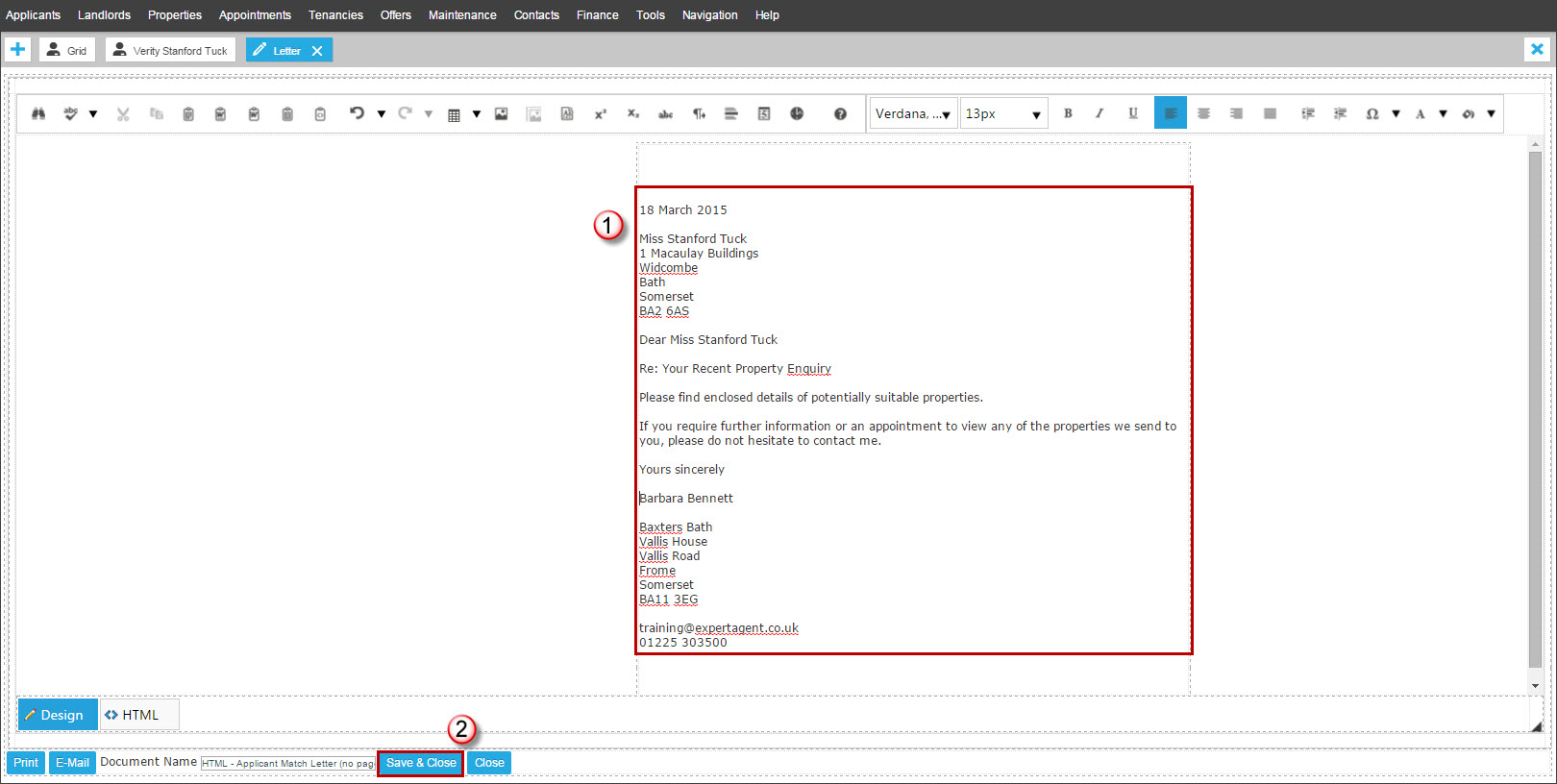 1 - copy the text (CTRL-A is select all, CTRL-C is copy)
start up your wordprocessor and do paste (CTRL-V) - print as normal
2 - click the save and close button in EA to make sure your letter is written to an event.
Other Non Chrome Solutions?
Chrome is an "open framework" - the source code (without the alleged sneaky stuff) is available for 3rd party developers to use.
Here's an article that reviews a handful of other free browsers that you could try
http://www.howtogeek.com/108384/6-alternative-browsers-based-on-google-chrome/
We've tried SRWare Iron. It seems to work well. We've not tested it thoroughly, though.
Our concern would be that at least with Google, we understand their motives but they are at least an honest corporation bound in law. What stops these third-party developers putting credit card theft or password detection capability into their browsers?