Please don't log support tickets asking us to remove unwanted portal feeds for you - you'll just get an automated response with a link back to this page OnTheMarket.co.uk launches on 26th January 2015
Should we join OnTheMarket?
We can't help you with that decision - we're independent and like to sit on the fence treating all portals equally.
However, to help with this, we asked the decision makers in Expert Agent member businesses to complete a survey in December about their intentions regarding OnTheMarket.
Click here to see the survey results
Whilst on this subject, have you seen the letter that it is alleged that Zoopla are sending to vendors if their agent has decided to stop listing on Zoopla?
We've had a few calls about this and Rosalind Renshaw at Property Industry Eye has written about it in an article - click here to see it.
Rest assured that none of the portals get vendor or landlord contact details in the feed from Expert Agent - they just get the stuff they need to list properties (adverts, photos etc)
How do we set up a feed to OnTheMarket?
Our feed to Agents Mutual's OnTheMarket portal site is hooked up and has been ready for use since late November
We've been impressed with their technical team's approach to getting everything setup. They've produced some great technical manuals, given us a proper point of contact and have set up and tested everything in record time. However, we'll only know whether it all works on the 26th Jan.
So, if you've signed up to OnTheMarket, their technical team will use the control panel we've given them to set up your account. Our servers will then send a "permission email" to your office email address  - you just have to click the "yes please" link and we'll do the rest. They tell us they want their members to start sending test feeds as soon as possible so presumably will action this soon.
It is an overnight feed at launch (rather than Rightmove's fantastic optional live feed). That's a shame but they say they'll change this next year.
How do we remove our properties from other portals
Please don't log support tickets asking us to remove unwanted portal feeds for you - you'll just get an automated response with a link back to this page
In theory, if you are joining OnTheMarket in time for its launch, you will have already served notice on any portals that you plan to leave.
Ian Springett, OTM's chief exec has told us:
Our members must remove their properties from all portals except their chosen 'one other portal' by 26th January. We wrote to them prior to Christmas asking them to confirm as follows: 
a)     we have instructed our software provider to cease uploading to any portals other than your chosen Third Party portal; and
b)     we have instructed any other portals we are currently using to delete our properties and our firm's logos/brand assets by 26th January 2015.
So that's nice and easy, isn't it? Expert Agent can sort it all out!
if only that were true!
We don't know which is your chosen "one other portal". A few members have confided that they plan to break the "one other portal" rule and continue to list on Rightmove and Zoopla till told to stop - how naughty! One or two portals such as Property Sharing Experts and The Guild of Professional Estate Agents have been given exemption from the "one other portal" rule.
The most important task is for you to serve notice on the unwanted portals, telling them to remove your properties. If you just do this, you are covered. 
If, instead, you pressed the button to stop a particular portal feed, we doubt that will result in property removal and they'll continue to list your properties for a while - they'll have a safety net built in that prevents deletion for a few days or even a few weeks in case agents or software companies have feed issues. A cynic would suggest that it is in their interests to preserve content as long as possible to prevent their property stocks getting decimated overnight. There's no mechanism for us to remove the properties. We thought about sending a blank feed to unwanted portals on your behalf but we've realised that their systems reject blank feeds.
So, if you have not already done so, we need you to serve notice on the unwanted portals in question now. That's the only way to ensure that your properties are removed.
Once you've done this, you need to remove the unwanted feeds from Expert Agent so that we don't charge you more than is necessary (you get three feeds per branch free - additional feeds are £20 per month).
Here's how to do it: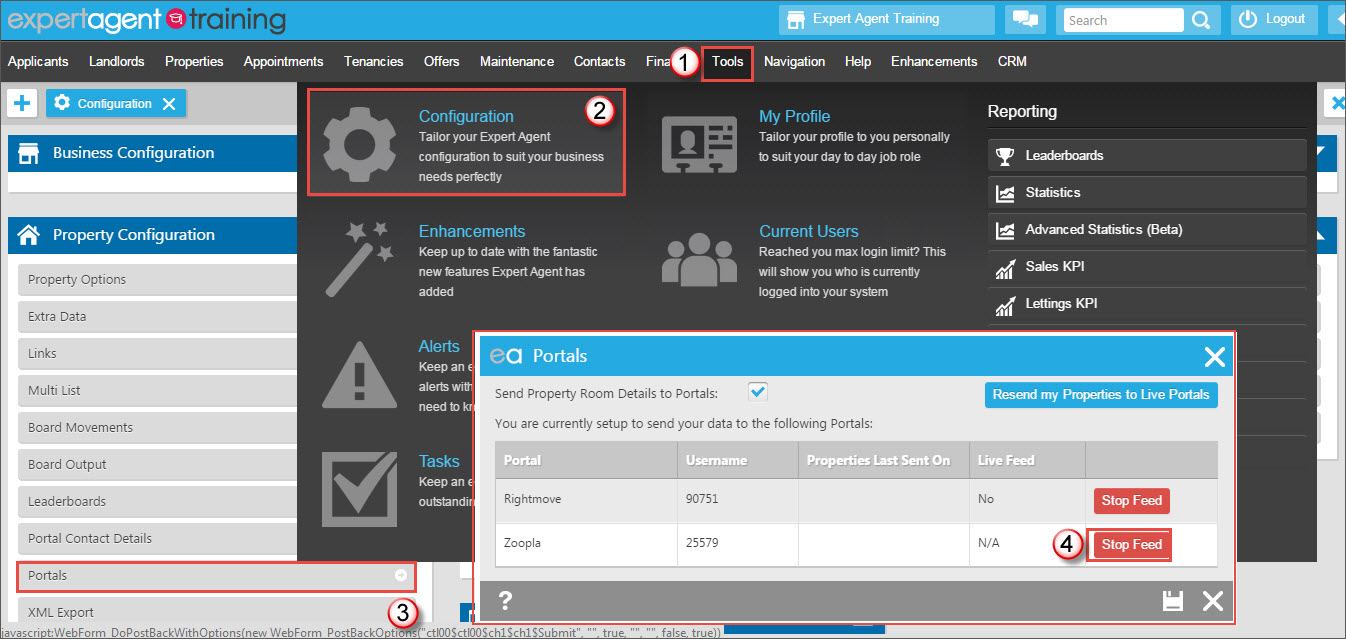 1. Go to Tools
2. Click on Configuration (you MUST be using Expert Agent Touch and you MUST be a superuser)
3. Choose Portals from the Property Configuration area
4. The portals form appears as shown. You'll see your current live feeds. Click Stop Feed on any that you want to get rid of. If you want to start a feed again, you'll need to contact the portal in question and they'll run our process for setting up a new feed.
Please don't log support tickets asking us to remove unwanted portal feeds for you - you'll just get an automated response with a link back to this page
What about "Emerging Portal Feed"?
You can't carry on with this if you list with OnTheMarket and your chosen "One other portal". However, you won't necessarily have contact details for Mouseprice, nethouseprices etc. So, if you want to stop the Emerging Portals feeds, you'll need to click the "stop feed" button next to it in the Property>Portals section of Configure (not yet present but arriving soon - see previous section)
How do we send "Early Bird Listings"
OnTheMarket are very keen on persuading their members to hold back instructions for a while from whichever other portal is used (one of OnTheMarket's rules is that their members can only use Rightmove or Zoopla - not both). Our Users Group have debated this - many members see merit in deferring new listings everywhere (including Rightmove) in order to improve the traffic levels to their own websites. So. there's no problem about doing this and we've given you an option to defer the feed to all or selected portals
In the Portals page tab on a property record, there's an edit button next to each portal's name and you can change the "send after" date BEFORE you click "put on Market" - if you do it afterwards, it is too late - particularly if you use the Rightmove Live Feed.
So, this lets you defer listings to particular portals but it doesn't let you mark properties up in such a way that OnTheMarket can detect that they are an "exclusive" or "Early Bird" Listing.
They use the standard Rightmove feed format which has become an industry standard. This doesn't have an extra field to determine that a property isn't with other portals. We could add one but this would mess up the feed for other portals. So, we're a bit stuck here at least for a while.
Currently we have one program that creates a data file for each portal in Rightmove format. We'll probably have to create a separate program to create a unique feed for On The Market feed separately. However, the need for this was sprung on us in mid December and will take some time to design and build. We won't have it for the 26th Jan launch.
If you want to do "Early Bird Listings" with them, we suggest you speak to them directly. Presumably, they'll offer some sort of control panel that will let you log into your account and mark properties as "early bird" listings in the same way that you have to do with Rightmove "Premium" listings at present.
Ian Springett has emailed re the "switch" for Early Bird Listsings:
We'll have to look at the idea of adding the Earlybird 'flag' in our manual system. At present it only accepts this if the property is loaded manually. Will let you know.
So it sounds like they are on the case 
If the situation changes, we'll let you know.
 How do we put OnTheMarket's Logo on our brochures?
You'll need to do this yourselves. However, our Verity has prepared a short YouTube video showing you what you need to know.