Once you have been and conducted a valuation/ market appraisal and are ready to confirm information such as the asking price you'd recommend, fees and contract types with your potential vendor, you will need to access the 'Confirm a Valuation' screen.
You need to get the property up on the screen, which you can do via:
⋅   Quick Search
⋅   Navigation
⋅   Dashboard
⋅   Diary
Once the property record opens:

Right click and hover over 'Valuations'.
Select 'Confirm a Valuation' from the sub-menu.
The following window will open (if you have Marketplace enabled then the Marketplace ordering screen will also open – this is where you are able to order products and services such as EPC's, Floorplans, Photography etc. from our 3rd party partners. Information on this can be found here Expert Agent Market Place)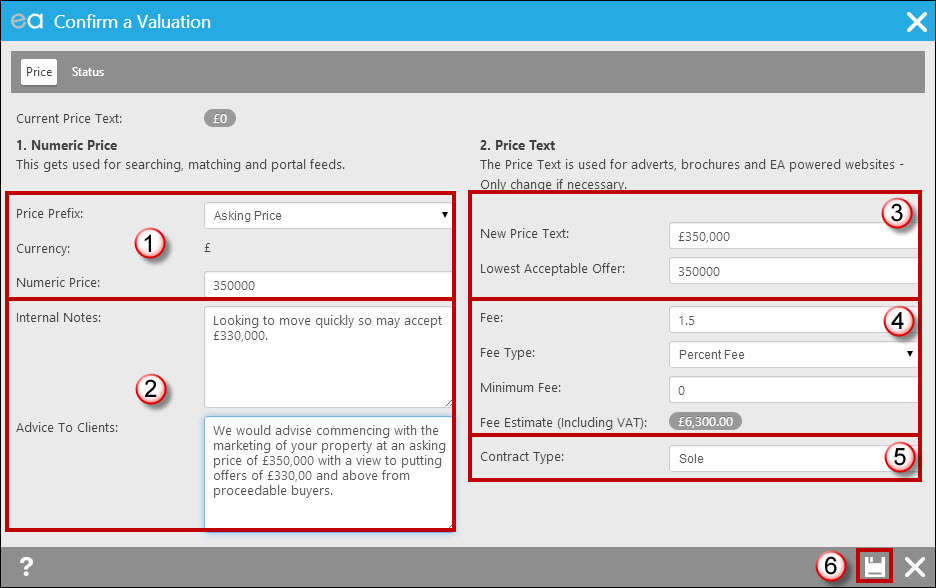 Select the correct price prefix and currency, and enter your recommended asking price.
Enter any notes regarding the valuation if needed.  Please note the 'Internal Notes' are private/office only notes.  'Advice to Clients' could be viewed by the vendor if you are sending the Vendor Portal email. 
Try where possible to only change this section if necessary. The price text is used for adverts, brochures and EA powered sites.
Enter the fee amount, and fee type. Remember you cannot use the % symbol for a percent fee as it represents the wild card, therefore you will need to select percent fee from the fee type dropdown – be sure to do this, otherwise you could end up with a very small fee! Please note: any changes made to the fee are recorded in the events tab.
Select the contract type that you would like to offer.
Click 'Save' to exit this screen.
You will then need to create a 'Confirmation of Valuation' letter – this can be done by right-clicking, hovering over the 'Letters/ Emails/ SMS' option and selecting 'Create a Letter' from the sub-menu.  Note that you can prompt Expert Agent to generate this letter, and other important correspondence, automatically. This is called setting up your 'Event Template Triggers' and can be done by a Super User  - for more information on how to set these up, see the Event Template Triggers chapter.
After this process, you may want to add a 'sticky note' to the property page to add in a reminder for yourself or your colleagues for a vendor call back. Sticky notes are a helpful tool within expert agent where you can leave a note on a property, landlord, applicant, tenancy, offer or maintenance page for your colleagues to see. They can be accessed from the very bottom option of the action menu: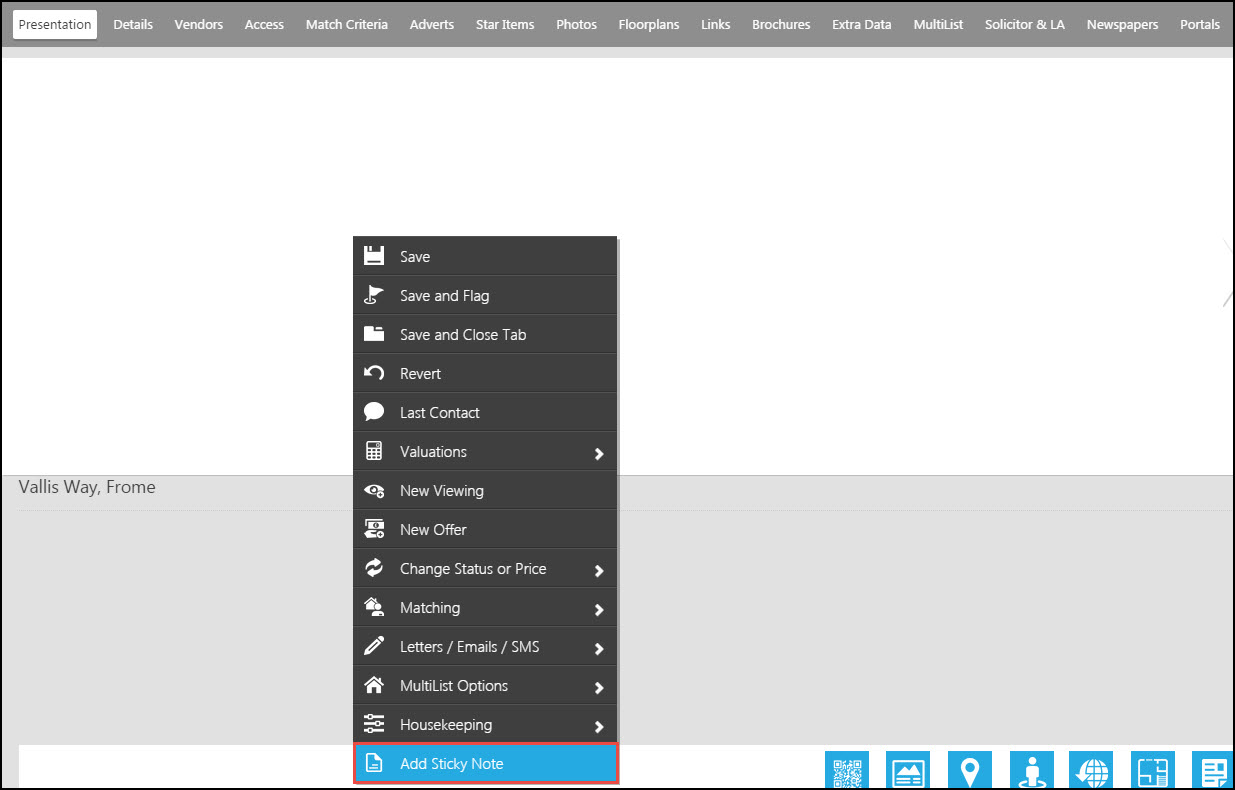 Once the note has been entered, it will display on the property page until it is deleted by clicking on the settings icon at the top right of the sticky note and selecting 'delete'. From the settings icon you can also change colour of the notes if you would like to.
1. The sticky note
2. Sticky note settings