Article Contents
Using Expert Agent Referencing
Introduction
We've been keen to add automated tenant referencing to Expert Agent for some time. You might have seen a few survey requests from us - we wanted to know who you use and whether they are any good.
Our August 2016 upgrade represents our first "toe in the water" relating to referencing.
The surveys told us that there are over 40 referencing companies out there. We looked hard at the "top three". One got a poor star rating from you. Another didn't have any sort of automated integration available. So, that left just one - Van Mildert - and those of you that use them think they are great. 
We discovered that Van Mildert have done technical integrations with a couple of our competitors. This made an integration easy - they showed up potential shortcuts and pitfalls.
We really like their team and we like their pricing structure which doesn't penalise smaller agents.
You will need to switch it on for your Agency.  Then just set up a potential tenancy, right click, choose Referencing, add any extra information into the Van Mildert form that appears and submit the request. The applicant or applicants gets sent a text message and email with a link, a set of traffic lights in Expert Agent tell you the process of the reference and the results, when ready, are made available in the tenant record.
A standard reference is £20+VAT*. 
* the £20+VAT might be slightly more than Van Mildert's best possible "direct" rate. If price is critical (rather than having a fully automated, integrated system), please contact them direct. However if you go to them direct you'll lose the ability to automatically order without re-keying applicant data, you won't get progress update "traffic lights" and the finished reference won't get integrated into Expert Agent. 
 7 Day free trial! 
Van Mildert are  offering a 7 day free trial. All you have to do is send through your first reference request. You can then send through up to 10 reference requests per branch within 7 days. These will be processed and no charge will be levied.
Getting Started
1. Switch EA Referencing on for your office
You need to make sure that Expert Agent Referencing is switched on for your business.
A superuser needs to Tools ->Configuration (1 and 2 below) then choose Expert Agent MarketPlace  from Property Configuration (3 below) and then tick Expert Agent Referencing Enabled (step 4 below)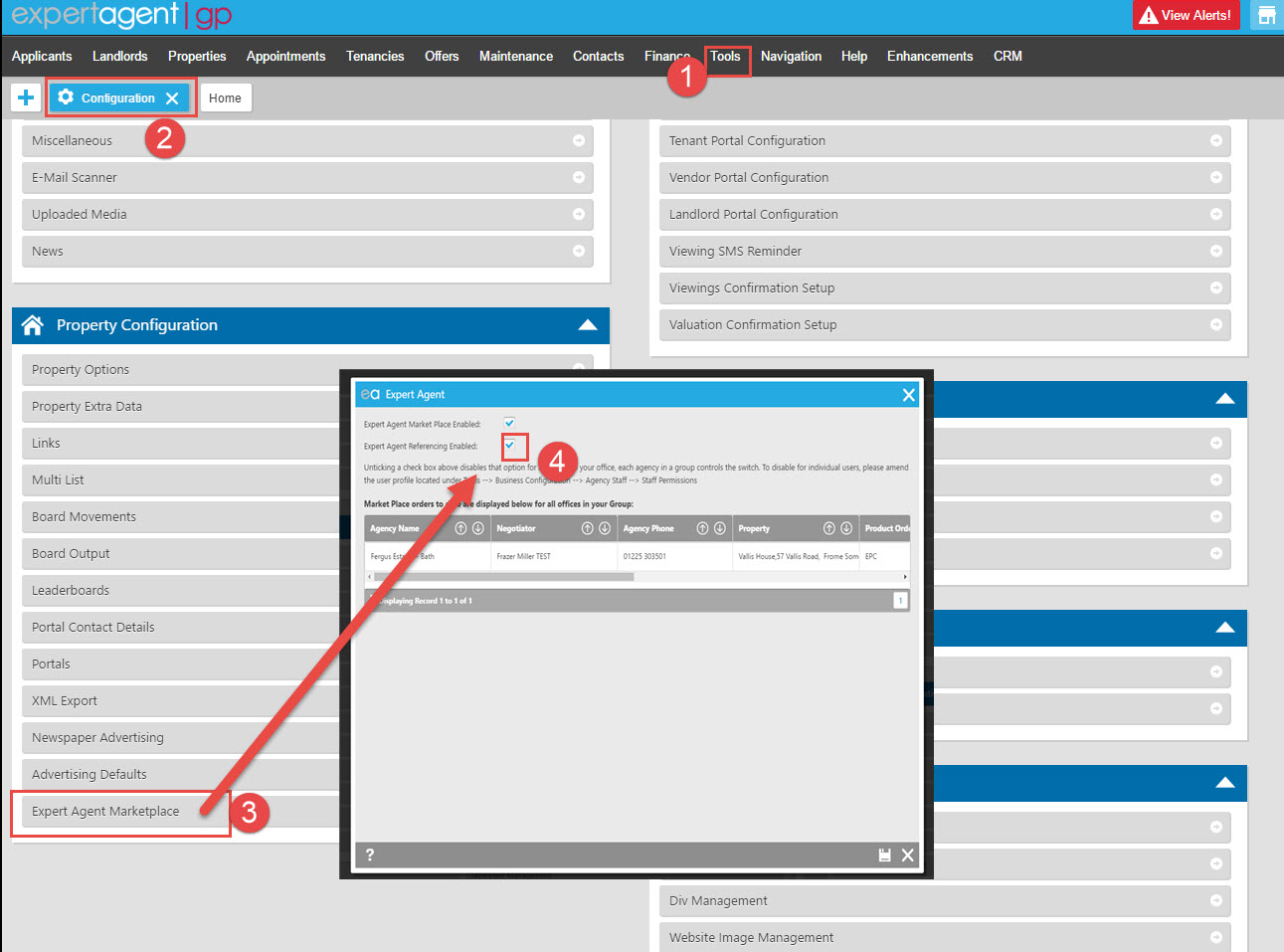 If you don't want referencing switched on, on just reverse the steps above.
2. Switch EA Referencing on for selected staff members
A superuser then needs to switch on the referencing capability for any users that will need to do referencing. Go to Tools>Configuration>Agency Staff. Choose a staff member that you want to have access to referencing. Choose Permissions at the bottom of the staff profile form. The Permissions form opens - choose the Advanced page tab and change the referencing dropdown to Use as below.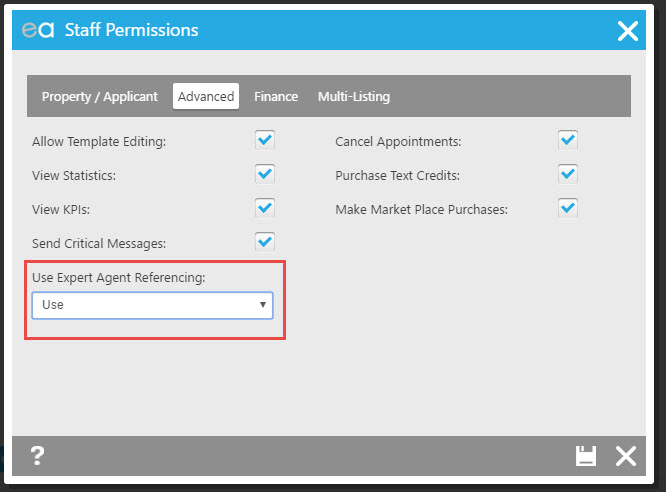 That's all there is in terms of setup.
Using Expert Agent Tenant Referencing
The Ordering Process
If you have switched on your users (see above), you can issue referencing requests in any tenancy record.
Choose References>EA Tenant Referencing (steps 1 and 2 below). We populate Van Mildert's form with as much info as possible. There's an option to add landlord details so that van Mildert can offer them an insurance policy but, at this stage, we've chosen to not populate this to save accidental referrals.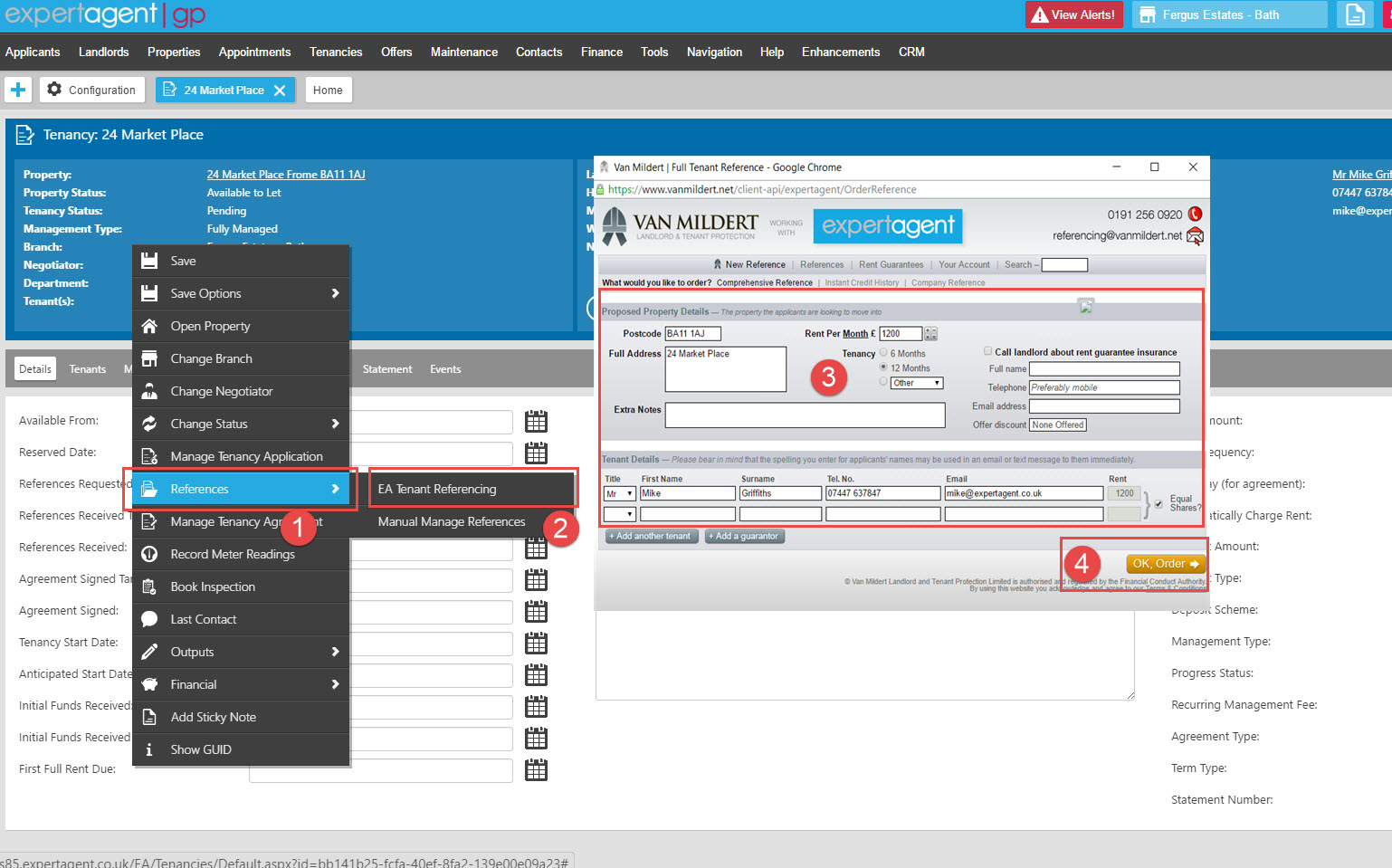 When ready, click OK, Order (4 above).
If it is the first time you've ordered through Van Mildert, they aim to call you to discuss their service and any optional extras.
You'll get a confirmation email from Expert Agent.
The prospective tenant(s) get an email and text message with a link to an online application form. They get nagged relentlessly till they have completed the form.
Expert Agent then displays either a red, amber or green traffic light next to each tenant in the property's tenants grid as shown below:
No light means that references have not been applied for.
Amber means that the references have been applied for.  
Red is applied for and returned with a "fail".
Green means returned and "pass"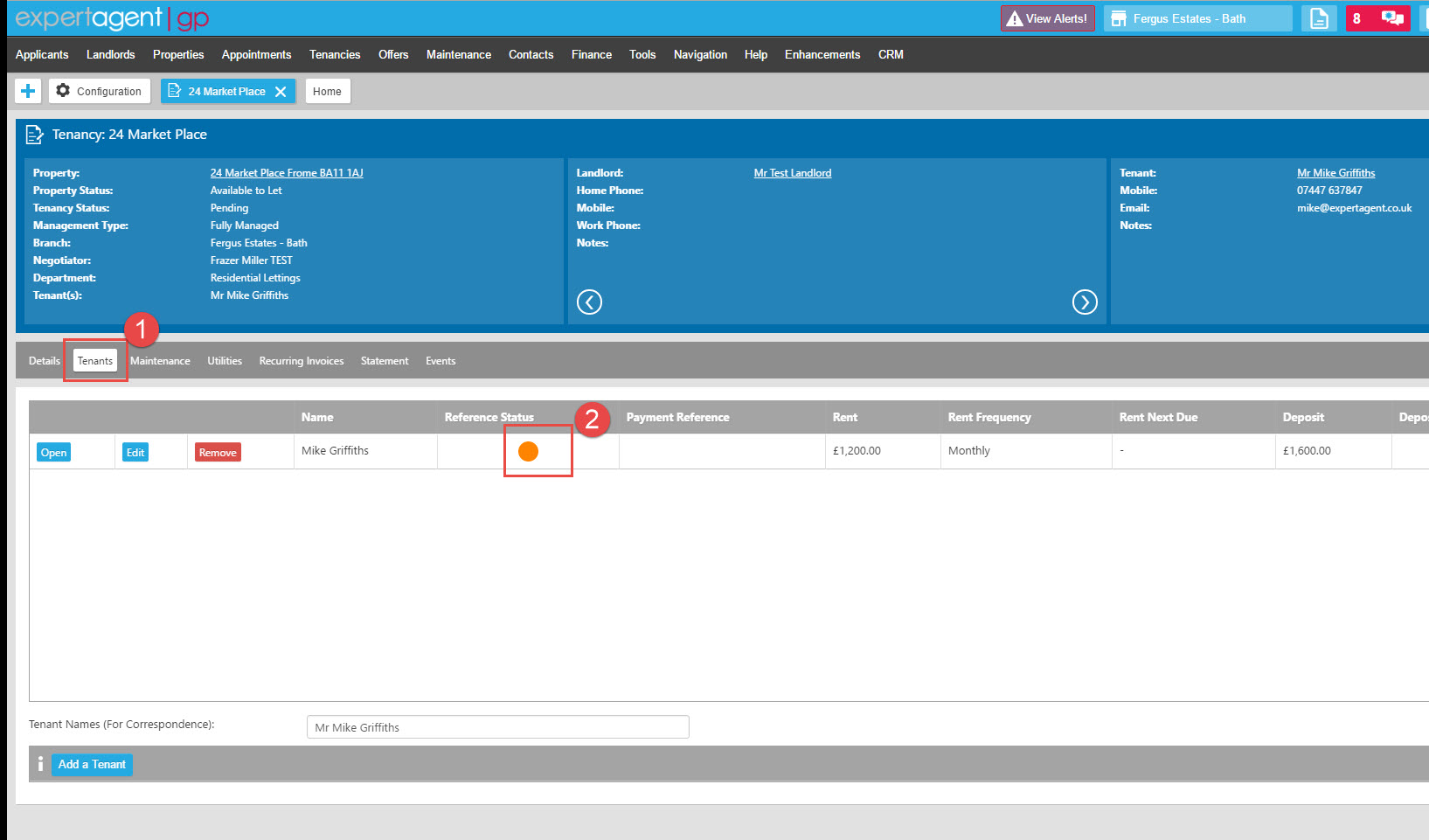 When the completed references are returned, you'll receive an email from Expert Agent and the traffic lights change accordingly.
To review reference application progress or to download any of the Reference Reports (they will not be added to the Tenant Record, you will need to manually add them), go to the Tenancy record, Right Click -> Hover over Referencing and choose EA Tenant Referencing - the same option you used to start the reference process. You'll be logged into Van Mildert's control panel and you'll see the references that you've applied for as shown below: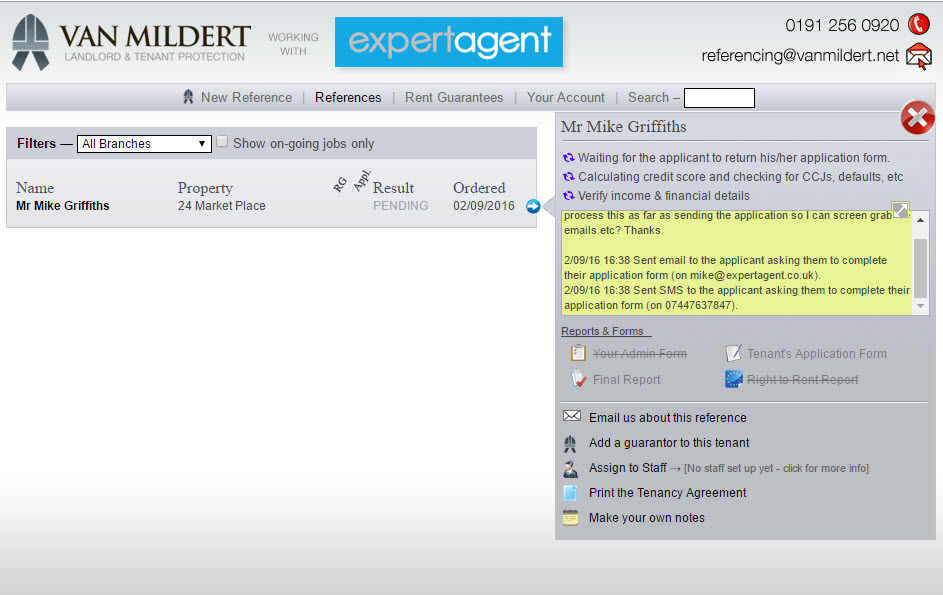 Any Questions?
You don't need to contact Van Mildert to get started - just send your first reference order request through and they'll aim to call you.
Ongoing, if Expert Agent fails to display Van Mildert's form (and you've checked no popup blockers are preventing this). Log a support ticket with us .
For other matters, please call Van Mildert direct on 019 1256 0920.