The Agency Staff section allows you to setup new staff members and edit existing ones.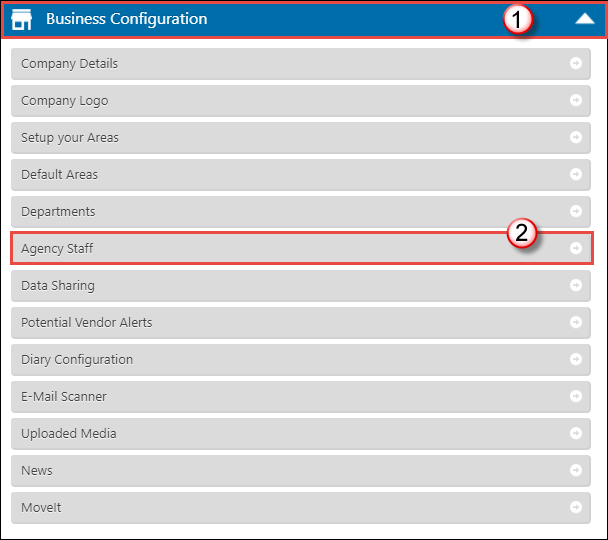 This will open up the Agency staff grid where you are able to add new or amend existing staff members.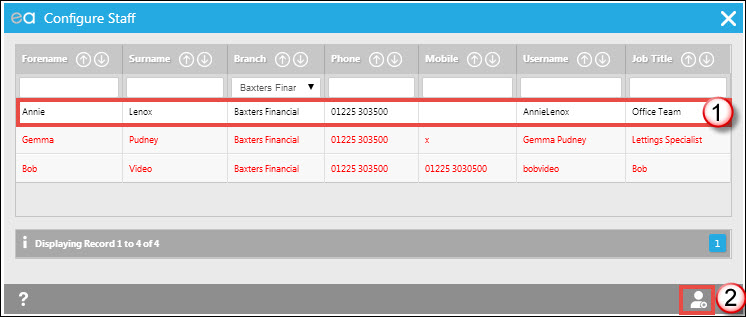 This grid shows the list of your configured staff and their details.  
Click on the staff member if you wish to amend their details.
Click "Add Staff" to add a new staff member. 
 The following screen will appear: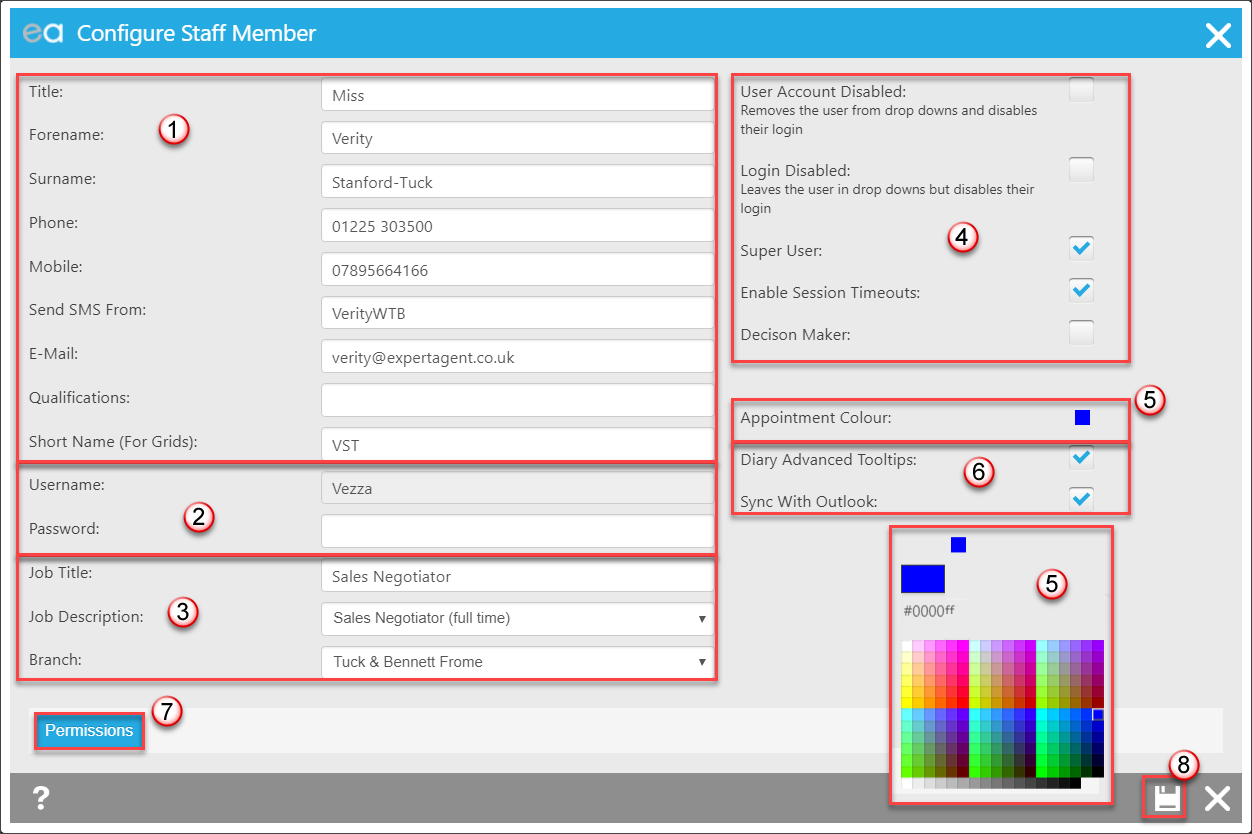 Enter the new staff members name and contact details.
Set a Username and Password.  Ensure their user name is secure with the password being a minimum of 5 characters and a mixture of numbers and letters.
Select the branch your staff member will be working at, assuming your multiple branches have already been entered.  Stipulate their job description.
Expert Agent has standard users & superusers.  Superusers can look at everything in Expert Agent, including statistics and configuration. Only senior members of staff should be set as a superuser.  Please Note - as soon as you add a new staff member it is important to remember to remove the disabled tick from the "User Disabled" box otherwise they will not be able to log in.  To that end you must also remember to tick that box as soon as a staff member leaves to ensure they are not accessing the system once they have left the company.  The difference between the two options are: Disable User Account removes the user from dropdowns and the diary and Login Disabled leaves the user in the dropdowns and diary.  Both options stop the user from logging in.
Clicking on the appointment colour will allow you to configure a specific colour to that staff member.  This is helpful when working with a very busy Weekly Diary.
These are specific to the Diary.  If you like the large popups with a lot of information and use Outlook then you can have these two ticked.  
The Permissions button has different sections covered below.  
SAVE.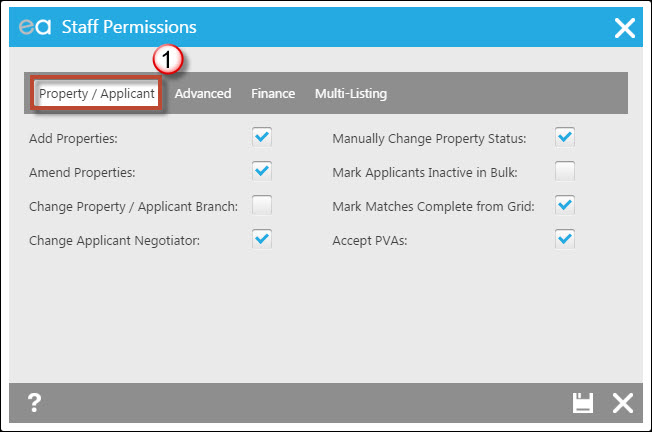 1.  Property/Applicant Permissions relates to what the individual Negotiators can do with regards to Applicants and Properties.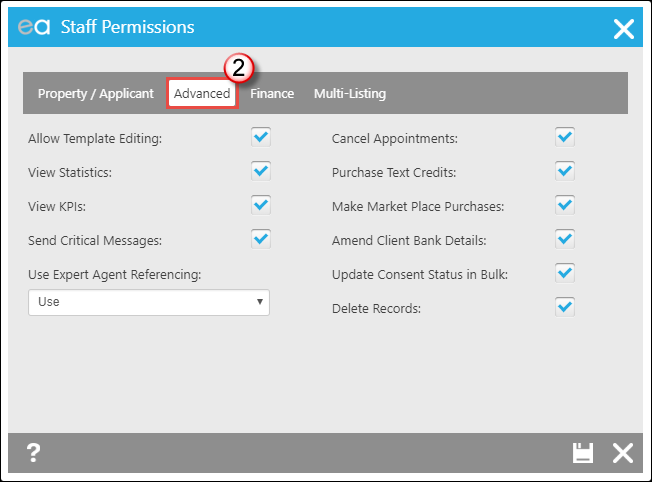 2.  Advanced Permissions relates to the general side of Expert Agent and what the individual Negotiators can do.  Please see the relevant pages for more information on these: KPI's, Statistics, Expert Agent Market Place, Critical Messages, Expert Agent Tenant Referencing (please note the ability to Amend Client Bank Details here as well).  With the GDPR Regulations coming into force on May 25th 2018 we have added a permission to enable users to delete data from the system and one to allow them to update consent in bulk.  Please see the GDPR section for more information.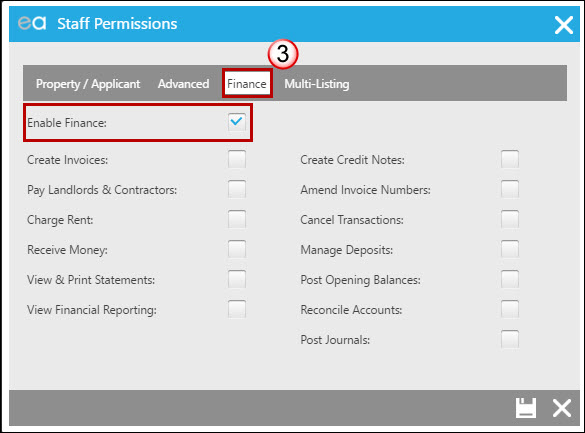 3.  If you are Lettings Financials you will need to enable it for each individual Negotiator here and choose what you wish them to be able to do.  Please See the Changing Financial Permissions section for information regarding how to configure finance functionality for individual staff members.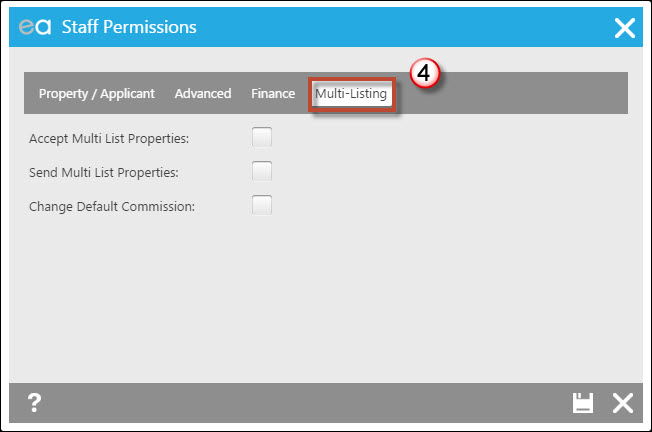 4.  Multi-Listing is applicable if you are Multi-Listing your properties with other agents (If you are part of a agent consortium).  
Do you want everyone to access Expert Agent from anywhere? If you want to restrict access to your offices, you need to make sure that your Internet Service Provider gives you a Static IP address. Most standard broadband doesn't include a static IP. We do this for you – Log a support ticket for further assistance.