You first need to set up the newspapers that you want to use. Go to Tools> Configuration> Property Configuration> Advertising> Newspaper Advertising. The form below is displayed, showing the currently setup newspapers.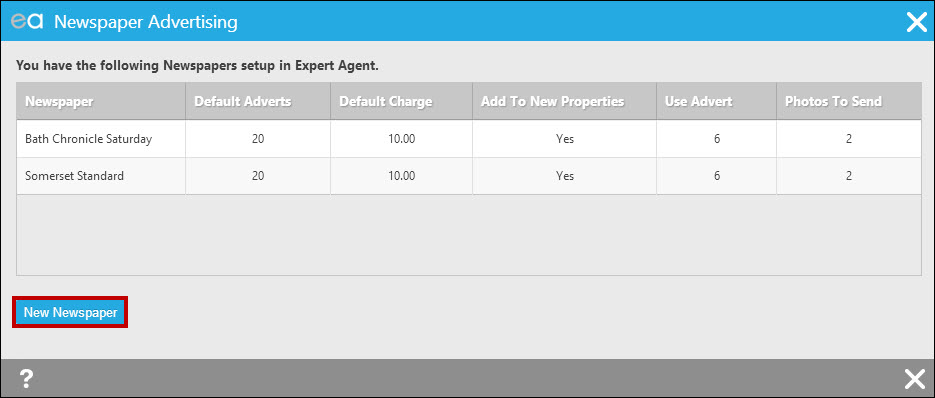 Clicking New Newspaper opens up the form below. You can specify the number of adverts, the charge (if appropriate – no currency symbols or commas as usual, please), whether to apply to new properties automatically and which copy and photos to use (ie advert  text 4 and the first 3 photos)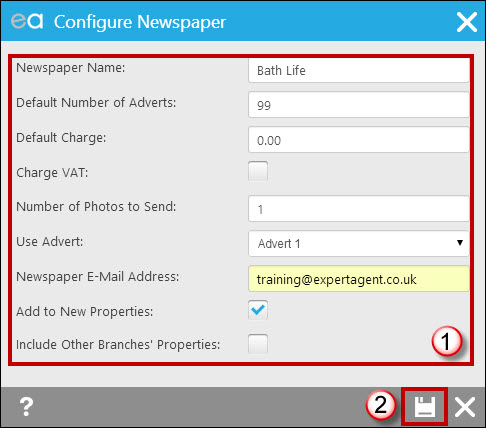 Complete the fields on the form
Save
Newspaper Name: e.g. Bath Life
Default Number of Ads: If you want to setup a formal budget and schedule for each property, enter the typical number of times that you will want to advertise each new instruction here. Once the number of adverts has run out, the property in question will not show in future advertising runs.
Default Charge: If you charge for your adverts, enter the standard charge that you levy for adverts in this newspaper. It is not necessary to add any currency symbols.
Use Advert: Choose which of Expert Agent's five advert blocks or star items you want to use with this newspaper.
No of Photos to send: Specify here the number of photos that you generally send to this newspaper. You can adjust this on each property later. They will send in the same order as they are uploaded in Expert Agent.
Newspaper Email Address: This is the email address of the newspaper.
Add to Properties: This option ensures that this newspaper's setup is applied to each new instruction upon conversion from "Potential Vendor" to "On Market" Status. If you do this, you will not need to manually configure the advert setup for each new property. However, you will need to go back through existing "On Market" properties and add this new newspaper manually.
Include Other Branches' Properties: Tick this box if you would like to include your other branches' properties in this advertising.