This tab is where you need to list a property's room details, as well as creating and assigning a brochure template:
You can click and drag the rooms to re-arrange them, clicking 'Save New Room Order' when done. You can also see a thumbnail of the room image.
To add new rooms, click 'Add Room':

The wizard opens in a separate window: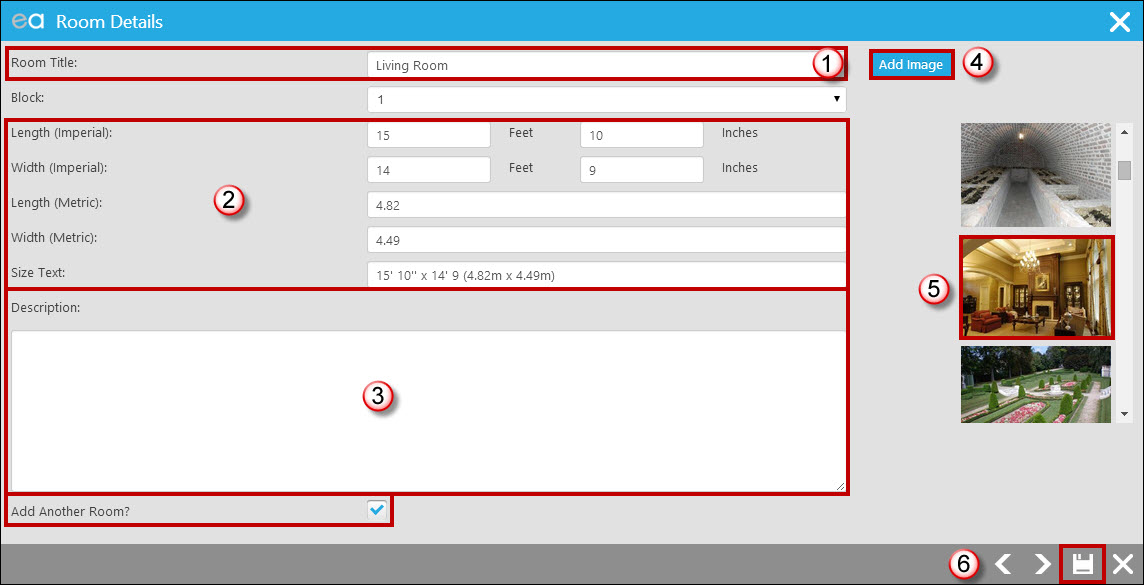 Start typing the room name and a dropdown list of options will appear. If the name of the room you'd like to add is one of the suggestions in the dropdown, clicking on the relevant option will auto-complete the main box for you. If it isn't you can simply type the full name as you'd like it to appear into the 'Room Title' box.  Select a room block if relevant. This is only relevant for HTML users.
Enter the room measurements. You can enter either the imperial or the metric measurements and Expert Agent will automatically populate the other for you. Check you are happy with how the size text reads. This usually just needs to be the measurements but if it was an L Shaped Room, had alcoves or similar you may wish to add to the size text to mention this.
Add your room description.
Click 'Add Image' to assign an image to the room – the selection it presents is the images you've uploaded to the 'Photos' tab.
Clicking on one of the images on the right hand side will assign it to that room. Adding images to rooms may not be compulsory depending on how you've set up your brochure templates, but it's still a nice thing to do so that staff looking at the property record in the office can clearly see the room descriptions, measurements and what the rooms look like all from one screen.
Save

Tick the 'Show Full Details on the Web' box at the top of the room details screen if you would like the room details to be shown online alongside the internet advert and star items.
You will then need to go to the tab for your brochure style of choice, create and upload particulars for this property. We recommend creating Standard brochures using Word. Alternatively, there are options to upload an existing PDF (manual upload section).