The Review Sales Invoice/Credit Note report offers an easy reference point to see information regarding invoices and credit notes that have been created. 
To review sales invoices and credit notes created, go to 'Finance' in the top menu, hover over 'Review' and select 'Sales Invoices/Credit Notes' from the sub-menu: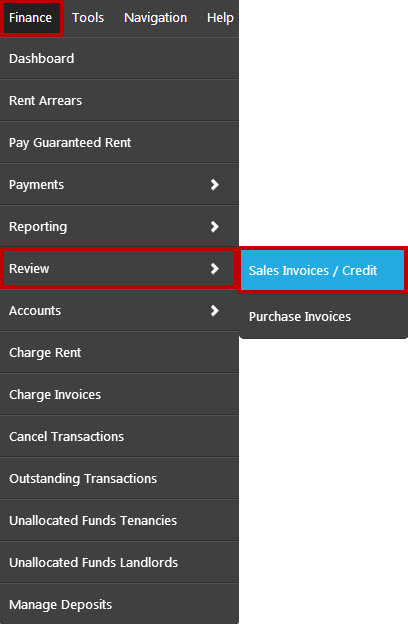 This will open the Review report

Apply the relevant filters for branch if necessary
You are able to search for a particular invoice number via this box
Use the drop down boxes to choose whether or not you wish to see invoices. credit notes or both, and whether you wish to see all or outstanding ones only.
Select a date range if necessary
You are able to choose how you would like the data will be presented. With Summary selected each invoice will be shown on one line with the ability to expand using the down arrow. This will then show each charge that is listed on the invoice. Details will include the items by nominal.
Click 'Filter'  (no data will be generated until you have pressed Filter)
You are able to export the table to CSV or Print *
You are able to sort each column using the arrows within the column header.
Within the Records column will be links to any records that the invoice relates to. For example a Sales Invoice payable by a landlord will have a link to that landlord form together with the property the invoice is assigned to.
 By scrolling to the right using the horizontal scroll bar at the bottom of the screen you can also see which member of staff created the transaction.
If you select "Details" (No. 5 above) then each charge on the invoices will be listed separately. 

 Each numeric column will give you a total at the bottom of the report. This is particularly useful when it comes to VAT returns.

 * If you are running this report as part of exporting your sales invoices to allow you to import them into your office/business accounting software, you may want to look at our new designated VAT Export MTD report.