Expert Agent does allow you to cancel transactions that may have been processed in error. This can be done for any transaction that is dated after the Financial Transaction Lock date which can be set in your financial configuration. If a transaction predates this then it can not be cancelled. 
Most transactions need to be cancelled from the record they relate to. By this we mean if you are looking to cancel a rent charge, a deposit charge, a rent receipt or something else that relates to the tenant, you will need to cancel it from the tenancy record. If you are looking to cancel a management fee, a landlord payment or something else that relates to the landlord, you will need to cancel it from the landlord record. Any contractor payments etc will need to be cancelled from the contractor record. You will cancel the transaction via the right click action menu: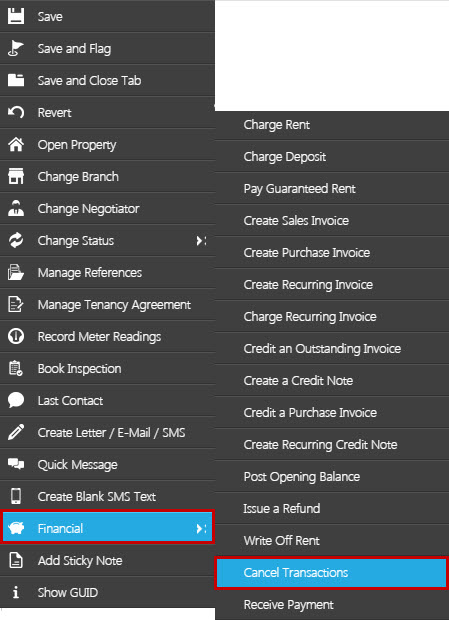 All financial transactions relating to that record will then appear when you click Cancel Transactions. The transactions will appear in posted order so if you have back dated a transaction, it will appear closer to the top of the list that those that were posted in real time. It is worth noting that you are able to see which member of staff created the transaction.  If there is no name, then this indicates the transaction was created by Expert Agent. In this example it is a rent demand which would have been created via the Automatic Charge Rent process and a recurring Sales invoice.

The screen will default to show you the last 90 days worth of transactions, you can use the filter option to look at a certain date range or any older transactions.
If you change the date range, use the 'filter' button to refresh the screen.
Tick the box alongside any transactions you would like to cancel. Please ensure you are selecting the correct transactions.
Expert Agent will also let you know if there are any other transactions that will be affected by a transaction being cancelled.  This is indicated by a downward arrow. Clicking on the area will expand the line and list all transactions affected. In this example the line which has been expanded is a bank allocation transaction. A bank allocation transaction is created when funds are allocated to an outstanding transaction - here funds have been allocated to a rent demand therefore cancelling this would also cancel a rent receipt on the Landlord statement as well as the creation of a management fee invoice.
Choose 'Cancel Transactions'.
You will then be reminded that the Cancel Transaction process can not be reversed and asked to confirm that you are happy to proceed.

For any agency wide transactions, I.E those that do not relate to a particular record (journals or bank transfers or even agency payments), you can cancel these transactions from the top menu: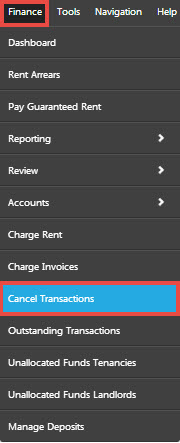 The following window will open: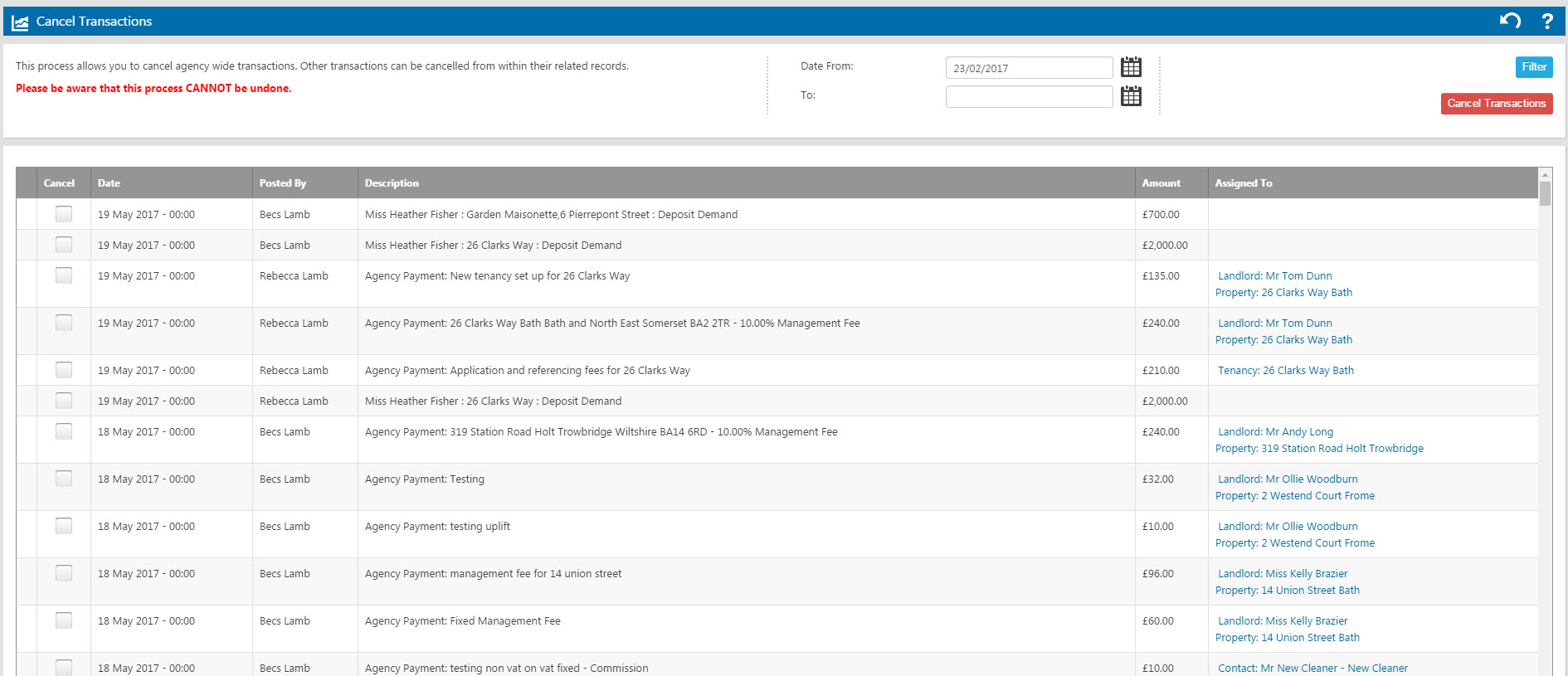 The process is exactly the same as above.  
A cancelled transaction will not appear on the statement to which it related to unless the 'Show Cancelled Transactions' box is ticked. With this ticked you see the original transaction as well as the transaction that Expert Agent created to cancel it out.