Your staff profile contains all of your specific staff details including your logins, e-mails, contact info etc.  In order to access your staff profile – hover over Tools in the Expert Agent Top Menu, select the Tools option and "My Profile".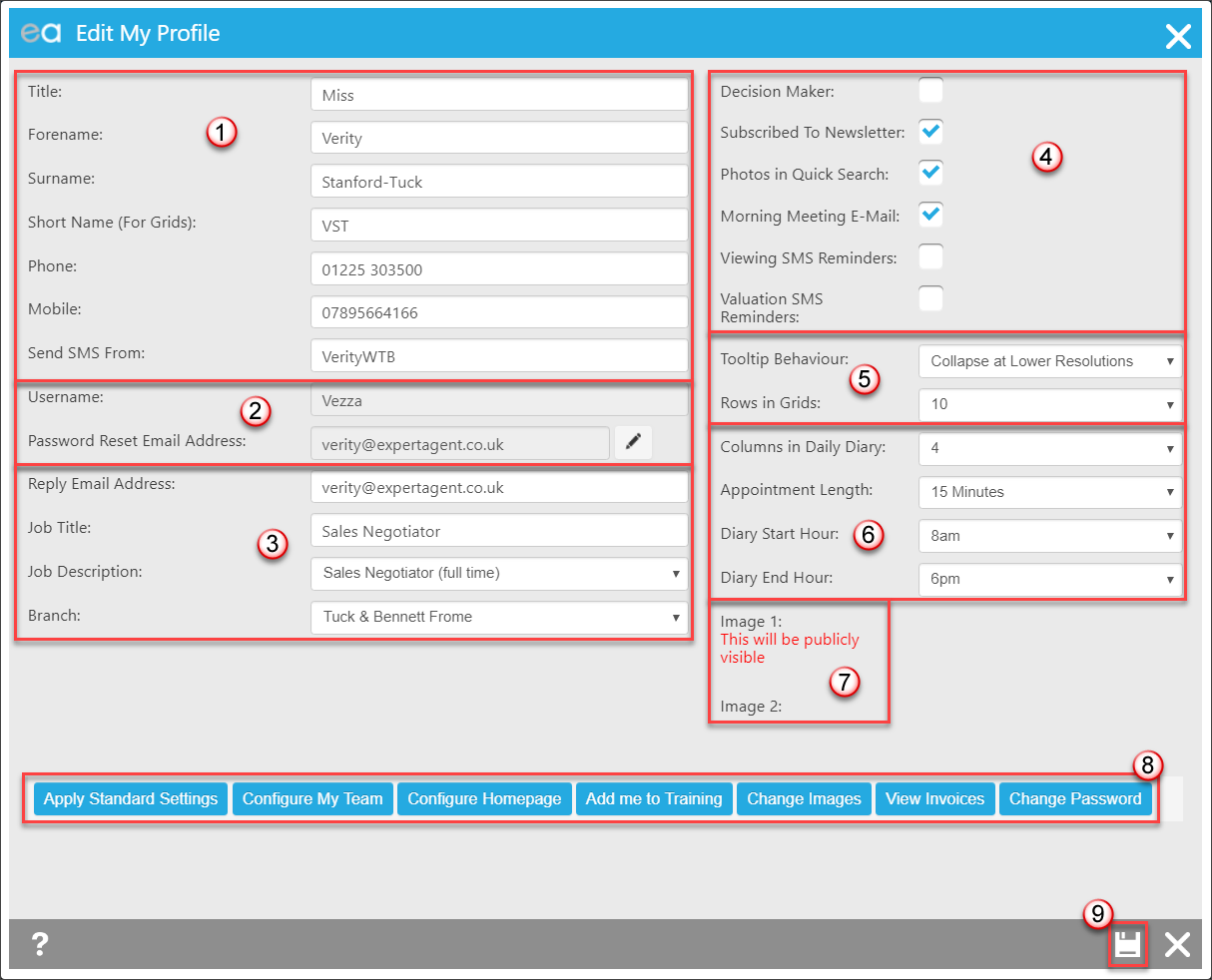 1. Ensure your Title, Forename, Surname and contact details are correct.  The short name for the grids determines how your name will display in the various grids within Expert Agent.  These fields are vital to Add Me to Training.  N.B You will not be able to save or add yourself to Training without filling these fields in.  
2. Your username and Password Reset Email Address are displayed here.  You are able to change and confirm your new Password Reset Email Address if desired.
3. Ensure your reply email address, job title, job description are correct and you are assigned to the correct branch.  If you have the ability to move Branches, this is where you will do it from.  The Reply Email Address relates to outgoing emails from Expert Agent, when you send an email, this is where it looks like its coming from and where the replies will go to if the customer replies.  
4. These are a few very handy tick boxes to have selected:
Decision Maker - This is for targeted Marketing Mail Outs from us.  
Subscribed to Newsletter – You will receive the odd e-mail newsletter from Expert Agent that contains very useful and important information on new enhancements, any new gadgets and widgets on the market to help run your business and general Expert Agent news. 
Photos in Quick Search - This will allow you to see Photos in the Quick Search box in the top menu.  
Morning Meeting Email - You have the ability to subscribe to the Morning Meeting email from here, or turn it on or off at any time.  The Morning Meeting email is explained further in the Morning Meeting Tool section of the manual.  
Viewing/Valuation SMS Reminders – Sends a SMS reminder to you if you are the Appointment Negotiator 20 minutes before the appointments.  
5. These options refer to your Grids and Forms (see Personalising your Grids) Tooltip is what we sometimes call the Information panel on Grids and Forms, this determines when it closed automatically, this will be discussed later on when looking at Grids and Forms.  Rows in Grids refers to how many rows you can see in your grids before having to move on to the next page.  
6. These options refer to your diary and working hours.  You have the option to choose how many columns you would like to display in your Daily Planner depending on how members you have configured in your team, the default length of your appointments – either 5, 15 or 30 minutes and set your working hours.  
7. The image section allows you to upload staff images to your profile.  Some agents like to display the staff images at the bottom of email footers as well as their actual signature.  These fields are merge fields and can be introduced to any of your standard letter templates. N.B IMAGE 1 WILL BE PUBLICLY VISIBLE IF YOU ARE USING AN EXPERT AGENT WEBSITE.
8. There are various buttons along the bottom of your profile:
Apply Standard Settings – allows you to apply the standard settings to your Grids and the Right Hand Tool Bar, please see Apply Standard Settings on Grids and Quick Links for more information.  
Configure My Team – set up the key members of staff to display in your diary.
Configure Homepage – customize your homepage to suit your needs.  This was covered earlier in this section.
Add me to Training/Get Out of Training - allows you to move yourself in and out of the Expert Agent training account, allowing you to practice with our dummy      data rather than jeopardizing your own live data.  This is advised whist you are  still learning to use Expert Agent.  You are able to move in and out of this account at any time by clicking Add me to Training or Get me out of Training.  To ensure you have placed yourself in the training account correctly you should see the Expert Agent Training logo in the top left hand corner of the screen as below:

Change Images - This is where you can uploaded your images as spoken about in number 7. 
View Invoices - This is an option only Super Users will see, and will give them the ability to view their latest Expert Agent Invoices.  
Change Password - Due to the way we save passwords in Expert Agent, this button will need to be clicked for you to change your password.  Please see Password Reset for more information.  
9. There is a 'Save' icon at the bottom of your staff profile to save changes made.
We will refer back to your Staff Profile at various points throughout training/the manual.
More: