Click 'Match Processor' from the 'Matching' sub-menu off the property action menu.

This will open your match processor grid. The grid that you arrive at should be blank - if there are results listed, this indicates that the property has already had a match performed but the matches have not been processed yet/correctly. You would need to liaise with whoever performed the match (using the 'matched by' column to determine this) to establish whether they intend to finish processing the match, whether the match was run in error, and so on. One way or another you need to ensure that you empty the match grid before running your new match.
If you do arrive at an empty grid then you can continue with running your new match straight away.
Running a Match - Sending out to a single Applicant 
If you just want to match the property to one applicant or manually select who you want to send the property to, right click from match processor and choose 'Add Applicant':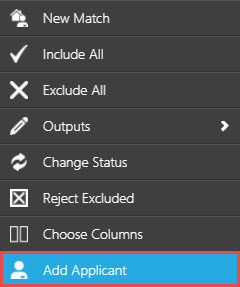 Running a Match - Sending to every applicant with matching criteria 
To send to all applicants whose criteria are met by this property in one go, right click when in match processor and choose 'New Match':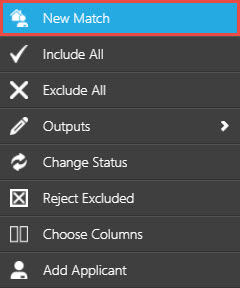 The form below appears: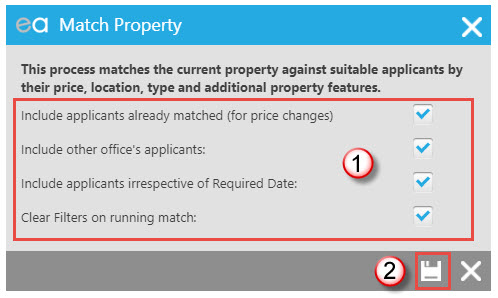 Tick the boxes if you want to include applicants already matched (for price changes or in case they have been excluded and not sent the property previously) and if you wish to include your other offices applicants. Required Date is more commonly used on Lettings properties, but you'll still see this option on matches you run in the Sales Department. Ticking 'Clear Filters' means that when your results are returned, even if you had applied filters to your match grid previously these will be removed for you and all results will be displayed.
Click save.
Your Match Grid will populate with the matching applicants: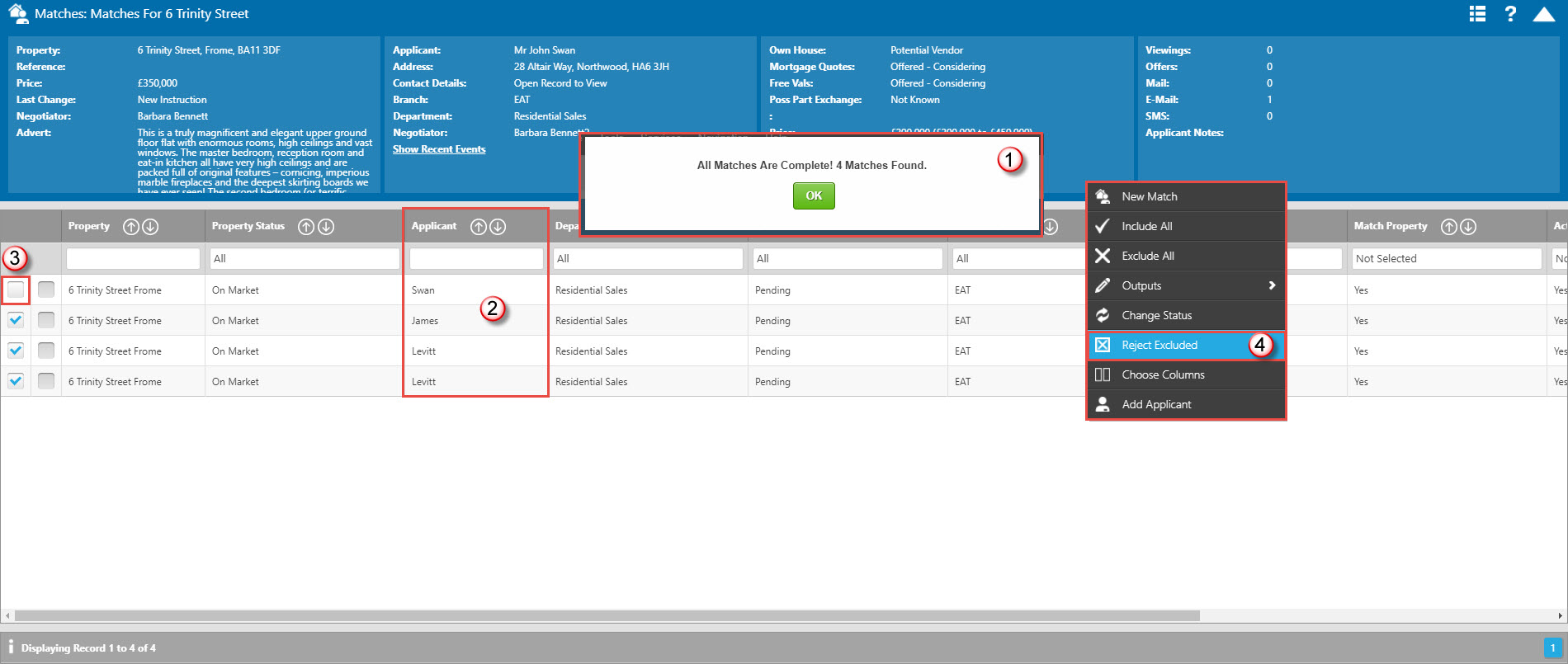 A prompt will display stating how many matches it's found.
It is a good idea to choose and order your columns in your match grid so that you're seeing the information you need, in a sensible order. This is done by right clicking and selecting 'Choose Columns'. You can then sense check match results by hovering over the applicants/properties as relevant and reading the summary in the tooltip at the top.
If you come across any matches that you don't think are suitable, simply exclude the result by removing the tick against it in the column on the left.
When you have finished sense checking, right click and choose 'Reject Excluded' and all the matches that you un-ticked will disappear.  
Once you are left with only the results you would like to process, right click and choose the method you would like to use to send your matches: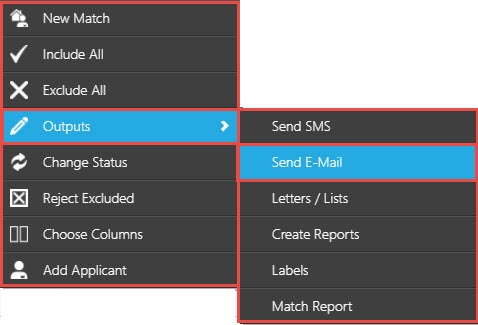 Send SMS – this will send the match by text, provided that the applicant has a valid mobile number, a tick in the 'Send Text Messages' option on their form, that you have SMS credits and that the property has an SMS advert.
Send Email – sends the match by email. 
Letters/Lists – allows you to create a covering letter and accompanying list/summary of the property to post.
In this example we will send the match out by email.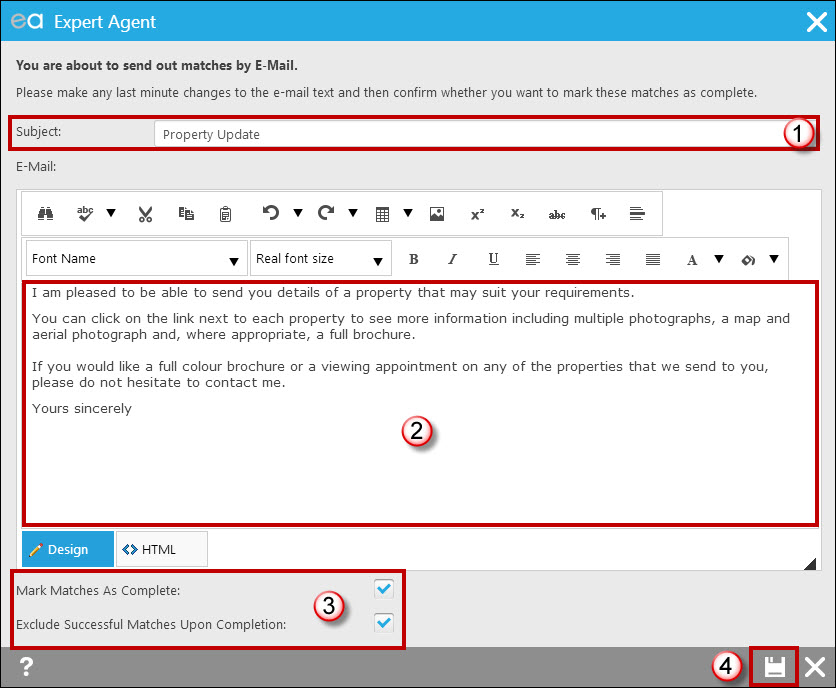 Give your match email a subject.
Make any one off changes to the text if necessary.
Tick/untick the boxes depending on how you would like to follow up the match afterwards.  If you don't mark the matches as complete then they will be placed in 'Outstanding Matches' under the Applicant drop down list in the Top Menu for you to chase up at a later stage.
Click save to send the matches.