Open the applicant form, right click and select 'Match Processor:'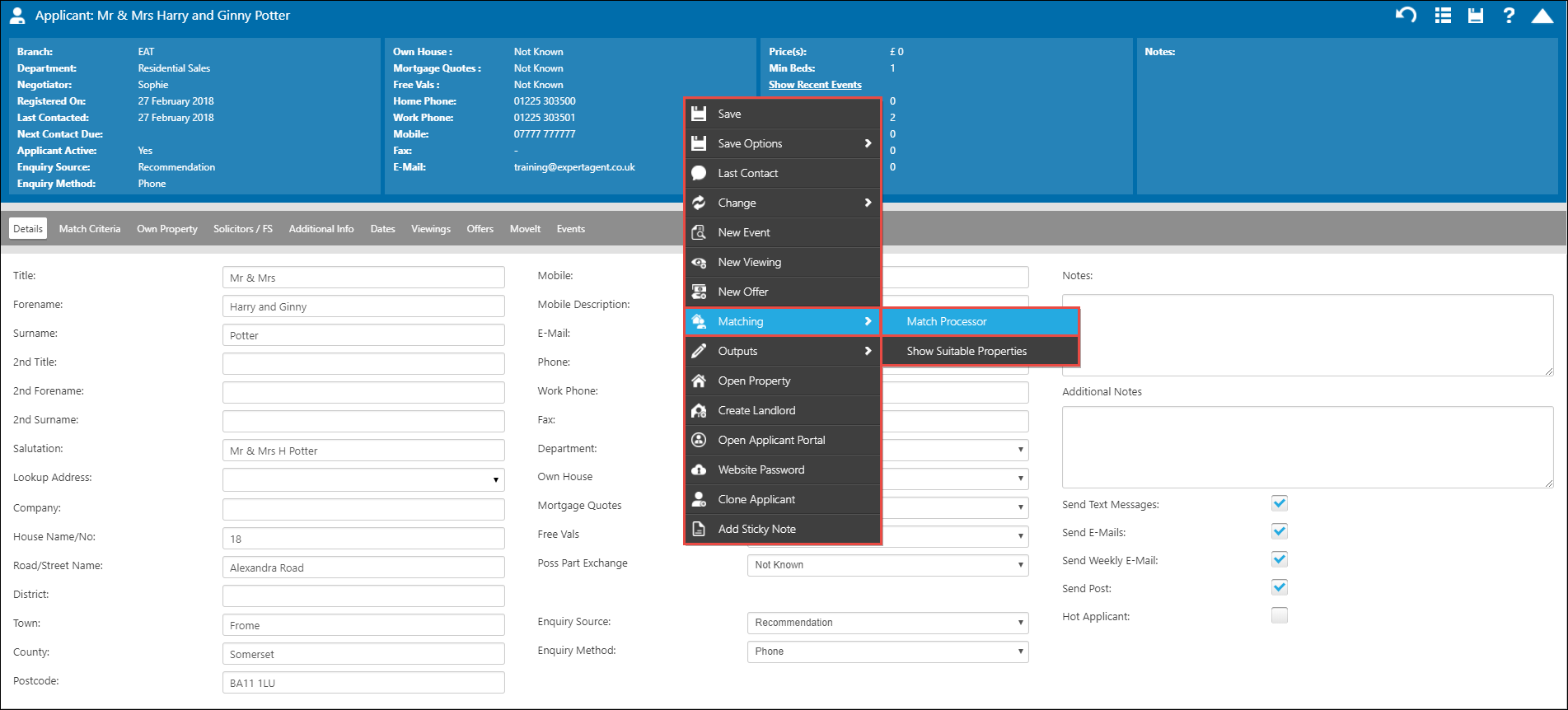 This opens the Match Processor grid, as below: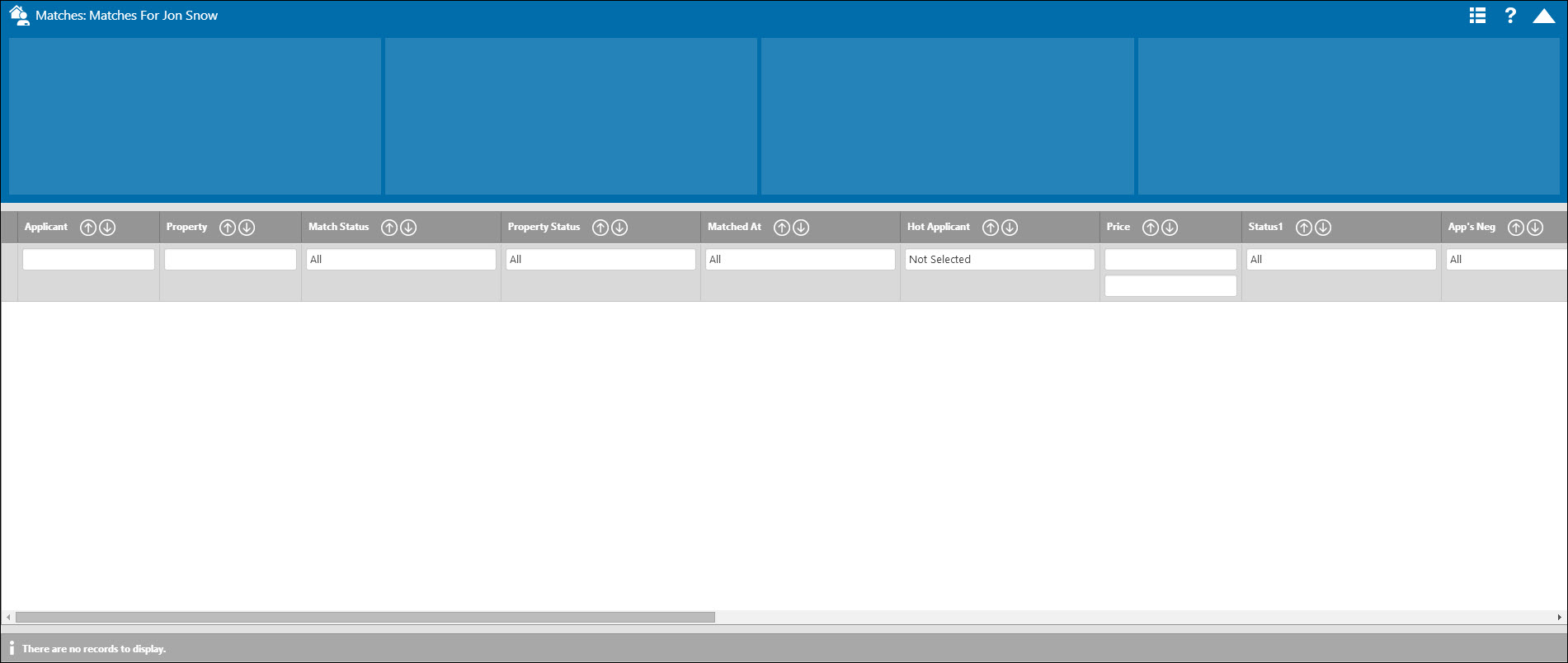 The Match Processor grid that you arrive at should be blank - if there are results listed, this indicates that the applicant has already had a match performed or that properties have already been matched to the applicant and the matches have not been processed yet/correctly. You would need to liaise with whoever performed the match (using the 'matched by' column to determine this) to establish whether they intend to finish processing the match, whether the match was run in error, and so on. You need to ensure that you empty the match grid however it is decided to do so, before running your new match.
If you do arrive at an empty grid then you can continue with running your new match straight away.
N.B. It is worth noting that when matching from an Applicant that has a price range of £0 to £0 it will match to all properties.  
Sending out a single property/manually attaching a property to send
Follow these steps if you wish to manually add a property to send or if you just want to send a specific property to your applicant.

Right click on the Match grid and choose "Add Property". The standard 'Select a Property' form appears for you to choose the property you would like to include: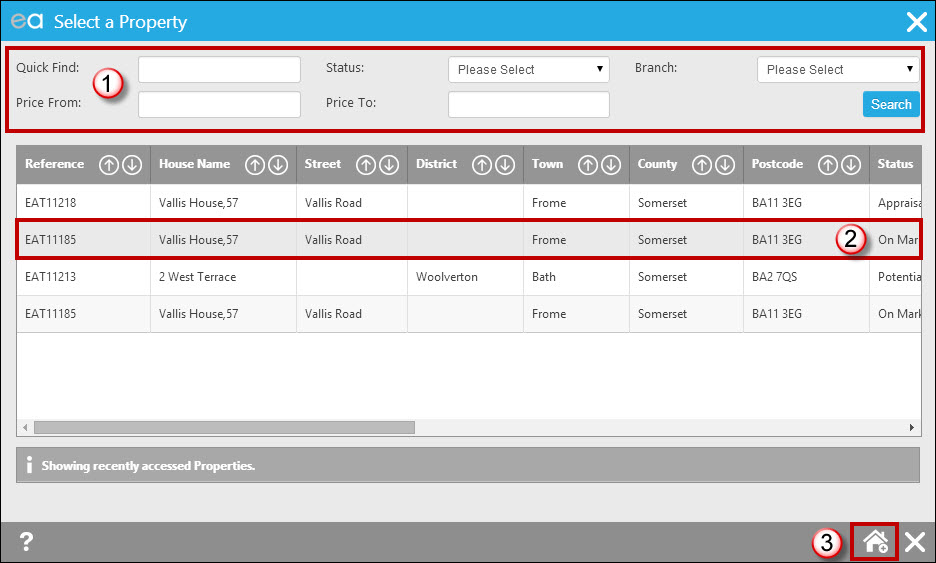 Make use of the filter options if you need to search for the property.
Select the property you wish to add from the list.
You have the 'Add new Property' option available if you wish to access the add new property wizard.
This takes you back to match processor with that property now showing in your match grid.

OR
Sending everything that suits
This next section explains how you match your applicant to every property that meets their criteria:

Right click on the match grid and select 'New Match'.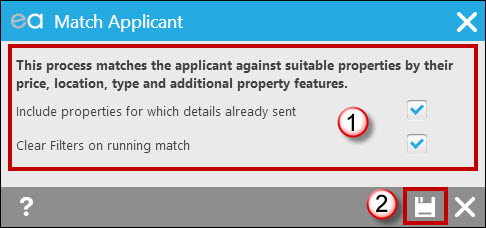 Tick/un-tick the items listed as relevant. The only danger if you tick 'Include properties for which details have already been sent' is that you may end up sending an applicant the same property on more than one occasion, however if you don't tick this option there is a risk that even if a property has been returned as a match result for the applicant previously but wasn't sent, they won't be matched to it again. The 'Clear Filters' option relates to the match grid, and it's a good idea to have this one ticked as it means even if you've applied filters previously that may hide certain results those filters will be removed so you won't miss anything.
Click 'Match'.

A dialogue box opens telling you the match is complete and the number of matches that have been found. Click the 'OK' button to populate your match grid with the results.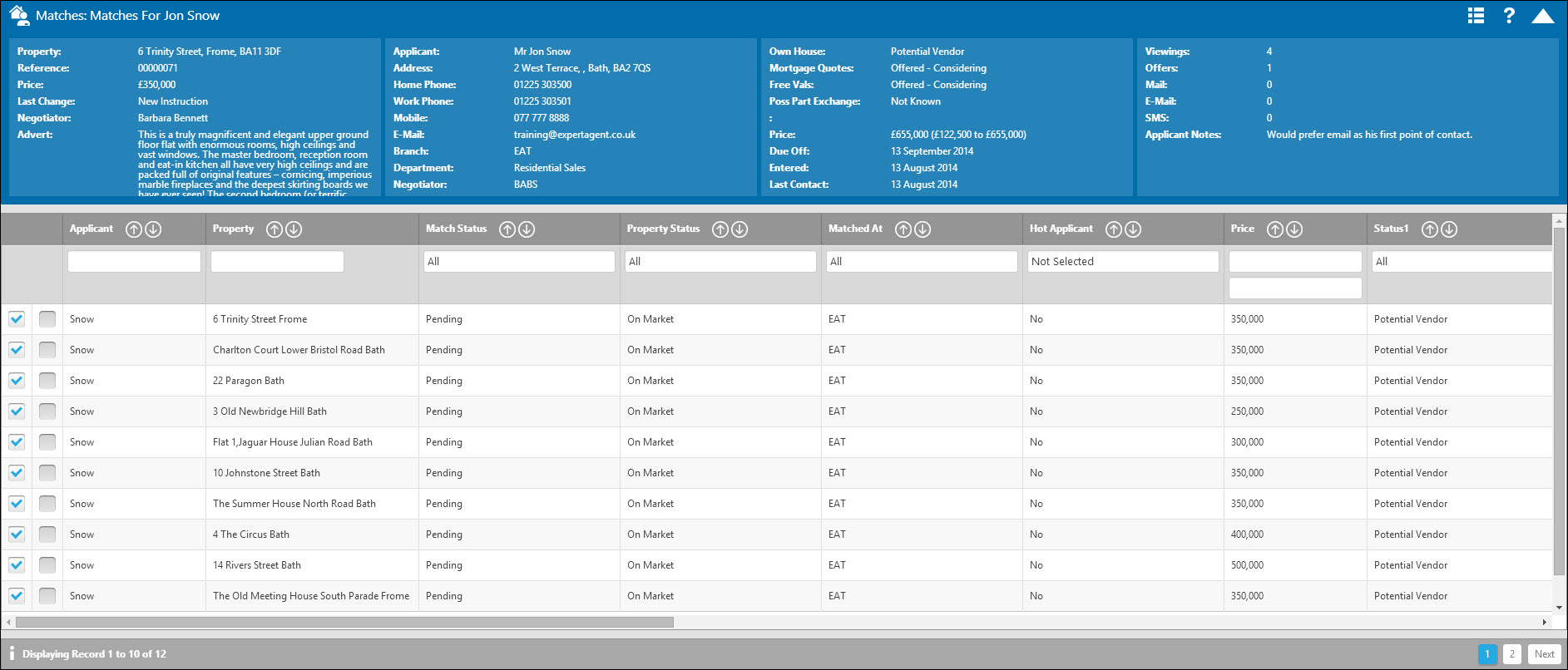 It's a good idea to sense check the match results and remove any properties that you do not think are suitable for sending – perhaps properties you have already spoken to the applicant about or properties that you know the vendor is about to accept an offer on, for example.  
To do this, hover over the name of a property in the property column and the tooltip will give you a summary of information from the property's record. Use this and your own knowledge of the property to make a decision, and if you do decide to exclude this property then you need to remove the tick on the left hand side.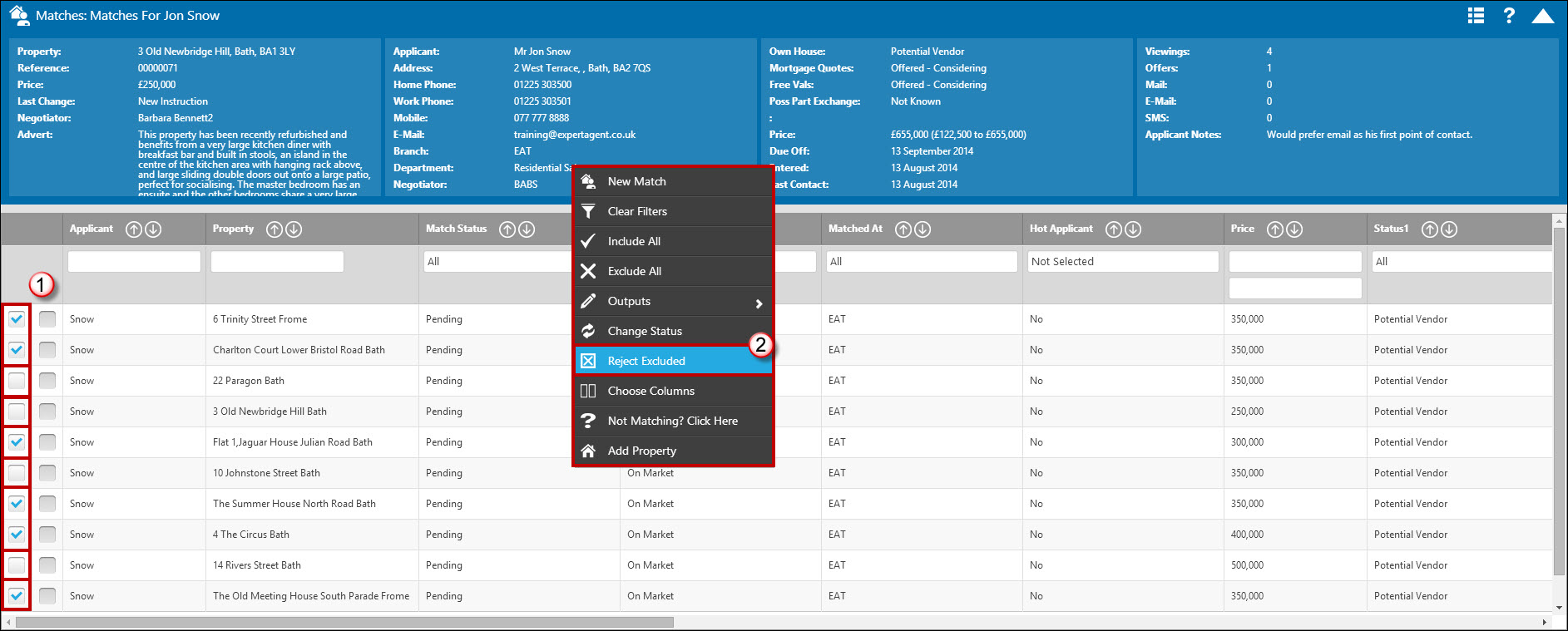 Untick the boxes for those matches you don't want to send.
Once you have finished sense checking you need to reject any properties you have excluded from your grid. To do this right click and select 'Reject Excluded' option.
This will return you to your match grid with the remaining matches showing, ready to be sent out.
To send your match you right click and select your desired output from the dropdown. We will use e-mail in this example and look at sending other outputs later in the module.

Right click and hover over 'Outputs'.
Select the 'Send E-Mail' option.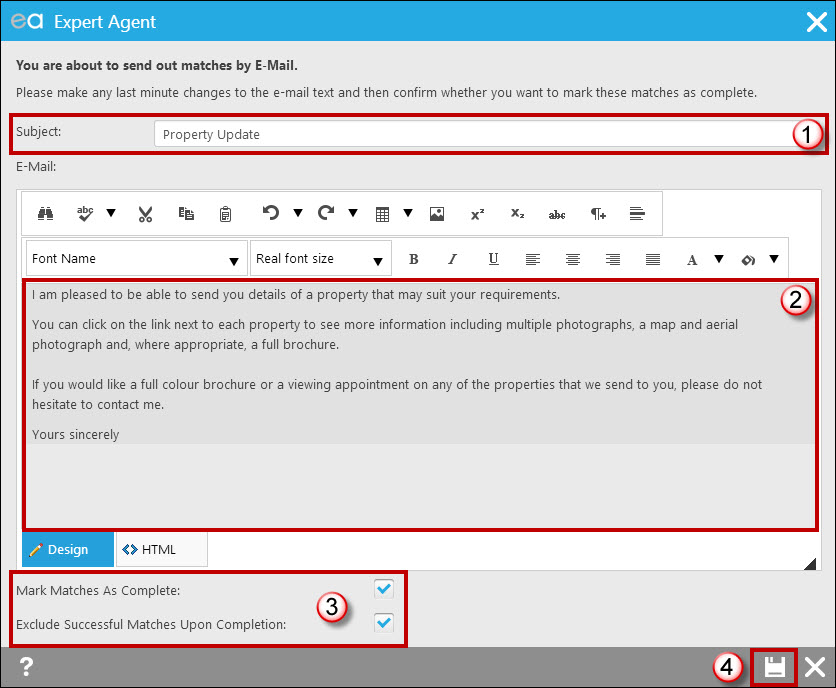 Give your Match E-Mail a suitable subject.
Check you are happy with the default text, pulling through from your configuration, and amend this if needs be.
Decide whether to mark your matches as complete automatically, and whether to exclude successful matches upon completion from the grid, again automatically. This is a good idea when sending out matches via e-mail and SMS, as these are considered reliable forms of communication, however when printing we recommend you do not tick these options so that you can check you are happy with how your match letter and report have printed before losing your results from the grid. You may find that you don't have the option from this screen to mark matches as complete – if this is the case, please speak to your boss/super user.
Click the send option to send the email, provided the applicant has an e-mail address in the system and that they have 'Send E-mail' ticked on their form.
Please note that despite saying 'successfully sent out all 10 e-mails' the system will have sent one email with all 10 properties listed. You will be returned to your match grid, which will be empty as the system has marked the matches as complete and excluded them for us.
On the match email the applicant receives, there is a link next to each property to click for more details, including the EPC, floorplans, full particulars, request a viewing, and so on.