Every time you speak to your applicants, you should tell Expert Agent what you've done- by updating their Last Contact.  
Open up the applicant record, and right click> Last Contact.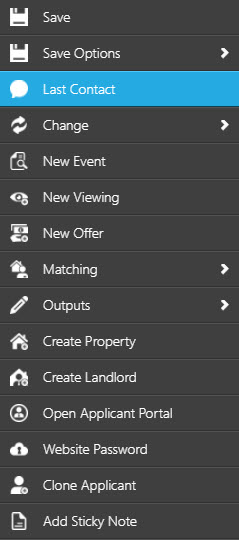 This will launch the event Details page, where you can record the conversation.

1. Your office may have dedicated Event Types, or you can use of default option of a Note. 
2. Use the Notes box to include details on the conversation- any properties the applicant may have viewed with other agents, etc. 
3. The Last Contacted date will set itself automatically, but if you're only just able to record a conversation from another day then you can use the calendar icon to adjust the date. 
4. Next Contact date will set itself for one weeks time, but if you want to pull that forward or move it back, you can use the calendar icon again. 
5. Due Off date will set itself for 30 days' time (you can change this default number of days in your Configuration, if you wish.) and this is the date that your applicant will be added to the Applicants Due Off Today QuickLink, if you don't update their contact details again before then. 
If your applicant has let you know that they're putting their search on hold for any reason, make sure you adjust both the next Contact Date, and the Due Off date.  
N.B Due Off does NOT remove your applicant from the database.  It is a flag to remind you that you havent spoken to them for a set amount of days (usually 30) and that you might want to speak to them now as they may have completed their property search.  
6. Once you've filled in all the information, Save.
This will update the "Last Contact" section in the Tool Tip of the Applicant Record (the blue bar/panel at the top).  It will also be available to filter on using the Last Contact column on the grid.  
N.B. Please note that the Last Contact Date in the tool tip will update over night.