A remittance advice is a useful document that you can send to a landlord or a contractor with a payment or following a payment made to them which explains how the payment has been calculated. In the case of a landlord payment, the remittance advice will show any funds received owing to the landlord together with any invoices that have been deducted from those funds. With a contractor, the remittance advice will show any invoices that have been paid resulting in funds being paid to the contractor less any commission invoices that you may have created from the agency.
N.B A remittance advice will only be available for a payment process after the upgrade release in September 2015.
There are Remittance Advice templates in the Expert Agent Default letters area under both the Landlord Finance and Contact Finance template types. You can use these directly or clone them across into your 'Our Letters' which will allow you to add any additional information along with headers and footers if you wish. You cannot amend the format or the main body of the Remittance, they are hard codded.
From the Payments to Make Report you are able to produce remittance advice for any selected landlord or contractor payments; you have the option to either Print or Email them. 

Once you have pressed Print or Email Remittance Advices in the Landlord payment tab, one of the following windows will appear

You need to select whether you wish your remittance advice to be grouped by property or by landlord. If you chose to group by property then a remittance advice will be produced for each property individually, so if you have a landlord who has two properties and a payment has been processed for both, Expert Agent will produce two remittance advice.  If you have selected group by landlord with the same scenario then only one remittance advice will be produced.
If you have selected to email your remittance advice then you will need to enter a subject for the email (Remittance Advice is a default subject), and select templates for the body of the email and the remittance template. The remittance advice will be attached to the email as a PDF.  
Press save to process the remittance advice - emails will be queued to send out and you will be notified through the message area.
If you have selected to print the remittance advice a preview window will open which then allows you to print out the batch.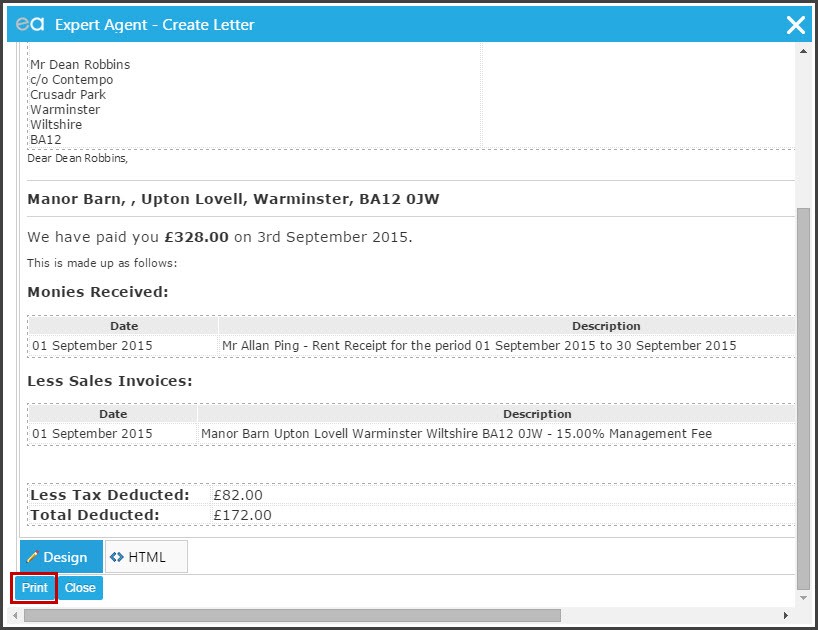 The only difference when creating Contractor Remittance advice is that you are not asked how you would like to group your transactions as there is no grouping to be made.  You will simply have to select the Remittance Advice template that you wish to use.
You also are able to create them from the Landlord record via the statement tab. Next to each Landlord payment listed there will be a Print button. Clicking this opens the choose template window.  

 You can then select Remittance Advice and like when you create other letters the preview window will open.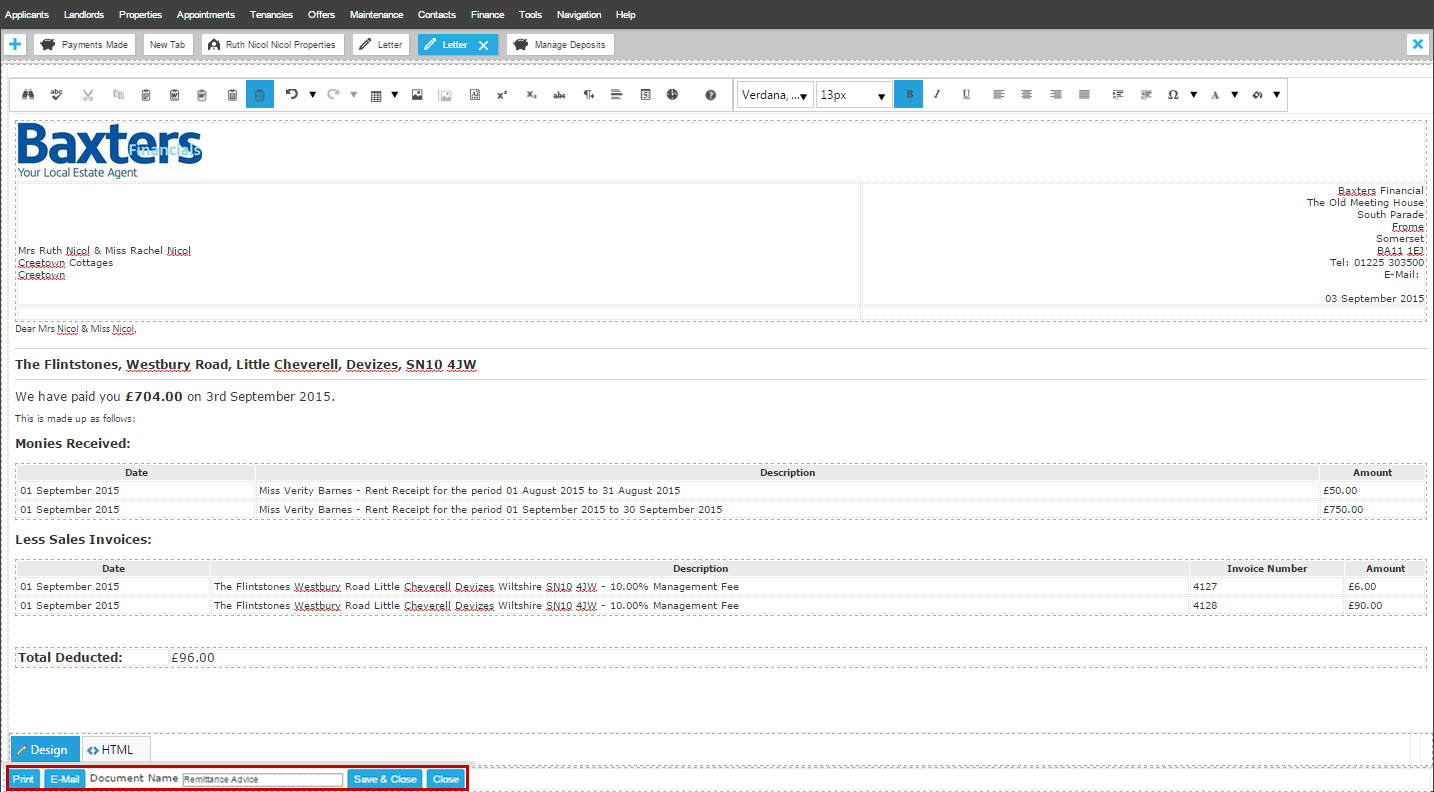 You are then able to make amendments that you wish before select to Print or Email the document to the Landlord.  
This process is exactly the same for a Contractor Remittance Advice, only difference is that you access it via the statement tab on the Contractor record.