This section lets you configure the charges and structure of your press advertising.  This will show any newspapers you've already added with the current setup for the newspapers.
You can add as many newspapers as you wish. The advertising is a simple intuitive process and it pays to add your newspapers before you add your properties. Failure to do so will leave you with the laborious task of having to add your newspaper to each property individually when with prior planning you could have let Expert Agent take care of that for you and automatically added the newspapers when adding the property!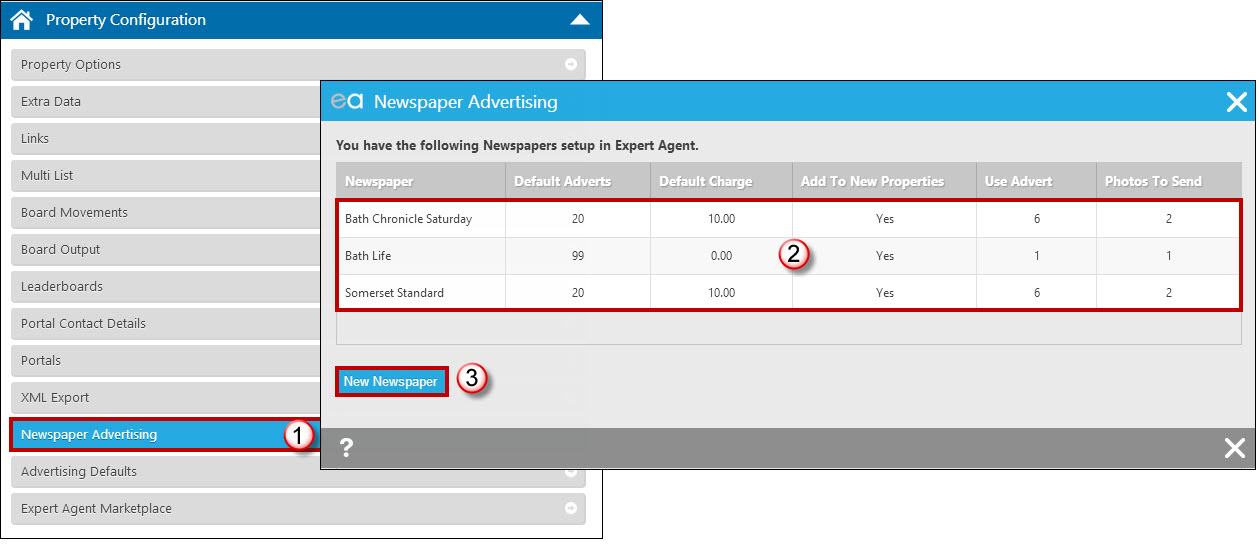 Select the 'Newspaper Advertising' option.
The list of newspapers you currently have setup will display.
Click "New Newspaper" if you wish to add another newspaper to your configuration.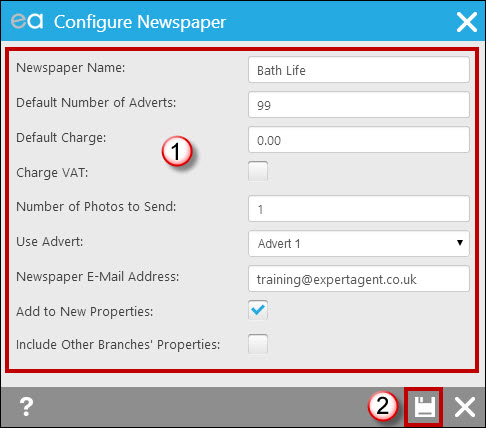 Newspaper Name: The name of the newspaper or alternatively something that you will recognise. E.g. Evening Post or Evening Post Wednesday Edition.
Default Number of Adverts: If you want to setup a formal budget and schedule for each property, enter the typical number of times you will want to advertise each new instruction here. Once the number of adverts has been reached the property in question will no longer be included for future advertising.
Default Charge: If you charge vendors for newspaper advertising enter the newspaper charge here (numerical value only, no £ symbols etc.). This charge is then logged against the property and come invoicing time the charges are automatically logged.
Number of Photos to Send: You can specify here how many photos you wish to send for each property. The photos are taken in the order that they are displayed in Expert Agent so specifying 4 photos will take the first four property images as specified in the property photographs screen where you can promote and demote the images.
Use Advert: This option controls which advert copy the newspaper will be sent for each property.
Newspaper E-mail Address: The address the advert copy needs to be sent to is entered here. There is no need to enter your own email address here as the user sending the adverts is automatically sent a copy of the advertising.
Add to All New Properties: Ticking this box ensures that this newspapers setup is applied to all new instructions upon conversion from Potential Vendor to On Market status. If you tick this box you will NOT need to manually configure the advert setup for each new property. You will however need to add this newspaper to ALL existing marketed properties that were on the system prior to the addition of the newspaper.
Include Other Branches Properties: If you have multiple branches and would like to include your other branches properties in your newspaper advertising ensure you tick the box.