Expert Agent has reliable overnight feeds to On The Market.com, Zoopla and an instant live feed to Zoopla.
In addition, we've got feeds to The Guild, Fine and Country, The Property Experts, Mayfair Office (via Homeflow). 
Rightmove's live feed is £5 per month. There used to be a free overnight option but they stopped that in 2016.
In addition, we have an XML feed which you can ask us to set up and maintain for you. We will give you FTP access that you can pass to a third party webdesigner or a portal that we don't feed directly. This is counted as a portal feed
It's free to upload to 3 portals per branch.  After that there is a monthly charge of £20  for each portal you subscribe to.  If you have opted for an XML feed to power your own website this is counted as 1 of your 3 free feeds.
In addition, there's a further feed called Emerging Portal Feed that most agents subscribe to. You need to switch this on - we don't do it for you. EPF is designed to support emerging portals that might one day compete with the big three. We're careful to pick portals that we think have a decent business model (no private vendors, minimum requirements about updating their sites etc) but this is a fluid market - these new portals come and go. You can read more about the Emerging Portal feed in the article called Who is included in the Emerging Portals Feed?
To get Rightmove, Zoopla, OTM, Guild and Fine & Country portal feeds set up, you need to contact the portal themselves. We've given them a control panel that lets them add your account numbers and passwords for their service
To set up an XML feed or join the Emerging Portal Feed, you need to contact our support team - please log a support ticket. We'll always discuss EPF and XML when we do your initial configuration review. if you want these things we can switch them on then.
You have got the ability to stop a feed whenever you want to and you get the ability to resend all data. We'll sometimes use this if a portal has got into a muddle
The options to do this are under Configure>Property Configuration>portals as below: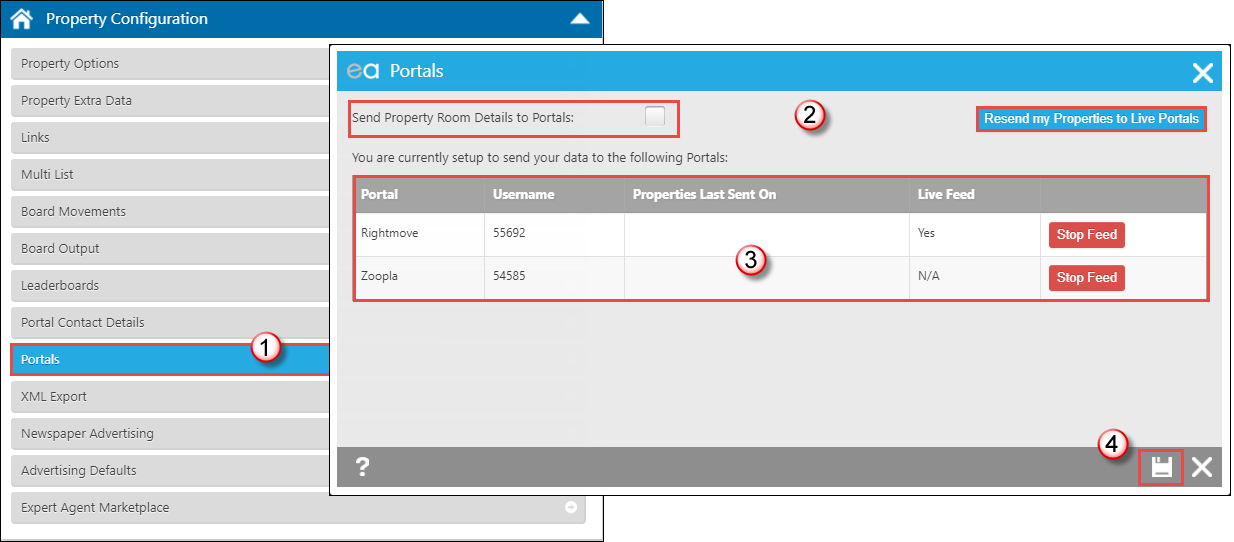 Select the 'Portals' option.
Ensure you've ticked 'Send Property Room Details to Portals' if you'd like all property details listed online. The 'Resend my props to live portals' button is again only relevant to Rightmove, and should only be pressed by us when we first establish your live feed – so don't press it!
This list simply shows the portals you are currently feeding to, your username and when the properties were last sent. The only portal the 'Live Feed' column is relevant to is Rightmove.
Save.