The Agency Payments screen show you all sales invoices and credit notes that have been marked as paid via landlord or tenancy records. The screen is accessed via the top Finance Menu and Payments.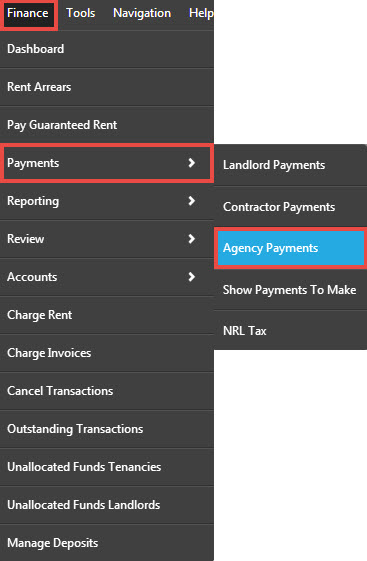 This will open the Agency Payment window:

The agency payments screen will always load blank. You will need to make your selections in order to see the invoices and credit notes you have available to pay.
Using the top options you are able to choose which branch you would like to process the agency payments for
If you would like to make an agency payment for fees taken within a specific period, enter the date range into the 'Date From' and 'To' fields (for example if you would like to make an agency payment for fees taken within the previous month). If you would like to make an agency payment for all available funds, leave the date range blank.
Set the date you would like to mark them as processed and the bank account that the funds are being taken from. Please note that the bank account will default to your Default bank account that you chose during configuration which is most likely to be your client account 
Click the 'Refresh' button to load the invoices based on your selection.

Based on the date range you have selected, any invoices and credit notes that are available to be included in an agency payment will appear.
Under the 'Received Date' column you will see the date the invoice/credit note became available
If there are any particular invoices you want to exclude or include in the payment run you can use the 'Include?' tick box alongside each item
Once you are happy with your selection you can click 'Make Payments'
A pop up will appear letting you know the payments have been made.
The next screen that opens will be the Payments to Make Report.