With each agency having many different and diverse needs in terms of storage and marketing, we've added the capability for you to store up to 20 named items on each property record. Each item can be named (so, for example, EPC or Virtual Tour) and can be configured to accept either an uploaded file (PDF and JPG only) or a link to an external website.
We call these "Property Links" because historically they only supported links, not uploaded files.
You can configure each of the 20 Property Links to be visible only from within Expert Agent or, by ticking the "show on website" option, they will be made available generally to all web users and may even get indexed in Google searches. 
To set up your links, go to Tools>Configuration and choose Links under Property Configuration as below: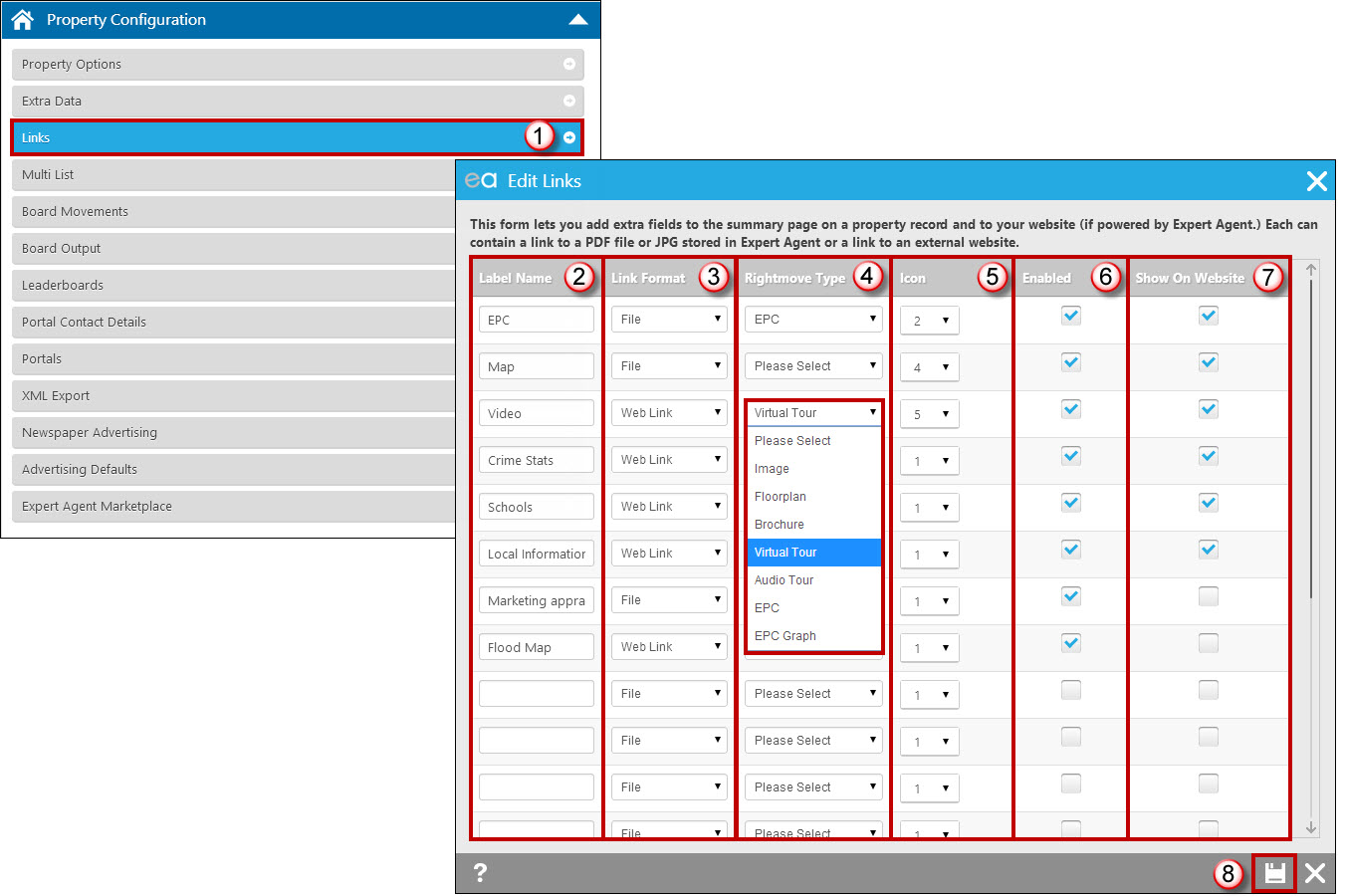 Each can contain either a file (anything you like – PDF, JPG etc.) or a link to a website. The EPC is reserved as the 1st of these. If you get sent graphic EPC files, change the file format to File and just tick enabled and show on your website as below:
Select the 'Links' option.
Enter the label name for your new link.
Choose if you want it to be a file e.g. PDF etc. or a web link.
Assign a Rightmove Type to each link – this is used by the Rightmove live feed IF you choose the "Show on Websites" option (7) below.
Select the icon you would like to represent your new link.
You must ensure the enabled tick box is selected.  If not it will not show on the property record.
If you would like the link to show on your website and potentially in Google searches, tick the "Show On Your Website" box. If your website is powered by Expert Agent, the appropriate link option will be displayed on each property record (so, Video in the example above) IF and only if you have populated the "Video" field in a given property. If you don't put a link in, there won't be a visible link on your site. Similarly, if you use a 3rd party website provider and you've ticked the "show on website" box, we send the file or the link in the XML file that we make available to them for you. Take great care here - if you tick "show on website" then upload a link, it  will be seen on your website. If you configure one of the 20 links and tick "show on website", there's a chance that search engines may index the file and let 3rd parties find it. The "safety catch" her is merely a warning when you try to upload a file that could potentially be seen by the public.
Save 
Example: How the Links will show in the front end of Expert Agent

This example is shown from the Presentation tab on the property form.
for information on how to use Property Links, see the Links Tab article