As the name suggests this tab summarises the information key for the marketing/presentation of the property, such as property images, adverts, links etc.  At present this tab will seem quite bare as we are yet to enter much of this information. 

At this point we will focus on setting the Google Street View.
Your website and weekly/welcome e-mails let the user see the specific property on StreetView – you need to ensure however that StreetView is focused on the correct property.

To do this you simply click on the 'Show StreetView' link and use the options to focus on the correct property: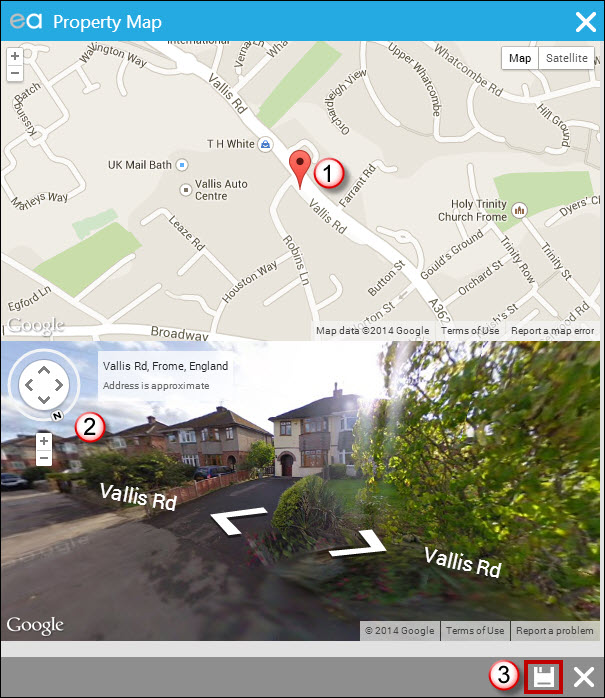 Click and drag the marker to the correct place on the correct road, if necessary.
Use these arrows to move up and down the street, and the '+/-' options to zoom in and out. You can also change what you are seeing by clicking and dragging the screen or clicking into the distance.
Click 'Save Changes' to ensure that the view you have set up is what is always presented to your applicants.
Note:  If you find your StreetView is showing a blue screen, it is because you have not assigned the postcode properly therefore the Latitude and Longitude is not set.  To rectify this simply reassign the postcode on the Details tab of the property.
Upon completion of the following tabs on the Property form your Presentation tab should look like this:

A preview of the Advert Header and Main Advert are here. This pulls through from the Adverts page tab.
Links to items such as the property particulars, street view and floorplans are listed here. These are listed in more detail below.
Thumbnails showing all of the property images uploaded to the Photos tab will display here.  You are able to click into photos to enlarge or start a slideshow should you wish.
The links as mentioned above are:

  QR Code - This can be used on your Window Cards to direct passing customers straight to your website, it is a merge when creating brochure templates.  

  Property Presenter - This is a powerful tool allowing you to show the property off visually.

  Map - This option will simply show the property on a map.

  Streetview - This option will open Google streetview.

  Website Preview - A preview of the property online can be displayed from this link.  This will only show when your property is on the market.

  Floorplans - Any floorplans uploaded to the Floorplans tab are also available from this link.

  Brochure - As soon as you have setup and assigned a brochure to this property, you will be able to access it from here as well as from the Brochures page tab.