Expert Agent has automated nightly feeds setup to the portals listed below and a few added extras such as Zoopla. These property feeds are updated nightly, and dependent on when the portals process the incoming files the properties are usually updated early morning - so it's always worth waiting until mid-morning before starting to panic.
We no longer get involved directly with the creation of new portal subscriptions and have provided all of the portals with an account that enables them to login and add Expert Agent branches to their feeds.
(The exception to this is the new Rightmove Live Feed – this involves you and us in a bit of basic config work – see the How do i configure and set up the Rightmove Live Feed? chapter for more information.
You will need to contact the portal in question, informing them that you are using Expert Agent and requesting a feed. When the portal have set up your feed, you will receive an automated email to your office email address. You will need to click the confirmation hyperlink to authorise the feed. That's it – your subscription has been set up and your property data will be sent.
With Rightmove's new Live Feed, we have to follow this process and then convert to a live feed manually afterwards.
Adding new portals to our feed list is something that can be done, depending on the level of demand. We're unable to create feeds to new portals ad-hoc, but can make an XML Data Export of your property data available to smaller, local or bespoke portals. This is generated hourly, and can be collected from our servers via FTP - we will provide you with the login credentials to access this. Please note that we can only provide these details directly to yourselves - if a portal or web designer requests them, we will refer them back to you. In order to set up an XML feed, we require written authorisation. Please either e-mail This email address is being protected from spambots. You need JavaScript enabled to view it. or log a support ticket. You can also request an XML Schema and sample XML file this way should you wish to.
The contact emails and numbers shown below are correct at the time of writing, though if for any reason you find these to be no longer correct please let us know via a Support Ticket and we'll update the contact details accordingly.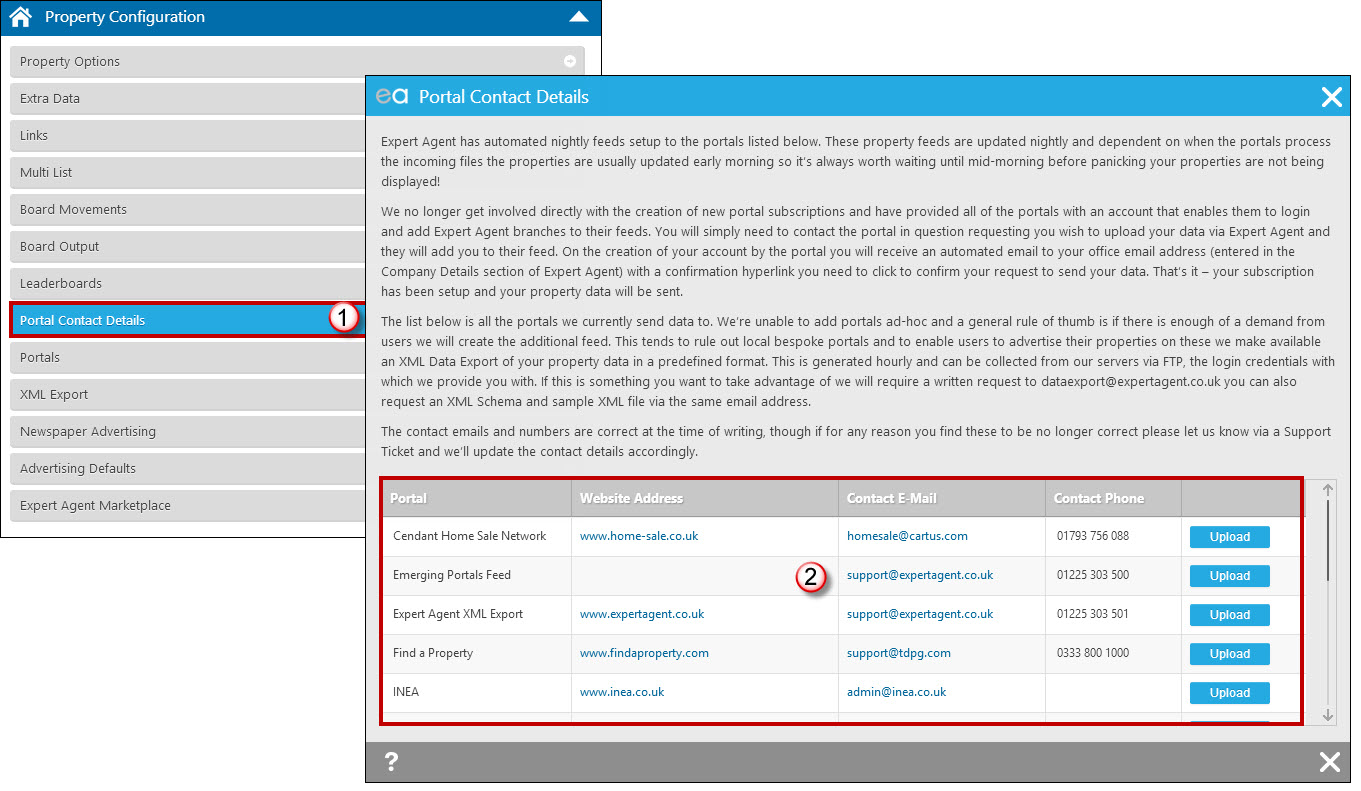 The individual portals have a control panel that allows them to setup your account.  When they do this, you'll receive an automated email from us – you need to click a link in the email to confirm that you want the portal to receive the data.