If you are creating your Sales invoices for Offers using Expert Agent when you Exchange the Offer you get the option to create an invoice.  This picks up the fee details from the Property record and your VAT rate set in Company Details.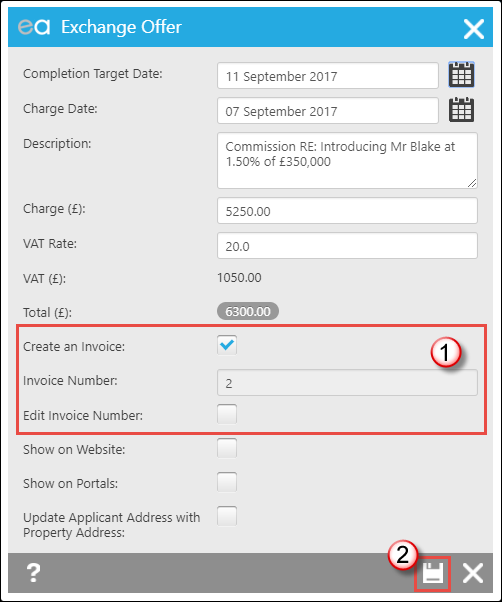 1. You can't change the invoice number in the Invoice Number field.  You have to do this by clicking "Edit Invoice Number" and this only works if you have the correct Staff Permissions set (see Agency Staff) 
2. Press Save.  

3. On the Our Letters tab you should have a Sales Invoice.  Click on this to produce it.  
4. As always you have access to the Expert Agent Default Letters from here if you do not have a relevant template.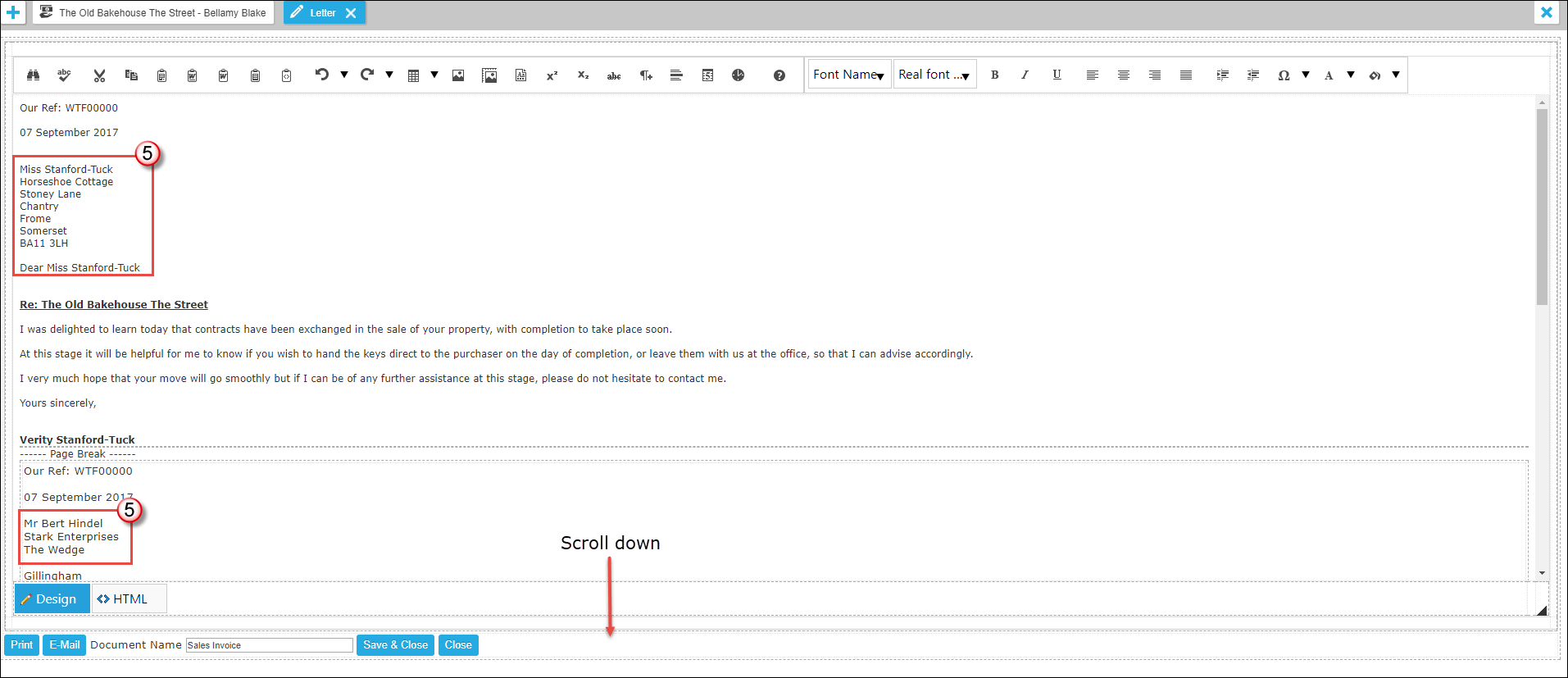 5. In the example we have used, an HTML Sales Invoice (cloned from the Expert Agent Letters Tab) there is a letter to the Vendor, a letter to their Solicitor...
6. Plus an invoice to the Vendor's solicitor.  
7. Press the Email Button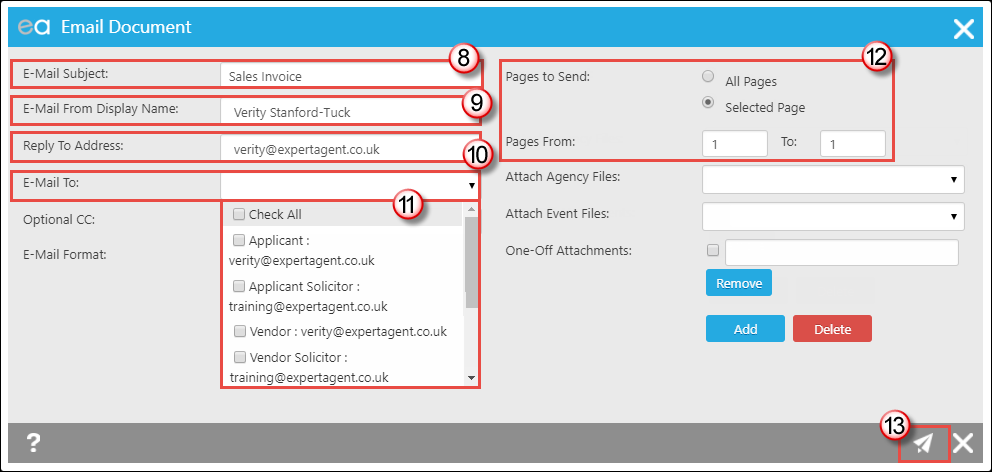 8. The E-Mail Subject is taken from the Template Name.  This can be changed.  
9. This will either display the Offer Negotiator name or the Branch name.  Click in here to change it.  
10. The Reply E-Mail address is set in your Staff Profile.  
11. Click in to the E-Mail To field and it will give you the option of all records attached to that Offer.  In this example we are sending to the VENDOR ONLY at the moment.  
12. In Pages to Send click Selected pages and type in 1 to 1.  
N.B You can only send a page range, page 1 to 3, not page 1 AND 3.  
13. Press Send.  
This will take you back to the Template open in Expert Agent.  Press the Email button again and follow steps 8 - 13 selecting the Vendors Solicitor and pages 2-3 this time.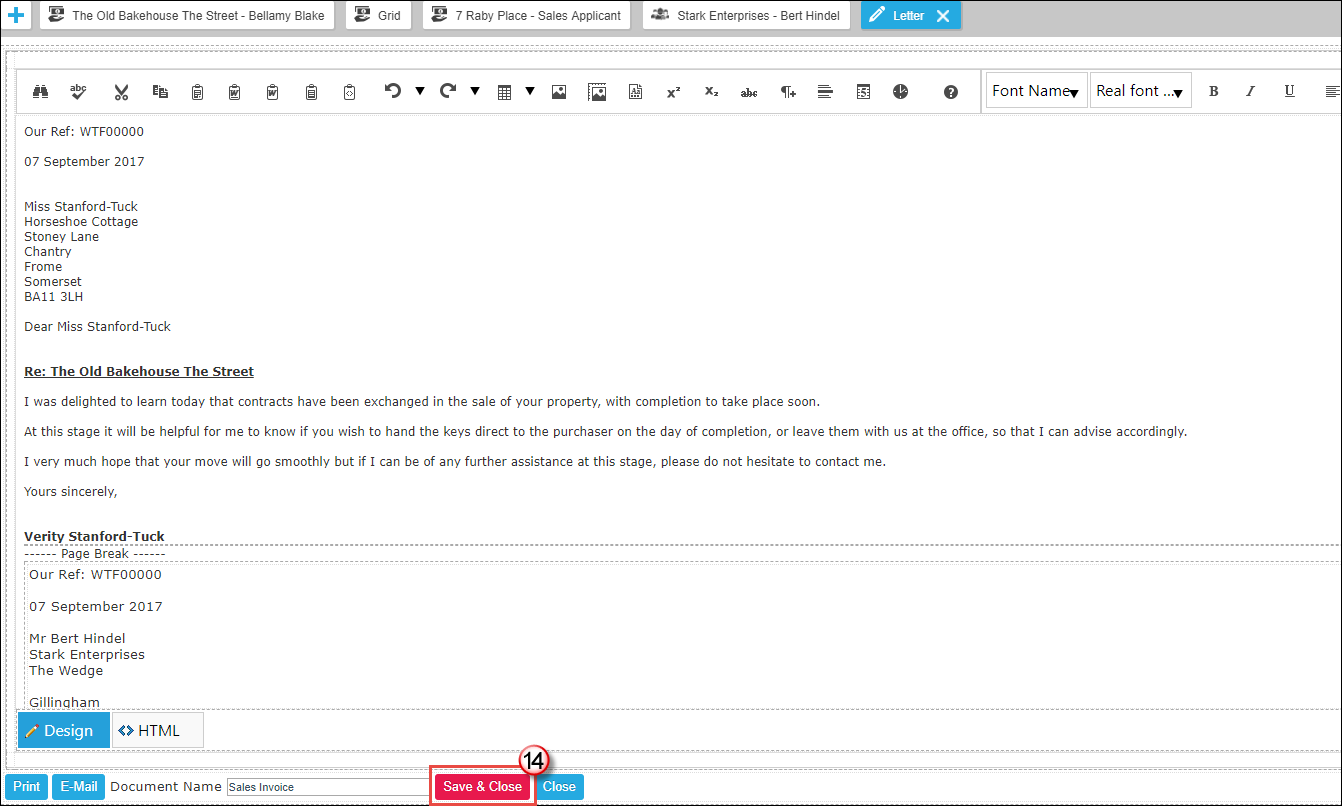 14. Pressing Save & Close once you have emailed all parties their relevant pages will ensure that the emails are saved onto the Events tab of the Offer.