Expert Agent has a dedicated support team to assist you with any technical or product usage queries you may have.
The team (normally about 15 people) is split into three teams
Product Consultants - run the live, online training sessions, do Configuration Reviews for new customers, are responsible for the videos, manuals & training courses and they do one-off and on site chargeable training sessions
Product Specialists - either former estate agents / former letting agents or talented individuals that have spent time in agents' offices. They deal with the "how do I...?" issues
Technical Specialists - the techies fix things that are broken and work with the development team to report, supervise the fixing and test new bugs/enhancements
But you don't have to worry about this - all you have to do is log a support ticket and we'll do the rest.
Generally, the rule is that we'll fix anything relating to Expert Agent but we won't get involved in fixing the various "layers" (Windows + Virus Checker + Print Drivers + Browser)  that make up a modern Windows based PC. All of those layers need to work together and, as we all know, sometimes they don't. Often, the only way to fix them is to spend hours tweaking the layers. So, if you call us and tell us that a particular PC won't print a brochure, we'll test the brochure at our end and help you fix any snags we find. If there aren't any and the brochure prints fine for us, we'll suggest you try a colleague's PC or even your home PC. If all else fails, you'll have to get the local computer man to spend time tweaking those "layers".  Incidentally, there's a generally held belief that moving to Apple Macs does away with the "layers" issue. In our experience, it helps but adds its own unique issues.
How to get help
How about having a look in our FAQs before logging a ticket? You might find the answer you want straight away. if not, please contact us in one of the following ways:
1. Log your own support ticket. This is the best way - you can prioritise our response (urgent tickets gets dealt with very quickly) and tell us which properties, applicants etc your issue relates to. Go to Help>Get Support in Expert Agent - more details below. If you're the sort that likes a call back rather than just a message, tell us in the ticket. 
2. Call the duty specialist on 01225 303500 option 3. If it is possible to help you/fix your issue on the spot, the duty specialist will have a go. There's always a queue for the duty specialist - expect a 15 minute hold time. 
3. Email This email address is being protected from spambots. You need JavaScript enabled to view it. - this automatically logs a medium priority ticket which is a 4-hour response. 
However you contact us, we'll endeavour to speak to you on the phone if we think that's the best way of communicating what we recommend to solve not just the issue in hand but any additional issues, problems, bad habits or work practices that may have caused the problem.
Support hours are:
9.00am-5.30pm Monday to Thursday
9.00am-5.00pm Friday
9.00am to 1pm Saturdays, Sundays and Bank Holidays for support tickets and support@ emails only - no telephone calls as the duty specialists work from home.
Support Manager
If you are unhappy about any aspect of technical or product support, please contact This email address is being protected from spambots. You need JavaScript enabled to view it. on 01225 303500 option 3
To log a support ticket.  
First, check our System Status - http://learningcentre.expertagent.co.uk/expert-agent-status This is kept on a separate server so if we have problems with our servers, you'll still see the status.
If your problem relates to anything amiss in the System Status, please don't log a ticket - we're already aware.
Have a look in the Learning Centre's Frequently Asked Questions area - there might be an instant answer to your problem:
http://learningcentre.expertagent.co.uk/faqs
If you still need to log a ticket, Hover over 'Help' and select the Get Support option.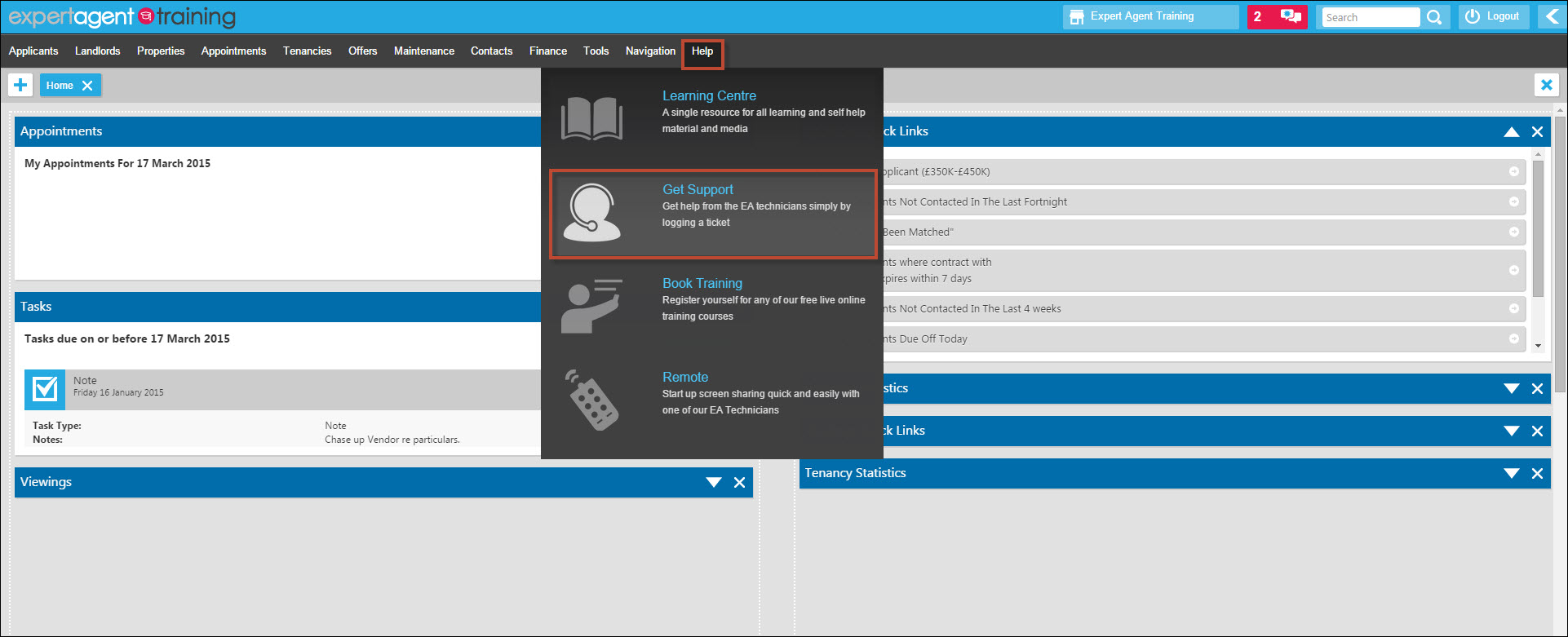 The Support Ticket System will open.  If you are logging a ticket that is in reference to anything on the System Status please don't proceed to log a ticket as the technicians are aware of the problem and will be working to rectify it.  If not, simply proceed to log your ticket.
Right click to launch the action menu, and select "Log New Ticket"

1. Select the area in Expert Agent that your request is regarding from the drop down list.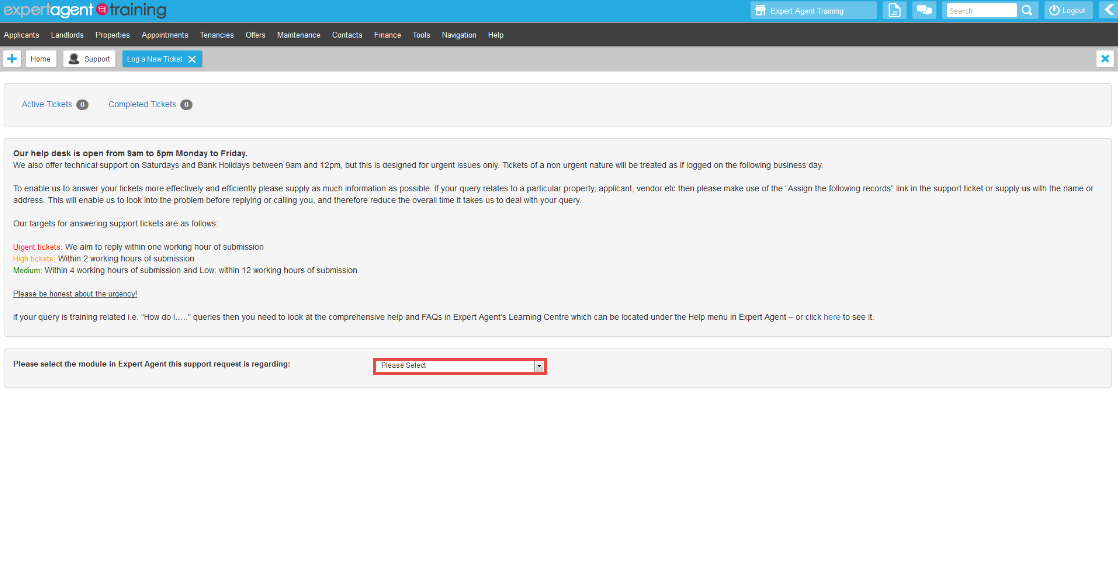 2. You will see a list of FAQs relevant to this section. Click on any of the FAQs that relate to your issue - this may avoid the need to continue logging your support ticket.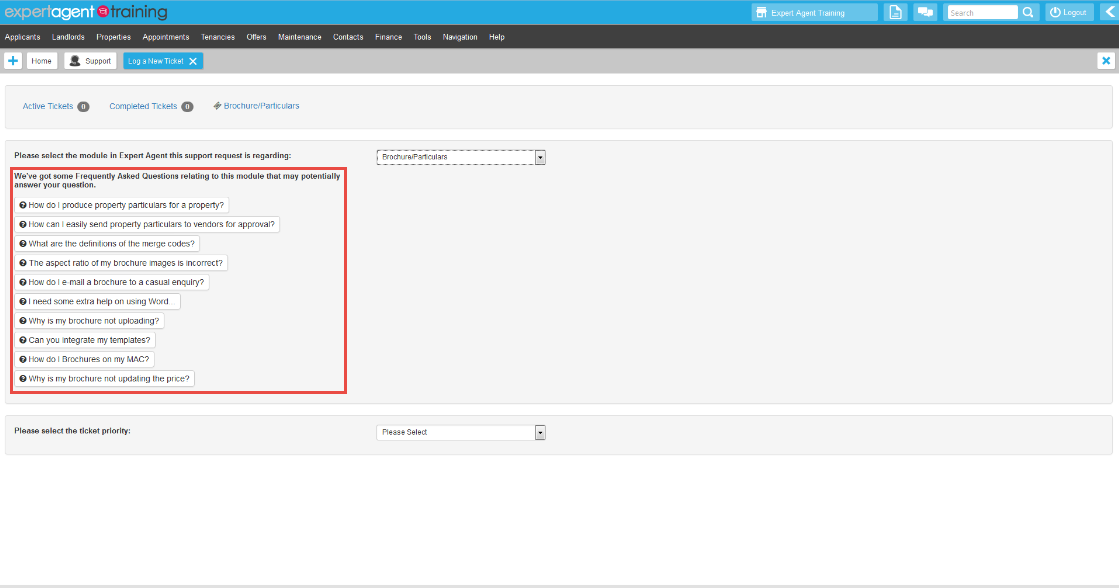 3. Assign a priority level to your support ticket.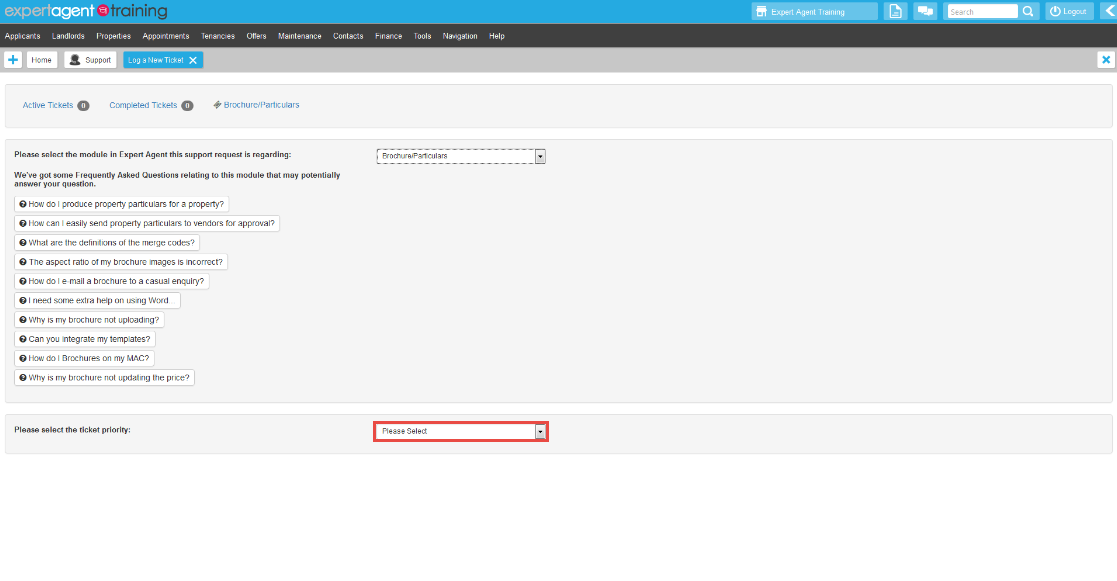 4.
(1) Enter as many details as possible regarding your query (for example, if your brochure is not working please tell us WHICH brochure template you are using, HOW the template isnt working (i.e not pulling through price) and which Property record you are working on - the more information the better!)  This will allow the technicians to start on your request as soon as possible instead of having to track down more details.
(2) If you are having a problem with a specific record/records you can attach them to your support ticket by ticking them in the list of recently viewed records that are displayed.
(3) You are able to upload a file to attach to your support request. Select files and upload them from your computer if relevant, clicking 'Add' if you need more than one upload box.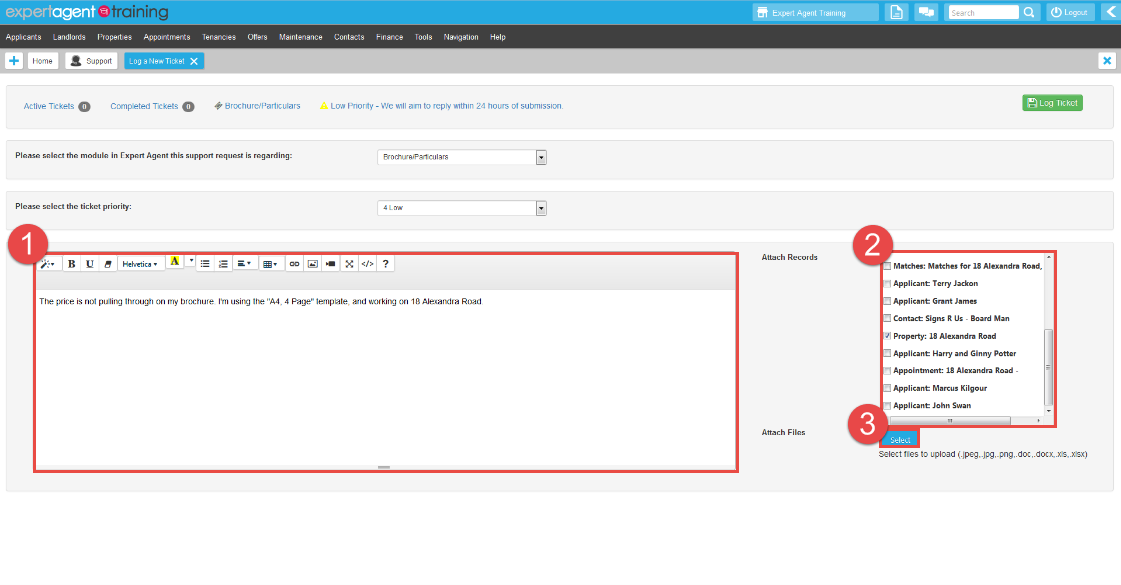 7. Click 'Log Ticket'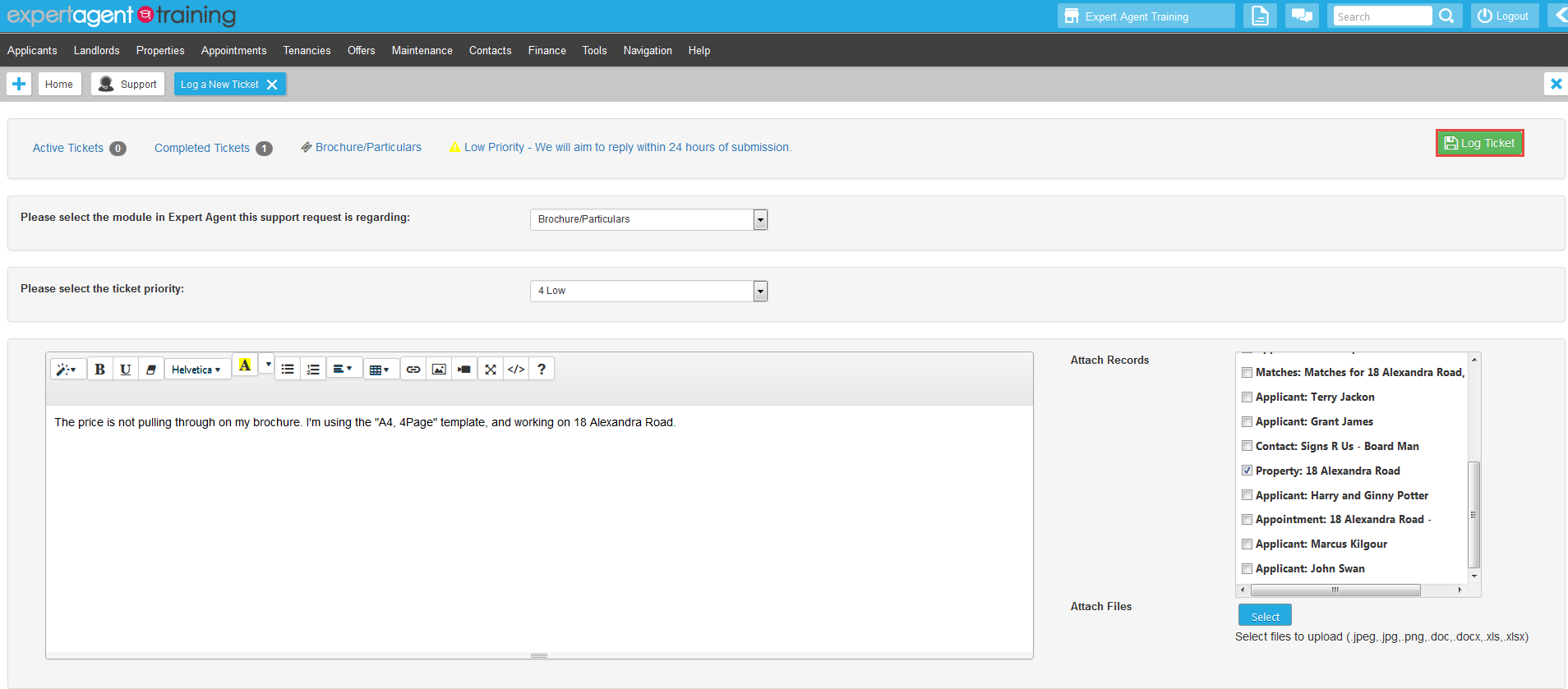 As soon as your ticket has been logged you will be returned a grid of your support tickets, and a pop up will inform you that the technicians have received your ticket, and give you an indication of when to expect a reply.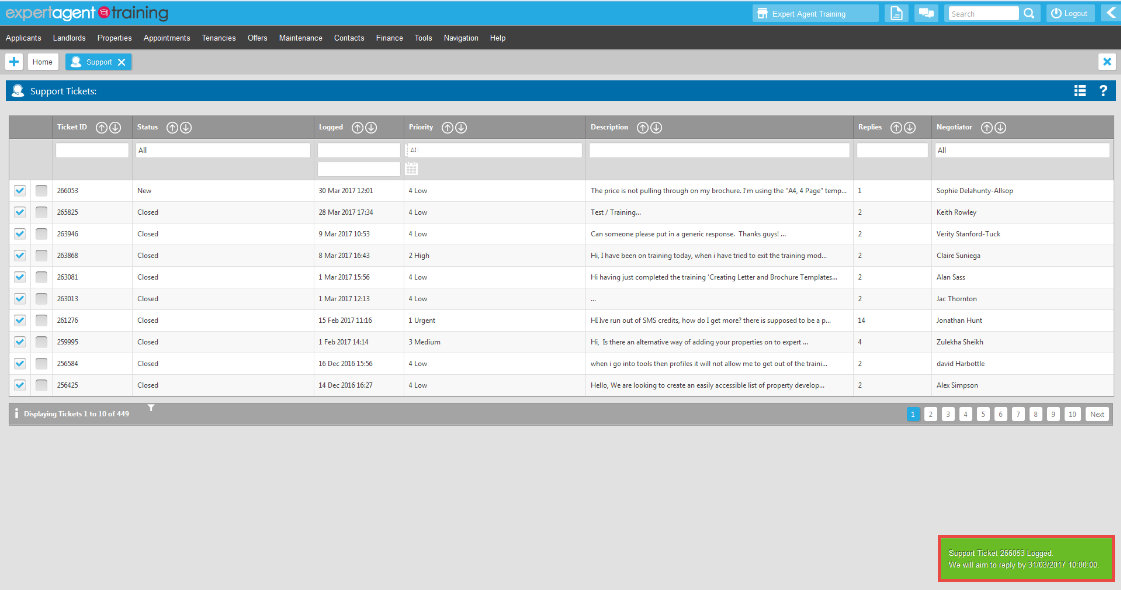 You will get an Expert Agent message as soon as you have had a reply. You can get to your Expert Agent messages from the message icon in the top toolbar:

 Open the message, and click into the ticket link as below: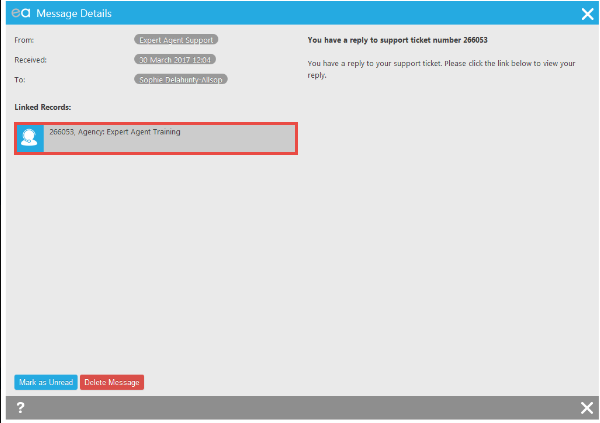 The ticket with replies will display as below: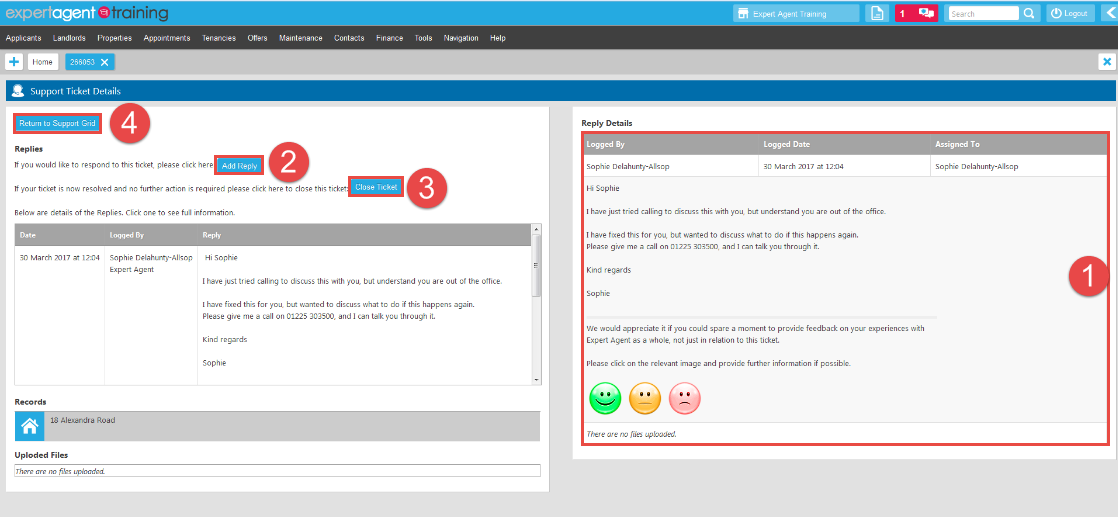 Details of the reply from the technician will be shown on the right, as well as in the thread over on the bottom left hand side.
One of two messages will be here. If the ticket is still open, the 'add reply' button will be showing. Use this to add replies to the ticket as necessary. If the ticket is closed, please read the information next to the 're-open' button before clicking onto it for any reason. 
'Close Ticket' does not mean you are closing the ticket to come out of the screen it means you are actually MARKING IT AS COMPLETE.  Please be aware of this and use the cross to come out of the ticket.