The ROPL-01 (Formally the Type 19 report) is a report that is requested by HMRC detailing all the revenue for your landlords within the tax year. We have designed this report in the format that HMRC require to allow agents to easily supply the data as required.  If you have received notice under schedule 23 of the finance act 2011 to send information to HMRC information on the gross rents you have received on behalf of your landlords, it is the ROPL-01 you will need to use.
Select 'ROPL-01' from your Reporting sub-menu from the Finance drop down: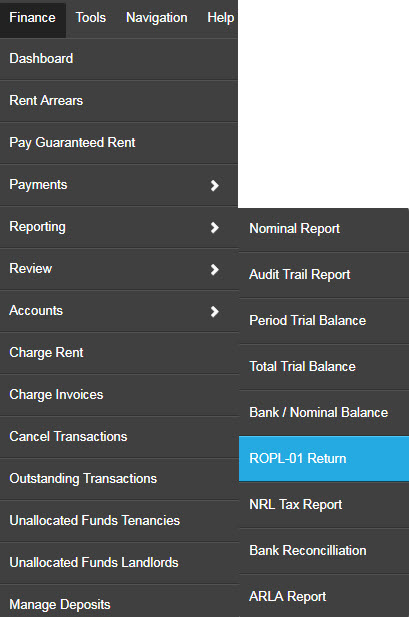 The following screen will open:

Select the relevant branches.
Select the tax year from the drop box.
Click 'Report' to have the landlord information presented on the screen, 'Print' to print the information or most likely 'Export to CSV' if you would like to copy into another program or directly into your ROPL-01 form.
Each "Property" will have its own line therefore a landlord with multiple properties will be listed a number of times.  A property with more than one landlord will also be split. The columns included in the report will be the mandatory columns requested by HMRC, the screenshot shown above is only partial so not all columns will show.
The Report will show all landlords not just ones with managed properties. The criteria for a landlord to appear includes if there are any finance transactions within the year selected or if there was a tenancy that started for that property at any point before the end of the selected period or a property with tenancy that was active during the period so it may be a case of removing any landlords from the CSV who aren't relevant.
The ability to produce the report for an individual landlord is via the finance sub menu on the landlord record:

The report that is generated is identical to the ROPL-01 as above however filtered to the landlord from which you have created the report.  In this example the landlord has two properties.  You have the ability to select the correct tax year and also export to CSV, print etc.