How do you want to qualify your applicants? 
Completing your Applicant Status Prompts allows you to classify your applicant correctly.  These are for office use only and are not seen by the public.
There are 5 status boxes.  You can choose one item from each, the default prompt is the one which will be displayed in the applicant record if no changes are made by the negotiator.
Department Specific Prompts
For Department Name – We'll look at Residential Sales first.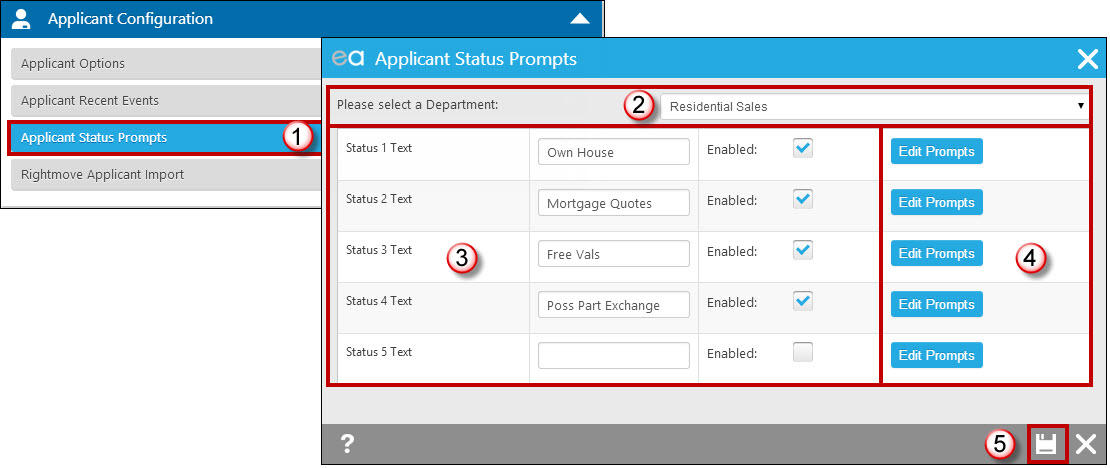 Select the 'Applicant Status Prompts' option.
Select the Department you wish to setup the prompts for. We will use Sales in this example.
Setup your Status Text.  Essentially these are the questions to ask your applicant.  Ensure you tick the Enable Status boxes otherwise they will not be displayed on the front end of Expert Agent.
Click "Edit Prompts" to setup the prompts.  Essentially the answers you hope to receive from your applicant.  We strongly recommend you add a prompt called "Not Known" or "I Forgot to Ask" and set it to default.  The reason for this is if a negotiator forgets to ask the question they are not incorrectly classified. (See the example below)
SAVE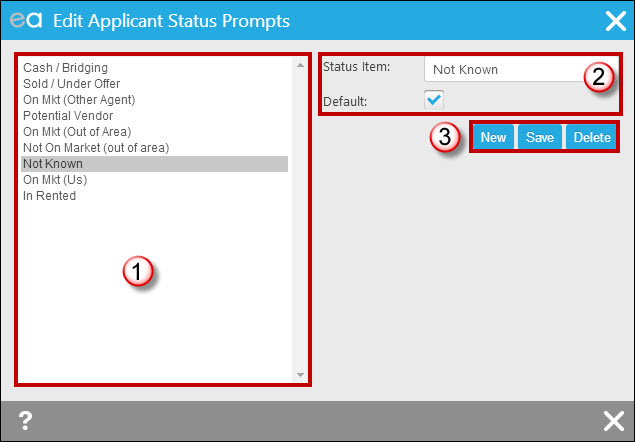 Your status items that are setup will display here.
Add the new status option.  Remember to add a "Not Known" or "I Forgot to Ask" option and set it to default.
To add a new status option click "New" or to edit an existing one click on it and rename. Remember to save after adding each new prompt.
The same process is followed for Status 2,3,4 and 5.  
Example: How the Applicant Status Prompts will show in the front end of Expert Agent

This example is shown from the Applicant Form.
We will now look at a Lettings example.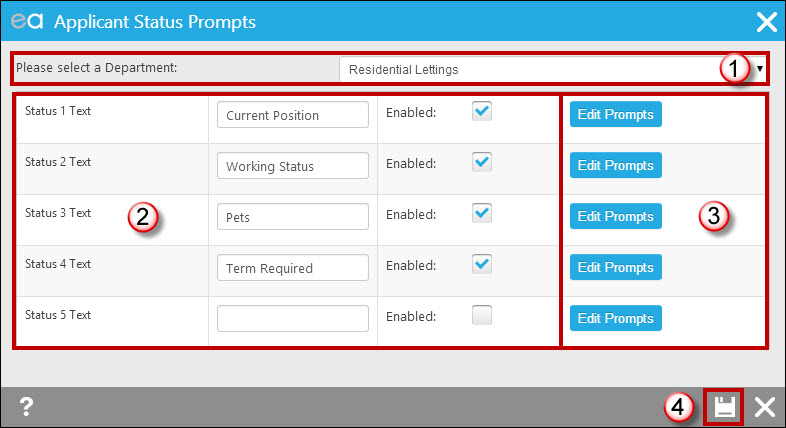 Select your Lettings Department to setup the prompts.
Setup your Status Text.  Essentially these are the questions to ask your applicant.  Ensure you tick the Enable Status boxes otherwise they will not be displayed on the front end of the system.
Click "Edit Prompts" to setup the prompts.  Essentially the answers you hope to receive from your applicant.  Don't forget to add a "Not Known" status and set it to default.
Save