Most tenancies will be set to automatically charge rent. However, there may be circumstances where you will want to manually monitor the charging of rent for a particular tenant or tenancy. 
There are two ways to charge rent manually, both require the Rent Next Due date field to be populated in the tenant tab of the tenancy record. 
The first is via the tenancy record by using the right click menu choosing the Financial sub menu and selecting Charge Rent.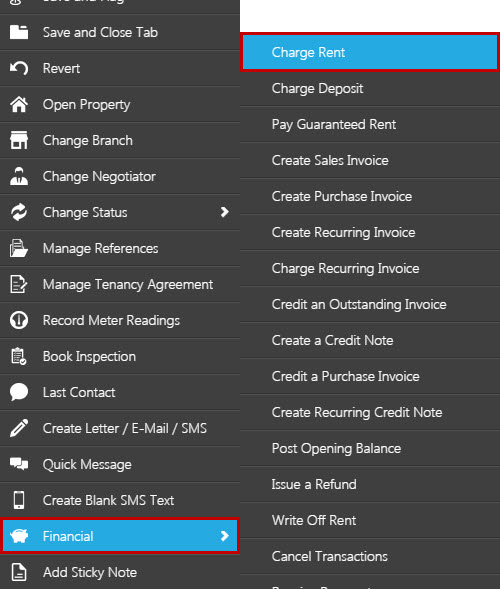 This will then open Charge Rent window as below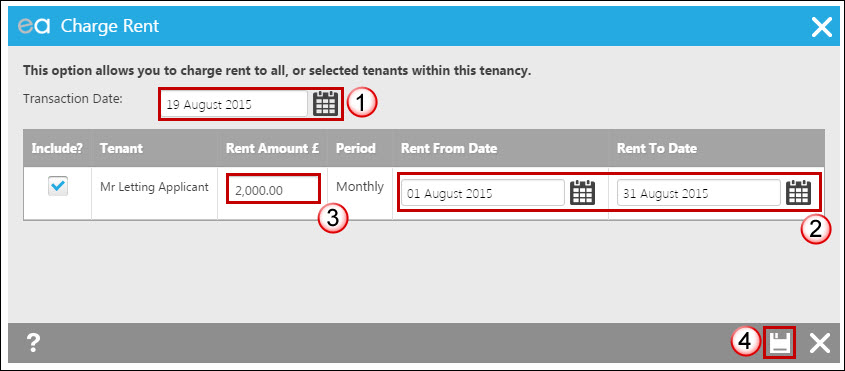 Enter the date you wish to use as your Transaction Date - please note that this date will be referred to as the Due Date on the Rent Arrears report.
If you need to amend the period for which the rent is being charged please use the calendar icon. 
This field will automatically update the rent amount due based on the date range chosen in the Rent From and Rent To fields. 
Click on the "Save" icon to create the Rent Demand. 
Alternatively you can charge rent in bulk by using the option from the Finance top menu drop down.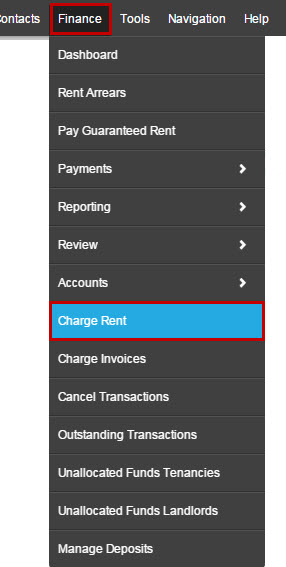 Which will open the following report in a new tab:

Choose which branches you wish to Charge Rent for. 
Select the date that you wish the Rent Demands to be logged for - remember this will the due date on the Rent Arrears report.
Using this date field you are able to pull up the Rent demands which are due to be charged up to and including the date you choose. This will pull data from the Rent Next Due date on the tenancy record. 
You can use the tick boxes to choose which rents you would like to charge. 
Click 'Charge Rent' to create the Rent demands. 
It is very important to bear in mind that EA only sets up the next rent due period when the previous one is charged. So, if you have an uncharged rent for 1st March to 31st March but it is now June, running the manual rent charge process will bill for this period and then create a separate uncharged rent item for 1st April to 30th April.