Nominal Ledgers are the controlled accounts that you place all elements of income, expense, assets or liability into.  
There are three types of nominal ledger in Expert Agent (and, of course, in accounting generally). 
Income nominals are used for your agency's sales invoices.  Expenses nominals are the ledgers you can select when entering a purchase invoice (from a contractor etc). Assets or liabilities nominals are your control ledgers but you are unlikely to want to change these very regularly. 
You are able to change the name and export code of your nominal ledgers, however you will find that you cannot change the Expert Agent Nominal Code or the structure of many as doing so can cause you issues in your accounts.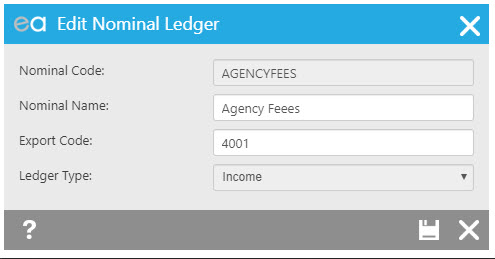 The 'Nominal Name' you chose will be the name you see when running your reporting within Expert Agent. The 'Export Code' will by default, mirror the nominal code. For those agents that need to use a digital link as part of MTD to import their invoices into their office accounting software, you can edit the 'Export Code' to match the respective nominal in your office accounting software so that when you run your VAT Export MTD report, it can be imported without any manual intervention.
For multi branch agencies, changing the 'Nominal Name' will update that nominal name across all branches BUT you are able to edit the 'Export Code' for one branch only to allow you to have a different code for each branch should you need to do so to match up with the way you account for your invoices as a business. For example you may have a different nominal code within your office accounting for your management fees that come from each branch so you can report on them separately.
Adding a Nominal Ledger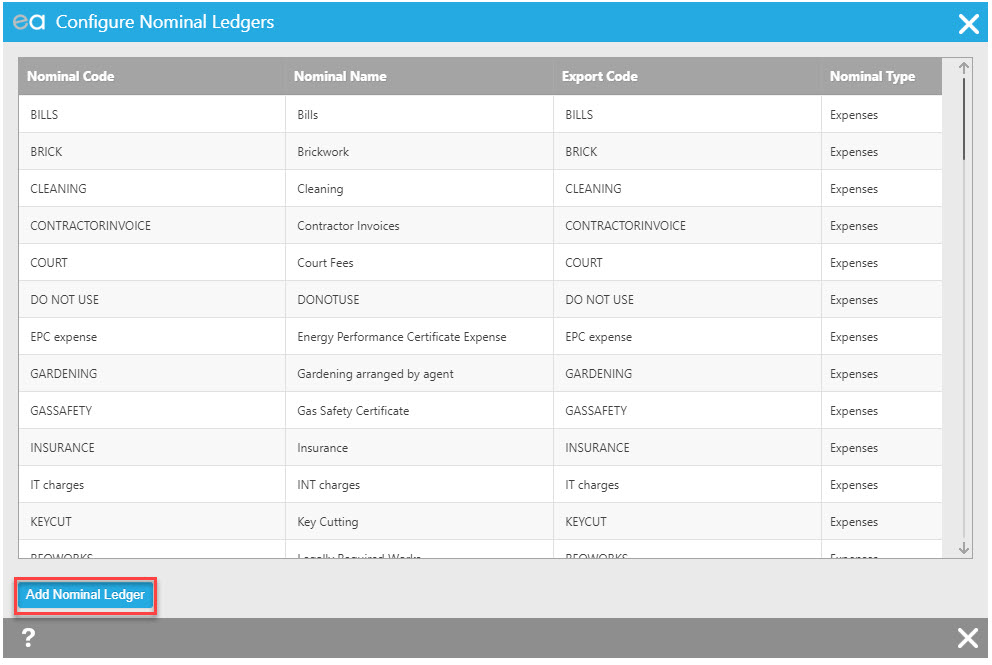 Click on "Add Nominal Ledger" from your Nominal Ledgers list: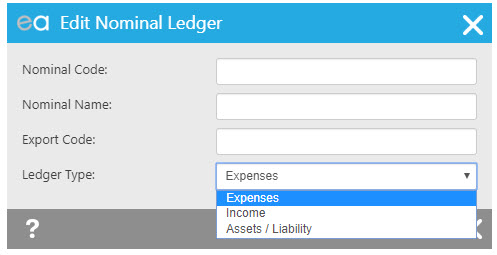 Enter the Nominal Code you would like to use, the Nominal Name and the export code, if relevant to you, along with selecting if the nominal needs to be an expense (purchase invoices) or an income (sales invoices) Click 'Save'. 
You are able to add as many new nominal ledgers as necessary. For multi branch agencies, you can enter a new nominal into any branch and it will be mirrored across all branches.