In this next section we start to look at some of the situations we might find ourselves in when we start working with our Applicants in Expert Agent.
Before we start let's look at the action menu in more detail within the Applicant Form.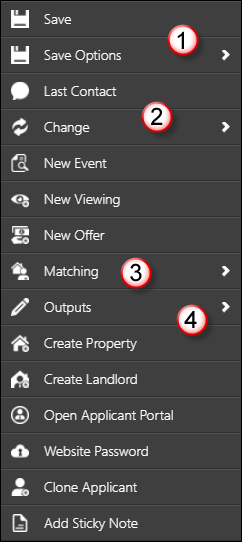 Save & Save Options (1 on above image)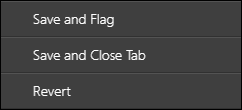 It is very important to save any changes that you may have done before navigating away from the record.  If you don't do this you will lose your work.  As soon as any amendments are made to a form a bar will display at the top of the record prompting you to save.
Save & Flag   
This is used to allow you to get back to a previous record quickly.  If you are interrupted mid-way through working on a record the save and flag option will save your record in the current state, mark it in red and place it at the top of the Navigation History in the top menu.
Revert
This option will revert any changes that you may have made.
Last Contact             
This is a single option under the action menu for all dates and tasks.  Expert Agent is OFT Compliant which means everything you do is logged under the Events page tab and cannot be deleted or changed.  The only aspect it cannot record are any telephone conversations or additional notes you would like to make note of.  In this case you would use "Last Contact" as shown below:

The Event Type will be set to "Note" – You can change this if necessary. These can be configured to suit your needs to best categorize your events.
Enter the notes of the conversation.  Beware of the Vendor notes box as your vendor could potentially see these notes if sending the Vendor Portal Email.
Click the date fields to update the dates if needed. Last Contacted – The date in which you last spoke to them. Next Contact date - The applicant will flag up in the "Applicants with Next Contact Due Today" quick link on your dashboard.  This is a date in which you'd next like to correspond with your applicant. Due Off Date - The applicant will flag up in the "Applicants with Due Off Date Today" quick link on your dashboard.  This means you have not had any correspondence with your applicant and may wish to confirm if they are still looking.
You have the ability to upload any files if necessary.
You are able to set this as a task for either yourself or someone else.  The task will appear on your homepage on the specified date that the task is due.
The Applicant Details will already be selected for you.
'Mark as Complete' will allow you to close the task if need.
Change (2 on first image)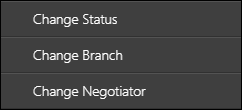 Change Status
Mark your applicant as Active/Inactive.  If you mark them as inactive they will no longer be included in any matches.
Change Branch
This option allows you to assign this record to another branch.
Change Negotiator
This option allows you to assign this record to another negotiator.
New Event
This option will present a similar form to 'Last Contact' and allows you to add any event to applicant record. i.e a scanned document etc.
New Viewing
Book a Viewing in for your applicant.  This process is covered in the Booking viewings Section.
New Offer
This option allows you to start the Offers process.  This process is covered in the Making an Offer section.
Matching (3 on first image) 

Match Processor
This is the formal way of matching within Expert Agent.  The Match is logged in Events and will give you all of the standard output options.   This process is covered later in this section and in the Applicant matching section.
Show Suitable Properties   
This opens the Property Presenter - this is a visual way of displaying all suitable properties allowing you to easily log and send property brochures.
Outputs (4 on first image)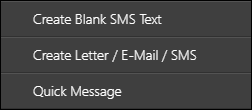 Create Blank SMS
SMS - You are able to send a text message to your applicant.
Create Letter/E-Mail/SMS
Letter - suffice to say – there are lots of standard letters.  The designated "super users" can set them up and edit them to suit your business.
E-Mail - If the e-mail address is missing or is a rogue e-mail address Expert Agent will automatically take a tick out of "Send E-mails" and will no longer send.  The negotiator dealing with the applicant will be copied into the failure report.
SMS - You are able to send a text message to your applicant.
Quick Message
The Quick Message facility quickly allows you to send a message to a colleague (or multiple colleagues) in the business with the applicant record assigned.
Create Property
Use this if you persuade the applicant to have a valuation.  The property record will be created with all the details of the applicant placed in as a Potential Vendor.  This saves a lot of unnecessary work for you.
Create Landlord
This is a quick way to turn your Applicant into a Landlord if they are thinking of renting out their current property rather than selling it.  
Open Applicant Portal 
This will open a copy of the Welcome Email that the Applicant will have been sent when you registered them.  
Website Password
This option issues (or reissues) the applicant with a password so they can access your website and change their details.
Clone Applicant
The 'Clone Applicant' option allows you to very easily make a copy of an applicant record without having to re-key the data.  This action would be especially helpful when adding an applicant who is looking to rent and to buy.
Add Sticky Note 
This creates a virtual Post-It note on the record.  Please see Sticky Notes