If a tenant has a balance in hand then you are able to process a refund through Expert Agent. This may be because of a deposit refund being processed or an over-payment of rent.
Before you process the refund it is worth allocating any available funds against any outstanding transactions. You would do this via the Receive Payment window (Right Click Action menu, Financial sub menu and Receive a Payment).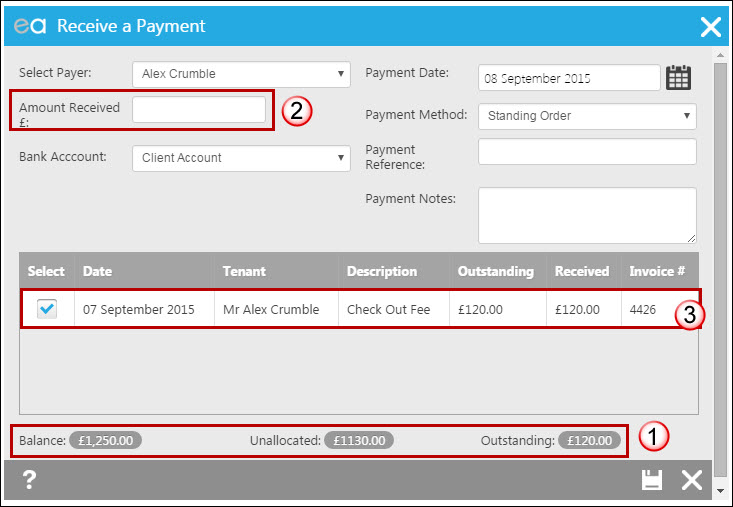 The figures at the bottom of the window indicate the funds that you are holding for the tenant along with the outstanding transactions.
As the Receive a Payment window is not being used to receive any funds on the tenancy you do not need to fill the Amount Received field.
To allocate some of the unallocated funds to the outstanding transaction the select tick box needs to be ticked. This will then mark the invoice as paid.
Once you have allocated funds to any outstanding transaction you are then able to process the refund. Again right click and from the Financial sub menu select "Issue a Refund":

The following window will appear: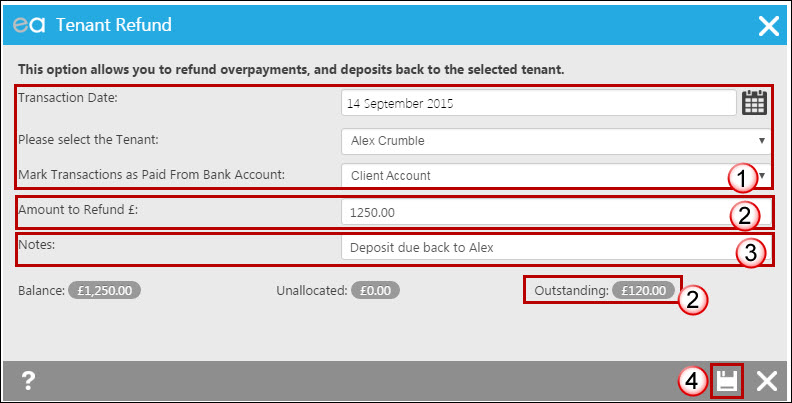 The date will populate with today's date, amend if necessary using the calendar pop up and select the tenant who is due the refund, as well as which bank account the money will be paid out of.
Specify the amount to refund – Expert Agent will populate this field for you with available funds due to the tenant. It will not take into account if there is a balance of outstanding transactions. In this example the available funds on the tenancy is £1250.00 however there are outstanding transactions totaling £120.00. The amount to refund therefore may need to be amended to reflect this. This is why it is worth doing the process above and allocating funds before doing the Refund.
If you wish to enter any notes for the payment which will appear on the statement then you enter them into this field.
Click the save icon to process the refund.
On your statement refunds appear as a payment to the relevant tenant:

 So that you can keep track of what refunds that you need to make, there is a Tenant tab in the Payments to Make report.