Having added a new property and marketed the property (as covered in Property marketing & workflows) you will be in a position to match the property to your suitable applicants.

Open the property's form, hover over the 'Matching' option and select 'Match Processor'. This opens the Match Processor grid.

Again, the grid that you arrive at should be blank - if there are entries in there, this indicates that the property has already had a match performed or that applicants have already been matched to the property the results haven't been processed. If this is the case you will need to liaise with whoever has performed the match as explained before to establish what's been done thus far before proceeding.
 If you do arrive at an empty grid then you can continue running your new match straight away. For the purpose of this example we will assume we want to match our property to all suitable applicants as opposed to manually choosing applicants – this is covered in the applicant example above.
1. Right click and select 'New Match' option.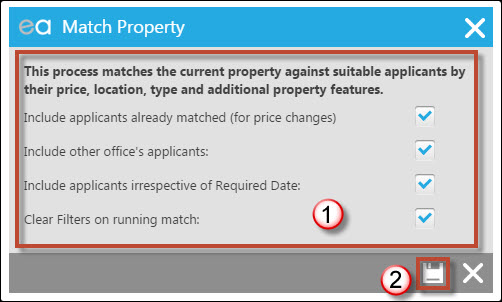 Include Applicants Already Matched – and if a match has already been performed on the property and you want to match it again whether you would like to capture applicants that may have already been matched; perhaps for a price change or because a previous match may have been run and then deleted in error. The danger with ticking this box is that people may end up receiving a property they have already seen, the danger if you don't tick it is that they don't receive certain properties at all. Include Other Offices Applicants – asking you whether you would like other offices applicants (if you have other branches using Expert Agent and you are set up to share your data in the system) to be matched to the property. Include applicants irrespective of Required Date - This will ignore the available from date on the Property record and the dates the applicant requires the property from.  Clear Filters when running the match – this means even if you have forgotten to clear filters from your match grid, which may mean all of your results don't show, the system will remove them for you when it displays this matches results.
Click the save option to run the match.
N.B. It is worth noting that if an Applicant has a price range of £0 to £0 it will match out to ALL properties.  

A dialogue box opens telling you the match is complete and the number of matches that have been found. Click the 'OK' button to populate your match grid with the results.
Clicking 'OK' will display the Match Processor grid along with the applicants that have been matched. 

Having performed the match and generated a list of matching applicants you can then process the matches.
More: