Rightmove Live Feed means you can get new instructions, price changes and corrections live on Rightmove within a few seconds.
The Live Feed is chargeable. We first got excited about this new feature in mid 2013 but, at that point we were not able to predict the size and scale of  the project and the amount of expensive bandwidth required to upload every property change (including all the photos) every time a user presses save in a property record.
To get this set up on your account, please email Nikki, Rosy and Melissa on This email address is being protected from spambots. You need JavaScript enabled to view it. or call them on 01225 303500 option 2.
They'll put the extra charge of £5 per month on your next direct debit.
Details of how you setup the live feed are covered in this chapter along with everything else you need to know.
Step 1 – Property Configuration - Links
Before you can begin using the Rightmove live feed, there are a few items in configuration that need setting up by a super user.
Go to 'Tools' in the top menu, select 'Configuration' from the drop down and go into 'Property Configuration' – 'Links':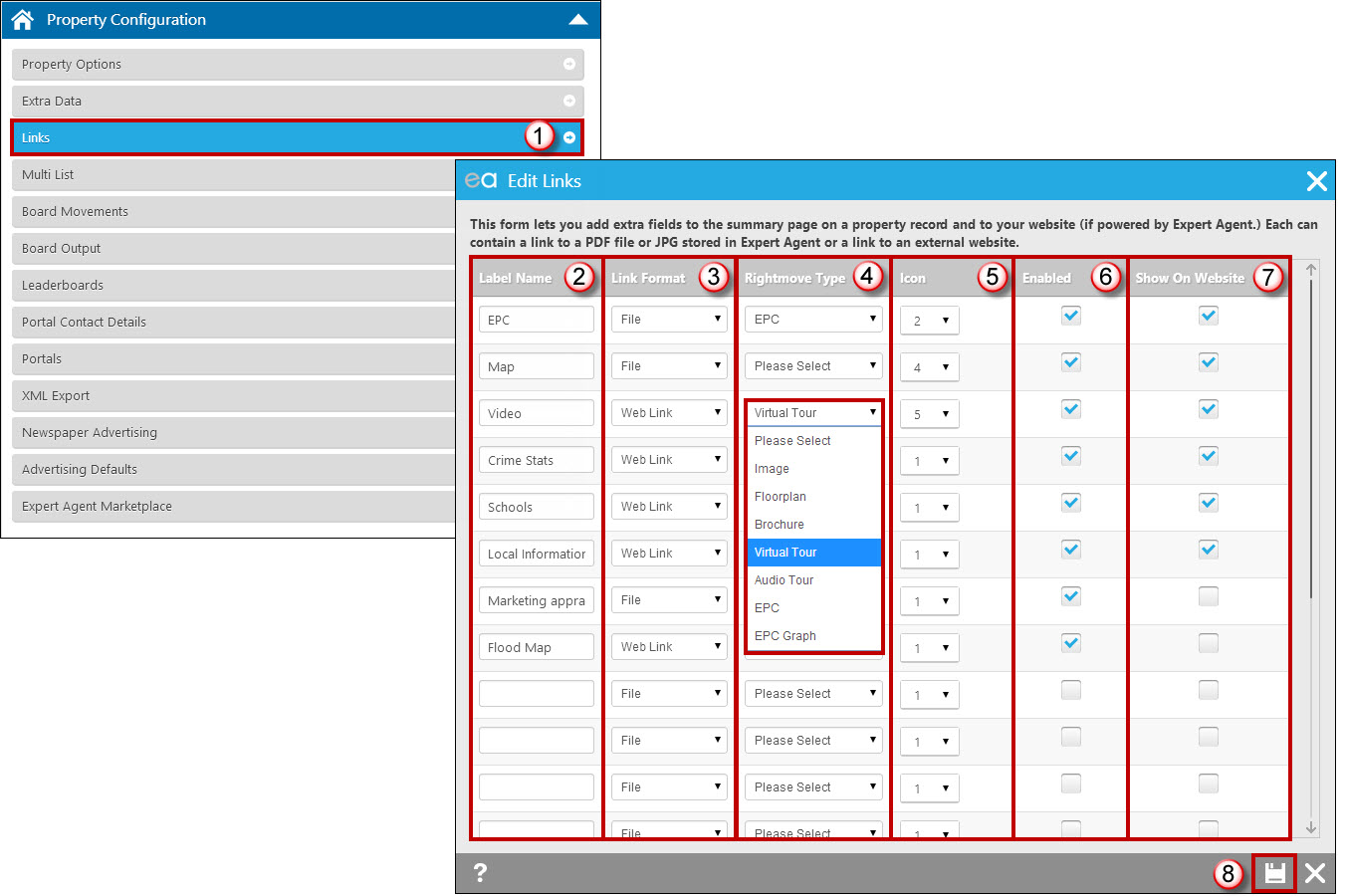 For this purpose we are interested in #4.
This will list all of the link options that you have set up from your Links tab in your property record. For each link, you need to assign a 'Rightmove Type' in the new column.
So for EPC you'd select either 'EPC' or 'EPC Graph' depending on what you upload, and so on. Save when finished. If you fail to configure your Rightmove types, only EPCs will be uploaded.  Please note if you are a multi-branch firm, this will need doing for all offices. 
The list of types are predefined by Rightmove and are out of our control.  If you would like to add any additional types you will need to petition Rightmove. 
Step 2 – Property Record – Portals Tab
To view the live page for a property, you'd go into the Property record and click into the 'Portals' tab:

If the property has uploaded to the live feed it will say 'Click Here' in the Direct URL column, and it will have a last updated date.
There is also a new column showing with which portals you have a live feed in place. N/A means the portal don't offer a live feed at present.
Upon clicking the link it will open the relevant property page on Rightmove. This link can be re-used, if required, in any correspondence.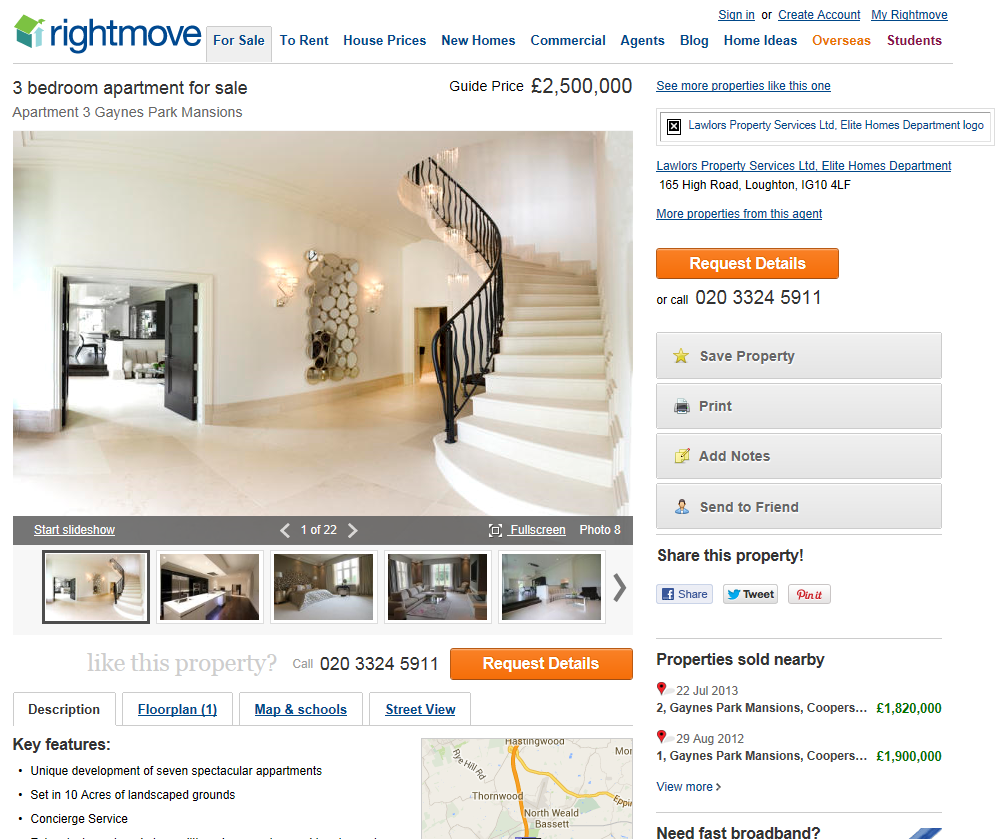 Any changes made in a properties record are usually visible on Rightmove within a couple of minutes of saving them, depending on how quickly Rightmove are processing our uploads.
You'll know when changes have been uploaded as the last updated time and date for the Rightmove row on the Portals tab will have changed.
If there is an old date and/or time showing in the 'Last Updated' column on the Portals tab, you should right click and save the property record to re-send it.
Removing Properties from the Live Feed
Expert Agent generally will guide you through the relevant steps via the use of wizards as to when a property will begin to show on the portals and when it will come off, however if you would like to remove the property manually for any reason simply access the details tab on the Property record as shown below: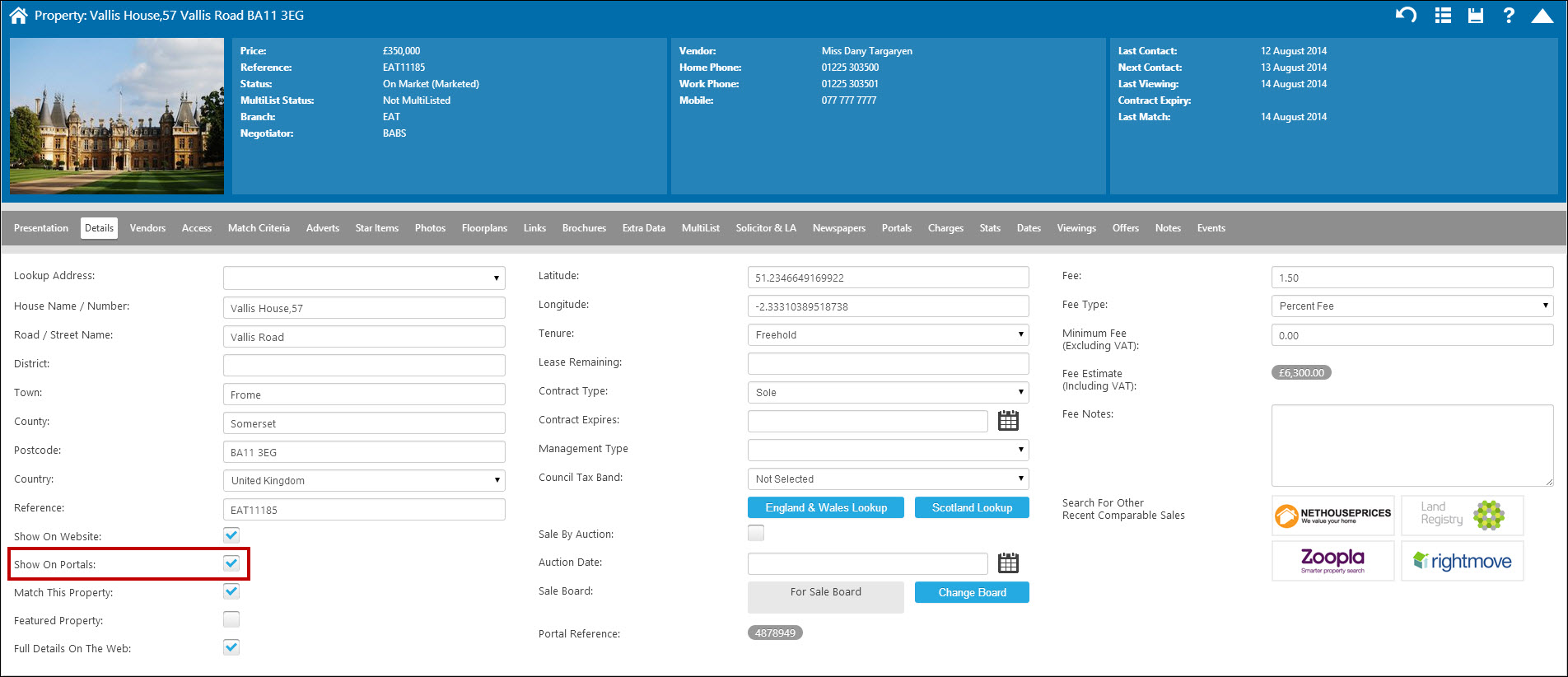 Untick the 'Show on Portals' tickbox.  Remember to right click and SAVE.  This will then remove the property from the Live Feed. The Rightmove live system will not remove the property from the portal purely based on the status of the property – you need to untick the  'Show on Portals' tickbox.
Cost
The cost of the live feed is £5 +vat a month and will be added to you next Direct debit. It will appear on your invoice as 'Rightmove LIVE feed'