1 Nov 2014
A very good question!!
Rightmove have been told that their previous way of displaying lettings properties fees isn't acceptable to the Advertising Standards Authority. Previously, they'd argued that their generic "fees apply" clause did the trick. The ASA disagree and from 1st December 2014, every rentals property must display specific charges.
Here's an example of the existing generic "fees apply" link in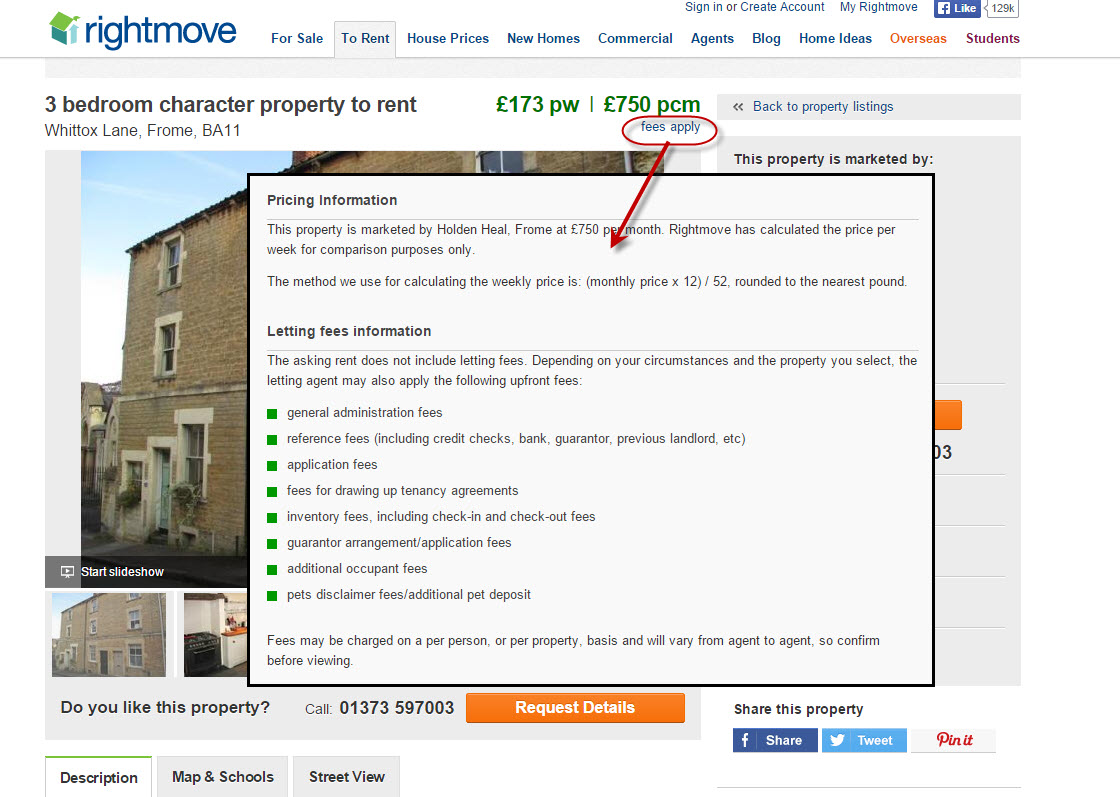 From 1st December, you must write your own version of this on every property. Rightmove have hinted that they'll not allow adverts without a "fees apply" statement.
Rightmove have written to business owners about this and we're starting to get calls. We've been able to rush some changes into production and will make further improvements in the New Year.
Our previous advice has been to add specific fee charges to the end of the Internet Advert in each property. Incidentally, we believe that "one week's rent" isn't enough - you need to spell out that it is "£550 including VAT".
As is so often the case, the solution we've had to come up is a bit of a compromise because Zoopla and the other portals don't seem to be doing anything about this.
We've added an extra field into the details page tab of each property record in both Expert Agent Touch and the soon to be phased out Expert Agent "Classic". Here's a screen grab from Expert Agent Touch: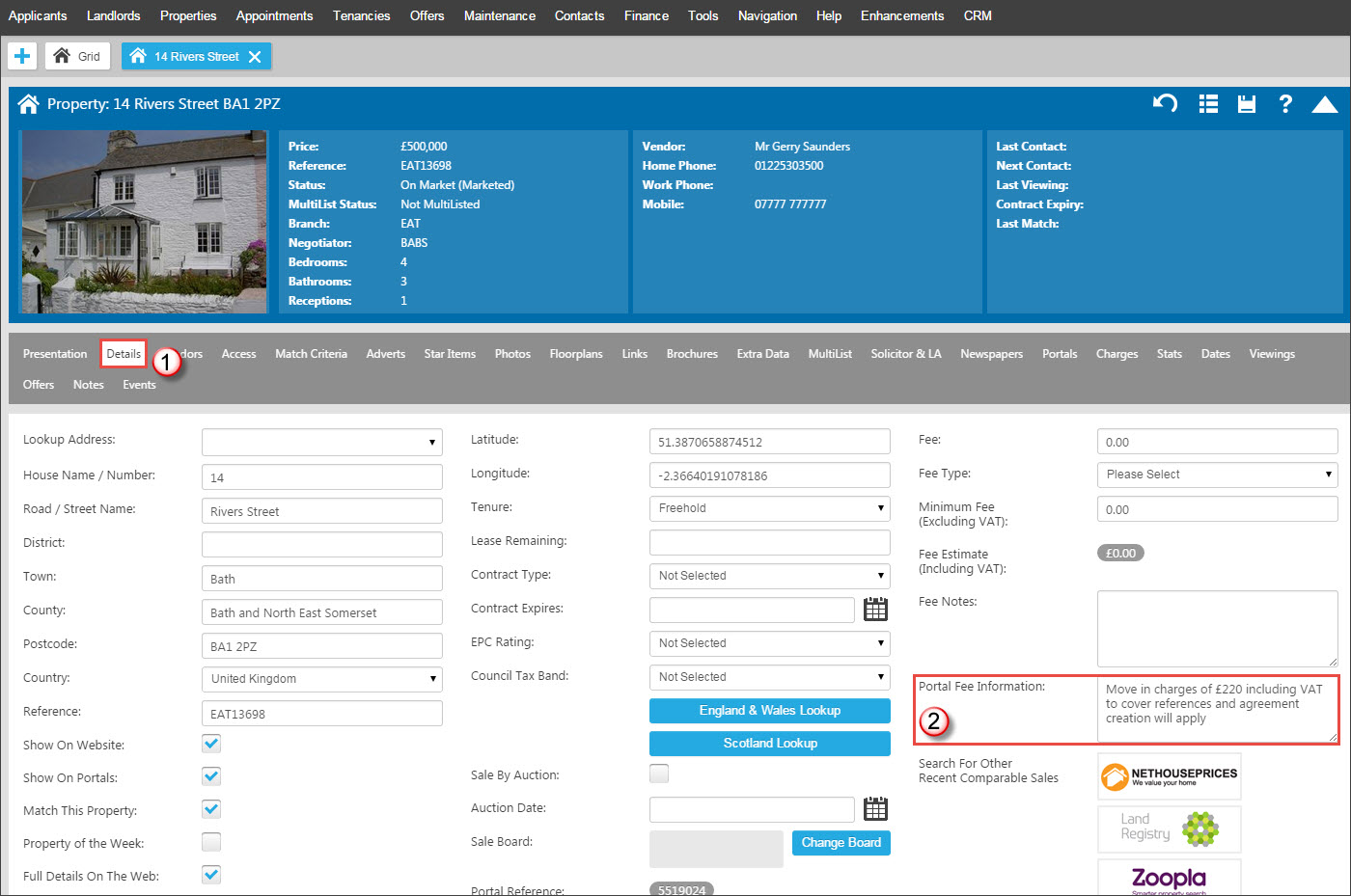 Click into the Details Page Tab (shown 1. above), and you'll see the new new Portal Fee Information field on the far right (shown 2. above). Just update that and save it.
If you are using the Rightmove live feed, you'll see the changes, well, instantly live! If not, you'll see the changes tomorrow.
So that's it then - easy!
Not quite! If you are going to remove the fees from your existing internet adverts so that Rightmove works, you've now got a potential problem with Zoopla, OnTheMarket, other portals and your website. We hope we've solved this as follows:
We'll send them the internet advert plus a blank line plus the Portal Fees Information contents shown above
We're going to send this: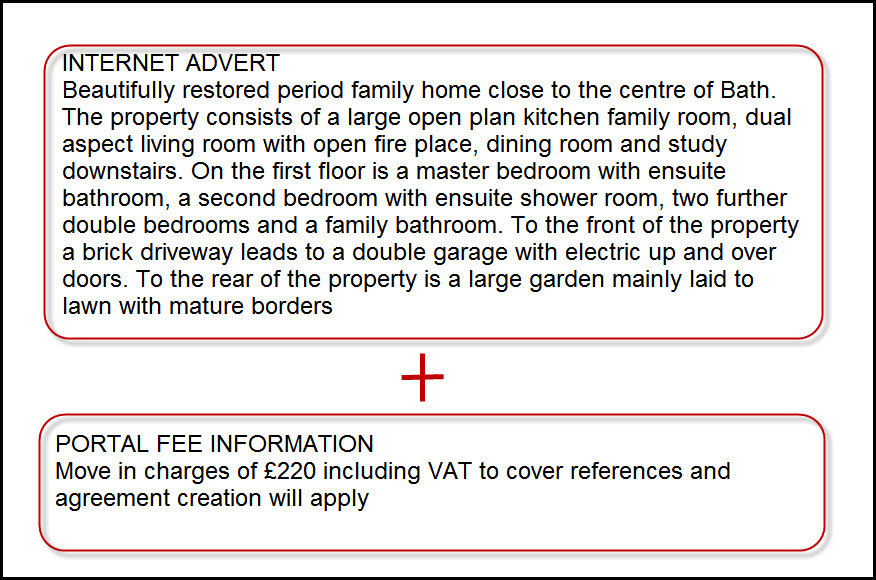 and it will look like this: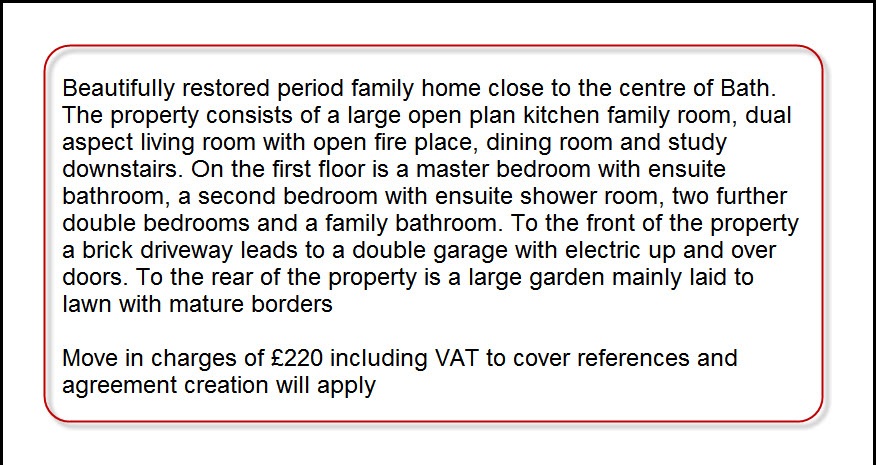 Need Help with setting up the text?
At this stage, there's no ability to apply default text to every property because we've had to rush this into production. We'll sort this out in the next main release (giving you the ability to include automatic calculation options ie weekly rent X 1.5). However, if you have a standard fees paragraph that never changes, log a support ticket with it in and we'll apply it to all of your current available lets between now and 1st December.