It used to be very simple. We had 2 prices on each property - a numeric price that was hidden from the public but was used for matching and ordering data in lists plus a "price text" field that showed everywhere.
If only Rightmove had adopted this approach, life would be easy.
Sadly, they didn't. They (and therefore all the portals that followed suit) used a numeric field. Once they started working with lots of agents, they realised they needed a prefix and/or a suffix. So, the complicated process that now exists was born.
Here's the Price Change form in Expert Agent - right click in a Property Record and you'll see it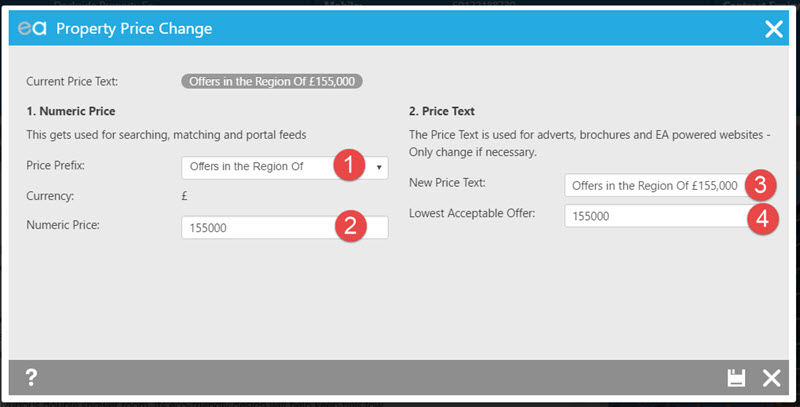 To make it as easy as possible, leave the Prefix dropdown (1) set to Asking Price, put a numeric price in (2) and Expert Agent will complete the Price Text field (3). That's the field that shows on your website, in correspondence, brochures etc. The Lowest Acceptable Offer field (4) is filled in automatically. That's the price that gets used in matching - nobody sees it. So, if in this case your vendor would take £145,000, put that in the Lowest Acceptable Offer and, when you match, it will include applicants with a maximum price or perhaps £150,000 who would otherwise miss out.
Rightmove and other portals will show Price Prefix + ' £'+ numeric price - in this example Offers in the region of £155,000
There's a dropdown list of Price Prefix optiions (shown 1 above). A couple do special things that you need to be aware of.
Here are the options: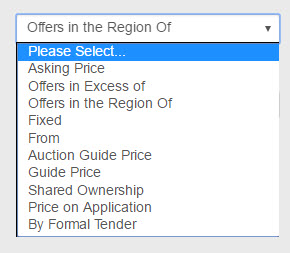 Most just add a prefix in front of the numeric price on Rightmove (and because everyone started off using Rightmove's feed format, the other sites work in the same way) but there are two exceptions:
Price on Application: this is SUPPOSED to remove the numeric price from view on Rightmove and the other portals but you should check. That's particularly easy with the Rightmove live feed - harder with others that still do an overnight feed. We're aware of support tickets where Price on Application has still shown the price. There's nothing we can do here - we still have to send a numeric price so that the portals can stick the property into the right place in a list. We send the prefix and they are supposed to have the logic worked out to hide the numbers. We're worried about this one and that's why we've not fixed a bug that puts the numeric price after the words "Price On Application" in our price text field (3) - just to make you stop and think
Guide Price: If you choose this, the form changes as below. It shows 2 extra fields - upper guide price and lower guide price (5) below. Don't get them the wrong way round!  You'll see that we manually set up the price text field (3) to match in this example - Expert Agent doesn't do this for you.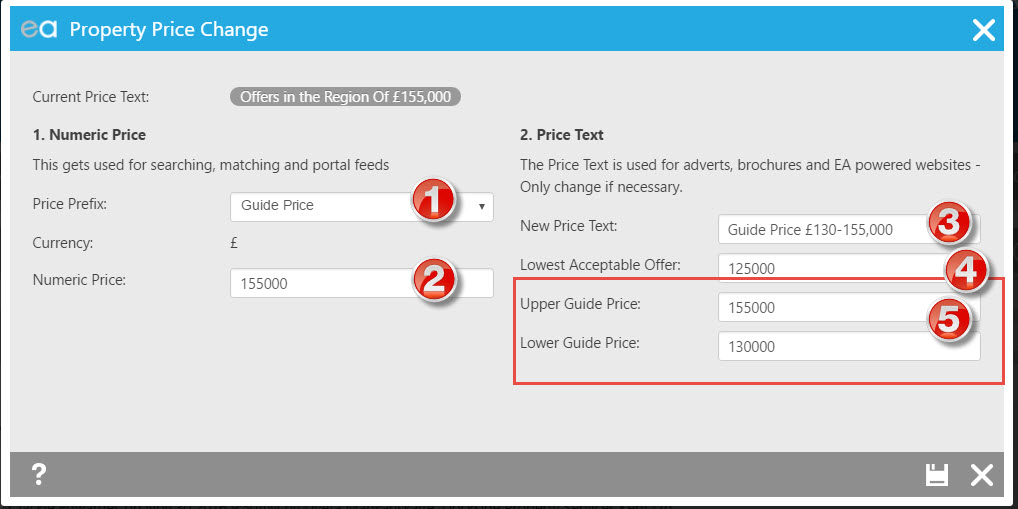 Did you know that Expert Agent's price change form can automatically generate a price change letter or email? See Event Template Triggers