Where do I record the expiry date for my EICRs?
This is managed in the same way you manage your Gas Safety Certificates, the most important thing is that you ensure you have filled in the electrical safety expiry date field on the dates tab of the property record. Please Click Here for more information on storing these.
How can I check that all my let properties have an EICR?
We have some Quicklinks to help you with this under both the tenancy and property sections. You can add the tenancy Quicklink for "office tenancies without an electrical safety" to your right hand tool bar or your tenancies dashboard. You can find more information about adding Quicklinks by Clicking Here. This Quicklink will show you any pending, reserved or let tenancies where the property does not have an EICR expiry date entered. This is a good Quicklink to use for checking on any electrical safety reports that may need to arrange ahead of the April 2021 deadline as it will show you active tenancies that do not have the required certificate. Similarly, if you are working with properties, you can view the "office properties without an electrical safety" property Quicklink.
How can I see my EICRs that are coming up for renewal?
From your top properties menu, you can view the safety check expiries grid.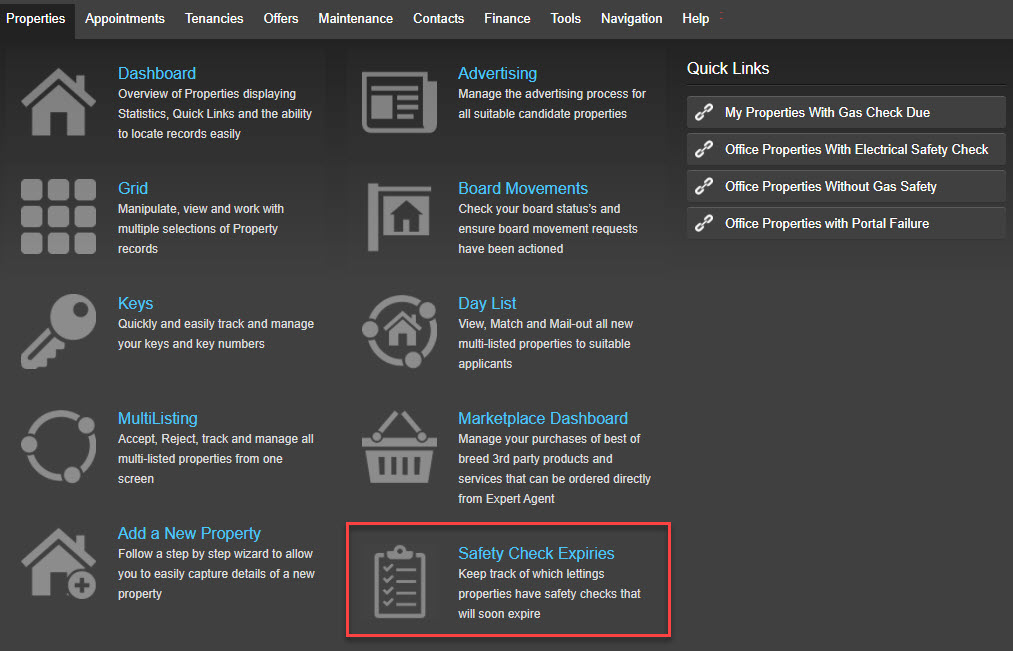 This grid allows you to view, report and export to CSV your properties with checks that are due.

Please Click Here for more information on using this area.
Filtering your grids and creating Saved Selections for your EICRs
Along with using the safety checks expiries grid, there are Quicklinks available specifically for your electrical safety checks that are due (due within the next 31 days or overdue). You can add these Quicklinks to either the right hand tool bar under the Properties section or to your Properties Dashboard. 
You can also create your own saved selections starting from an unfiltered property grid to save you having to re-filter the grid each time you want to view the same set of data. From the property grid, once you have chosen your columns and placed the relevant filters in terms of department, status etc, you can filter on properties that do not have a date in the "electrical safety expiry" column, ones that are overdue, due in a certain number of days etc depending on your preference. You may need to add this column into your grid if you've never used it before, you can do this by using the  Column Picker. Once you have the column in your grid, clicking the calendar icon in that column will allow you to select the relevant date range you are interested in. Please Click Here for more information on creating saved selections. 
If you need to print out a report from either a Quicklink or a saved selection, you can do this by right clicking from the grid - outputs - create report. You will need to ensure you have a report template set up prior to running the report. We have created a new report template "EA - Electrical Check Due Report" accessible under the Expert Agent Default Letters tab that you can use or clone across to your Our Letters and make any amendments to. For help on editing report templates, please Click Here
Does Expert Agent provide me with any letters for arranging my EICRs?
Expert Agent doesn't directly provide you with any compliant letters but if you subscribe to the compliant letters and agreements pack, The Letting Centre will be including these letters within the pack as part of their 2021 update along with changes to the tenancy agreements, agency agreement and property checklists to accommodate the legislation changes. If you don't yet subscribe to the compliant letters and agreements pack but you would like to, you can arrange this here. If you subscribe already, keep an eye on your Alerts! section for details of when the pack has been updated.
How can I manage the booking in and carrying out of my EICRs?
You can book your contractors in to carry our EICRs, manage the visit to the property and ensure you are chasing up invoices via your Expert Agent maintenance section. Please Click Here to visit the maintenance chapter.
How do I charge landlords for the EICRs once I have the invoice from the contractor?
You need to be using Expert Agent financials to do this. You will do it by creating a purchase invoice on the landlord account which you can view more information by Clicking Here.